Wait, Is Kim Kardashian Actually Worth More Than 'Billionaire' Sister Kylie Jenner?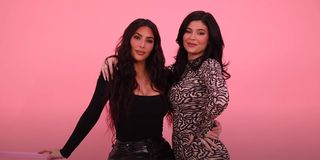 The Kardashian and Jenner sisters have built quite an empire over the years after becoming famous on reality TV program Keeping up with the Kardashians. Their enterprises range from reality TV endeavors, to clothing brands, makeup and much more. Sponsored posts are also a regular on social media, leading to plenty of moolah for Kim, Kourtney and Khloe Kardashian, as well as their sisters Kylie Jenner and Kendall Jenner. But which K sister has the highest net worth?
If you've been keeping tabs on headlines in recent years, the obvious guess here is going to be Kylie Jenner. This is because Kylie was proclaimed a billionaire in 2019 thanks to the success of her makeup line. She was actually proclaimed the "youngest billionaire in the world" in the spring of last year at the tender age of 21.
But not so fast, because due to some math, it looks like she may need to cede the title of the most successful sibling to her half-sister, Kim Kardashian. Here's how the new information is shaking out thanks to shapewear, makeup and much more.
Why Kim Kardashian Is Actually The Most Successful Sibling
Forbes giveth and Forbes taketh away. The outlet is known for publishing its list of biggest moneymakers in Hollywood, and Kylie Jenner's net worth was recently dropped by the outlet from over a $1 billion to around $900 million and then again to $700 million. Still a high number, but it doesn't have quite the same ring to it as billionaire status did.
Meanwhile, Kim Kardashian has a lot of irons in the fire as well. The reality star has increased her prominence in the world of retail recently with KKW Beauty and her shapewear line SKIMS. In June, she sold a stake in her KKW Beauty brand, which inked her some extra net worth points. The outlet now believes that Kim Kardashian West's fortune is around $780 million. Yes, if those numbers are anywhere close to accurate, that means Kim Kardashian West is rolling in a little more dough than her popular sister.
So, Why Did Kylie Jenner's Billionaire Net Worth Status Drop?
Basically, there are two reasons why the estimate regarding Kylie Jenner's status seems to have been adjusted. The first is that Forbes actually did some deep digging earlier in 2020 and found that Jenner's makeup brand, Kylie Cosmetics seemed to be less profitable than was figured by the family and others in the know. That accounts for the first drop.
The second drop is pandemics-related and makes total sense. A lot of women aren't going into an office anymore and have stopped wearing makeup every single day during the pandemic. Then there's the fact that stores were shuttered for a while in many places, and even women who are still wearing makeup seem to be buying products at less volume than they were in the past.
All of this means, quite simply, that sales of Kylie Cosmetics are down. In fact, sales for KKW Beauty are also down, but not enough to stop Kim Kardashian's net worth from reportedly exceeding that of her younger sister Kylie Jenner.
If we've learned anything from this little exercise in net worths, it should be that numbers can be misleading and drama can arise even over little things, like whether or not a person is "self-made." At the end of the day, even with Keeping Up with the Kardashians ending its lengthy run this season, I think we can all agree that the Kardashians will continue making a lot of money. In case you want to know how much of that wealth goes into expenses like Postmates takeout, we have you covered as well.
Reality TV fan with a pinch of Disney fairy dust thrown in. Theme park junkie. If you've created a rom-com I've probably watched it.
Your Daily Blend of Entertainment News
Thank you for signing up to CinemaBlend. You will receive a verification email shortly.
There was a problem. Please refresh the page and try again.