Sasha Banks: 6 Things To Know About The WWE Superstar Ahead Of The Mandalorian Season 2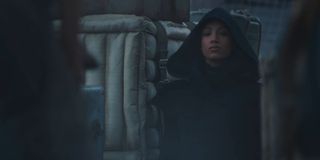 WWE superstar Sasha Banks has been in the news a lot lately thanks in part to her mysterious appearances in The Mandalorian Season 2 trailer and the buzz that surrounded the brief glimpse of her yet-to-be-named character that may or may not be Sabine Wren. And so with the five-time Raw Women's Champion entering an entirely different fandom from that of her wrestling career, some people out there are probably wondering who she is and some of her greatest accomplishments. Those people have come to the right place.
Over the course of the first 10 years of her historic career, Sasha Banks (real-name Mercedes Kaestner-Varnado) has broken barriers, put on some of the most significant moments in women's wrestling, and proved time and time again that her name belongs on the list of the greatest performers of all time. Here are just six things to know about "The Boss," Sasha Banks.
Sasha Banks Is First Cousins With Snoop Dogg
This could possibly be the worst kept secret in professional wrestling, but Sasha Banks is first cousins with West Coast rapping legend Snoop Dogg, and she even credits the 2016 WWE Hall of Fame celebrity inductee with helping her develop her in-ring persona, The Boss. During his induction ceremony (via The Post and Courier the night before WrestleMania 32 in Dallas, Snoop Dogg had this to say about his cousin, who was wrestling in a triple-threat match for the new WWE Women's Championship:
Snoop Dogg would even perform a new intro for his cousin's entrance music and accompanied her to the ring ahead of her landmark match against Becky Lynch and eventual winner Charlotte Flair.
Sasha Banks Credits The Late Eddie Guerrero For Her Career
Eddie Guerrero will forever go down as one of the greatest professional wrestlers of all time. A member of the famed Guerrero wrestling family, Eddie inspired fans and aspiring wrestlers around the world throughout his 19-year career, including Sasha Banks. During Banks' match at WrestleMania 32, the female wrestler wore tights that were an obvious tribute to her hero who had died 11 years earlier at the age of 38 years old, but her love of Guerrero goes deeper than that, as she told The Independent in 2019:
Sasha Banks was even at the arena (as a fan) for a taping of Monday Night Raw the day Eddie Guerrero died and had a sign reading "I Love Eddie," but didn't yet know that her hero had passed away earlier that morning, as she told Chris Jericho on a 2015 episode of his Talk Is Jericho podcast.
Sasha Banks Is Part Of A Group Of WWE Wrestlers Known As 'The Four Horsewomen'
Between late 2012 and early 2016, the WWE development brand NXT was one of the hottest tickets in wrestling thanks in part to its outstanding women's division that was led by Bayley, Becky Lynch, Charlotte Flair, and Sasha Banks, who all debuted in the early days of the black-and-gold brand. All four wrestlers joined NXT around the same time and all them were eventually called up to WWE's main roster within a short time of one another, and during their final match together at an NXT house show, they became known as "The Four Horsewomen," according to an ESPN (opens in new tab) oral history of the group.
The name "The Four Horsewomen" is drawn from the name of the legendary faction "The Four Horseman" which included Ric Flair, the father of WWE mainstay Charlotte Flair, and to also celebrate the close bond and unparalleled success of its members. The rise of The Four Horsewomen ushered in a new era of women's wrestling, one that would see its members break barriers and work their way into the main events at various pay-per-view events and eventually a headlining match at WrestleMania 35 when Flair and Becky Lynch participated in a historic winner-takes-all triple-threat with Ronda Rousey.
Sasha Banks Took Part In The First-Ever 'Iron Woman' Match
Sasha Banks made her main roster debut in the summer of 2015, but before she would be fully gone from NXT, she had some unfinished business with her fellow Four Horsewoman and eventual co-tag-team champion Bayley for the first-ever women's Iron Man match at NXT TakeOver: Respect in October. Not only would the 30-minute match become the first of its kind to involve two female competitors, it was also the first women's match to headline a pay-per-view event in the company's history.
For those who haven't seen the episode of the WWE docuseries Breaking Ground where WWE Executive Vice President of Talent Relations and semi-retired wrestler Triple H informs Sasha Banks and Bayley that he wants them to go on last at the event, it's definitely worth the watch. Bayley would go on to win the match and retain her NXT Women's Championship with a score of 3-2, but it was just the beginning of The Boss' legacy as she would go on to cement her legacy on the main roster.
Sasha Banks Wrestled In The First Women's Match To Headline A WWE Main Roster Pay-Per-View
Sasha Banks would make history again a year later when she and Charlotte Flair competed in the first-ever women's Hell in a Cell match that happened to be the first women's match to headline a main roster WWE pay-per-view event. Banks came into the match as the Raw Women's Champion but would ultimately tap out to her opponent's signature submission move "Natural Selection." And despite losing her title that night, Banks was part of something special and proved that the "Women's Revolution" was more than just a passing phase.
Sasha Banks Was Named The Top Black Wrestler In The BW500 Listing In 2020
One of the biggest achievements in the Sasha Banks' career came in August 2020 when Pro Wrestling Illustrated writer Righteous Reg released the inaugural BW500, a ranking of the top 500 black professional wrestlers who are actively working in the ring. The list included some big WWE names like Keith Lee (4) Kofi Kingston (8), and Bianca Belair (24), but at that top was none other than The Boss herself. Banks had previously been ranked as "Woman of the Year" in PWI's 2015 end of the year awards, and the second-best female wrestler in PWI's 2016 ranking (with only Charlotte Flair in front of her), but her spot on the 2020 list that includes both male and female competitors is really something to behold.
Those are just a few things to know about "The Boss" Sasha Banks, but make sure to come back in a few months after The Mandalorian Season 2 wraps up because there's surely going to be something worth adding from what could be key moment in her career.
Your Daily Blend of Entertainment News
Philip grew up in Louisiana (not New Orleans) before moving to St. Louis after graduating from Louisiana State University-Shreveport. When he's not writing about movies or television, Philip can be found being chased by his three kids, telling his dogs to stop yelling at the mailman, or yelling about professional wrestling to his wife. If the stars properly align, he will talk about For Love Of The Game being the best baseball movie of all time.
Your Daily Blend of Entertainment News
Thank you for signing up to CinemaBlend. You will receive a verification email shortly.
There was a problem. Please refresh the page and try again.