Which Chicago P.D. Officer Should Make Detective Next, According To The Cast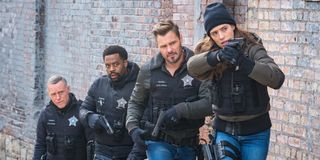 Chicago P.D. is changing up the Intelligence Unit in Season 8, starting with the mysterious departure of Lisseth Chavez's Rojas and coming up on the introduction of a new character who will join Atwater, Ruzek, and Burgess as police officers. At this point, Halstead and Upton remain the only two detectives in Intelligence, so has the time come for another officer to make detective in the CPD's elite unit? Fortunately, I was able to speak with several Chicago P.D. stars recently, and they weighed in on which officer out of LaRoyce Hawkins' Atwater, Patrick John Flueger's Ruzek, and Marina Squerciati's Burgess should make detective next.
Atwater, Ruzek, and Burgess have been in the mix on Chicago P.D. from the very first season, with Ruzek as part of Intelligence from the start and Atwater and Burgess eventually making their way from patrol to working under Voight. All three of them have certainly put in the time, blood, sweat, and even tears to move up the ranks at CPD, but who will be the next one to make detective, if one of them does?
LaRoyce Hawkins, Patrick John Flueger, and Amy Morton spoke with CinemaBlend (seen in the video above) for the One Chicago Day celebrating Chicago P.D., Chicago Fire, and Chicago Med to share their thoughts on who should make detective next, with Marina Squerciati sharing her own thoughts as well. When I asked the stars at One Chicago Day for their thoughts on which officer should be the next to make detective and why, LaRoyce Hawkins made a pitch for why his character should be up for the promotion:
Atwater may not be the officer who has been in Intelligence the longest, but could anybody really argue with LaRoyce Hawkins' explanation of why his character should be the next to move up the ladder in Intelligence? Not only did Atwater keep his hands pretty clean in getting dirty cops off his back from the end of Season 7 to the early episodes of Season 8, but he has proven himself every time something has been asked of him.
That's not to say that Burgess and Ruzek don't rise to the occasion more often than not when the situation calls for it as well as Atwater, even if Ruzek is more likely to cross a line to do so. Amy Morton, who plays the unforgettable patrol sergeant Trudy Platt on Chicago P.D., shared her own perspective on which patrol officer should make detective:
There are worse things than to have Trudy Platt in your corner when it comes to Chicago P.D., and Amy Morton at least is on board with Atwater as the next one to join Halstead and Upton with a detective rank. Considering Atwater's time as a patrol officer before moving up to the Intelligence Unit, it would be fun to see Platt have a hand in Atwater advancing, if he is indeed the next one to advance over Ruzek and Burgess.
As for Ruzek, Patrick John Flueger weighed in on which Chicago P.D. officer should be moving up the ladder, and he didn't actually choose his own character. Instead, Flueger is on board with both LaRoyce Hawkins' and Amy Morton's arguments, saying:
Considering the events of the latest episode, it seems Ruzek may have a hard enough time adapting to the changes at the CPD as an officer without worrying about trying to advance, and he hasn't been without his fair share of personal drama as well thanks to the Burzek arc of Season 8 so far. Flueger was confident in supporting Atwater as the next detective, but what about the third longtime Chicago P.D. star playing a police officer in the Intelligence Unit?
I spoke with Marina Squerciati separately from One Chicago Day about Burgess' game-changing decision to take in young Makayla, and she took the time to share her own thoughts on the future of the three officers in Intelligence. Squerciati has a different reasoning than her co-stars behind her pick:
Marina Squerciati voted for Patrick John Flueger's Ruzek over her own Burgess and LaRoyce Hawkins' Atwater, suggesting that since Ruzek was the first officer in Intelligence, Ruzek should be the first officer to be promoted to detective in Intelligence. When I told her that Flueger, Hawkins, and Amy Morton all said Atwater should be next, Squerciati had the best response:
Even if Burgess doesn't make detective in the foreseeable future, she has plenty going on in her life to keep her busy. Taking in Makayla meant that she went from living as a single woman who spent most of her time hanging out with Ruzek to the mom of a little family unit overnight, so maybe she has enough on her plate for the time being.
Of course, there is no guarantee at this point that any of the Intelligence officers will make detective in Season 8, and the show is already guaranteed to run through at least Season 10. And there is plenty going on within Intelligence, what with the coming arrival of a new character, the Upstead relationship that may not be able to remain secret for too long, and the individual plots established around Upton and Halstead independent of their relationship.
That said, the one member of Intelligence who hasn't really had an independent plot since the first couple episodes of Season 8 is Atwater, and while he definitely deserved a break after everything the dirty cops put him through, I say that it's time for another big Atwater story, and what better story than Atwater making detective? I'd also be on board with an Atwater love interest, and LaRoyce Hawkins spoke about a possible romance as well:
Vote in our poll below about who deserves to be the next detective, and find out what happens next for Intelligence when Chicago P.D. returns on Wednesday, March 10 at 10 p.m. ET on NBC, following Chicago Fire at 9 p.m. ET and Chicago Med at 8 p.m. ET. In the meantime, you can relive One Chicago days gone by with P.D., Fire, and Med streaming on Peacock (opens in new tab).
This poll is no longer available.
Resident of One Chicago, Bachelor Nation, and Cleveland. Has opinions about crossovers, Star Wars, and superheroes. Will not time travel.
Your Daily Blend of Entertainment News
Thank you for signing up to CinemaBlend. You will receive a verification email shortly.
There was a problem. Please refresh the page and try again.