Twitter Had A Blast Reacting To WWE Superstar Randy Orton's Wrestling Feud With Soulja Boy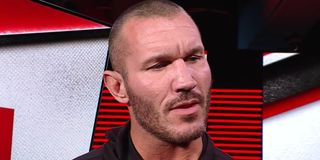 2021 already has a major contender for the most bizarre celebrity beef of the year. I present to the court WWE superstar Randy Orton getting into it on social media with rapper Soulja Boy. It all started when the "Crank That" rapper jumped online to compare the reality of the "rap game" to the reality of pro wrestling, and things quickly escalated after Orton got wind of it, with the athlete calling Soulja Boy a "bitch ass" and daring the one-time Grammy nominee to "step up." Truly, his deeply defense replies were a sight to behold unto themselves.
It probably goes without saying the Internet absoulutely ate this up, and the whole concept of this bizarro feud has been memed to the best of everyone's abilities. Many are crediting Soulja Boy for keeping Twitter an entertaining place, while also acknowledging that pissing off Randy Orton is not a good idea, particularly when the topic involves bodyslams.
What Randy Orton does in the WWE may have a pre-determined outcome a lot of the time, but the physical toll the sport takes on its wrestlers is very real, from backyard brawls to the most professional PPV events. Even if Orton doesn't viciously pulverize folks in the ring, he's still 6'5 and jacked to the point where can wrestle on national television wearing just a pair of wrestling trunks, and the look works. In comparison, Soulja Boy is quite a bit shorter at 5'8, so if there is a fight between the two, the rapper would likely be hoping it would be of a fictional nature.
As random as it seems, there's actually a history between Randy Orton and Soulja Boy that made such an eventual confrontation possible. Soulja Boy is more or less notorious for calling out various celebrities, regardless of what made them famous. (He has thoughts about Shia LaBeouf, for instance.) As for Randy Orton, he's made news in the past confronting all people who want to try to insult him and his gig in sports entertainment, such as one poor Mexican reporter who once referred to him as "fragile."
And while there are many thoroughly entertained by the whole exchange, and are hyped to see something happen next, there is no doubt a sizable crowd of fans wondering if this is all just another elaborate publicity stunt crafted by the WWE. With WrestleMania around the corner, this is usually the time Vince McMahon & Co. like to promote celebrity appearances and additional events that will entice a larger audience. Things are obviously slightly different again this year due to the pandemic, but it definitely reads as strange to some fans for this feud happening now.
While I'll never question the WWE's ability to spin an angle out of some real-life drama, I do question the thought that Randy Orton and Soulja Boy are in some quiet arrangement to publicly feud for some match at WrestleMania. Orton is one of the brand's biggest stars, so him having a match where Soulja Boy is perceived as any type of threat would be a bad look. (Shots fired hard in the tweet below.)
Additionally, the WWE regularly works with celebrities who, quite frankly, are currently much more famous than Soulja Boy, like Bad Bunny and Matthew McConaughey. Having Soulja Boy at WrestleMania would be good for the meme crowds, but really not the type of star power the organization would want for its biggest event of the year. It doesn't seem like the rapper is interested in doing anything of that nature anyway, as he casually sidestepped an invitation by Randy Orton to check out how the business works.
For now, it appears this beef will remain housed on the internet, but the moment will live on the next time Soulja Boy or Randy Orton find themselves in the news. Perhaps cooler heads will reveal in the end, and the two will hash it out before it escalates any further, though based on their first few exchanges with one another, I kind of doubt that.
Randy Orton can be found putting his talents on display on Monday Night Raw, which airs on USA Mondays at 8:00 p.m. ET. Sound off on our poll if you'd like to see Soulja Boy and Orton duke it out in the ring, and read up on the latest phenomena of former WWE stars joining AEW here.
This poll is no longer available.
Your Daily Blend of Entertainment News
Mick likes good television, but also reality television. He grew up on Star Wars, DC, Marvel, and pro wrestling and loves to discuss and dissect most of it. He's been writing online for over a decade and never dreamed he'd be in the position he is today.
Your Daily Blend of Entertainment News
Thank you for signing up to CinemaBlend. You will receive a verification email shortly.
There was a problem. Please refresh the page and try again.