First Look At Chicago P.D.'s New Cop Makes Me Wonder What Happened To Rojas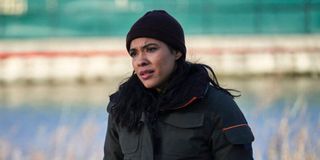 Chicago P.D. has gone for half of Season 8 with just five cops in Voight's Intelligence Unit thanks to the departure of Lisseth Chavez's Vanessa Rojas, but a photo from the upcoming episode reveals a first look at the officer who will take the vacant spot. The newcomer is Jalen Walker, played by Cleveland Berto, and the intriguing first look at him in Chicago P.D. indicates that his first encounter with Intelligence may be far from a meet-cute. And yet I find myself wondering: where is Rojas?!
In fairness to the bigger picture than MIA Rojas, the first look at Cleveland Berto as Jalen Walker is definitely interesting, and I can't wait to see what he brings to the unit that has had an odd number of officers for far too long. The early character description of Walker indicates that he'll be completely unlike any of the other current or former members of Intelligence, and there's a lot of promise that he could freshen up the dynamic. The photo made me even more excited to see how this newcomer fits into the unit. Take a look:
Whatever is happening in this scene, Cleveland Berto's Jalen Walker seems to be having words with Atwater and Ruzek. Walker isn't wearing a patrol uniform, but the photo is of Cleveland Berto, so there are a lot of questions about his debut in the March 10 episode that need to be answered. Is he off-duty? Undercover? Witness? But seriously, I still have leftover questions about the person who held that sixth spot in Intelligence in the Season 7 finale with no indication that she planned to go anywhere. What happened to Rojas?
By the end of Season 7, Rojas had formed a deep bond with Upton and even lived with her. Sparks were flying between Rojas and Atwater, and signs pointed toward Chicago P.D. potentially exploring a romance. She settled into her role in Intelligence and seemed to suit the same shades of gray that the rest of the unit was already used to working in. Rojas faced a big challenge in trying to replace Jon Seda's Antonio Dawson, but she seemed set for the long run back when Season 7 ended.
Instead, Rojas is evidently going to be a one-season wonder, and news broke of Lisseth Chavez's departure early enough ahead of Season 8 that it came as no surprise that Rojas wasn't around when the show made its long-awaited premiere back in November. The surprise was more that Chicago P.D. never addressed what happened to Rojas, or even mentioned her. Upton no longer lives in the apartment they shared, but that seems to be about as close as P.D. has come to noting her absence.
Lisseth Chavez landed a new TV show that films up in Vancouver, so it does make sense that she didn't show back up on Chicago P.D. even for a quick farewell, but I've just been dying to know the in-show reason why Rojas is gone. At this point, I think too much time has passed without a mention for Chicago P.D. to reveal that she'd been killed off over hiatus. More likely options, in my book, are that Rojas went back undercover, Rojas left Intelligence and/or CPD, or Rojas was fired. It would still be weird that P.D. didn't mention her for months of Season 8 if the show goes with one of those three options, but we can't just pretend she was never part of the unit, right?
All of this said, I'm genuinely excited to see what Cleveland Berto brings to Chicago P.D., and not just because the introduction of Rojas' replacement seems like the point in the season that P.D. absolutely has to explain where she is. With regard to Walker, on top of the first look and the description setting the stage for what could be a complex new character, I feel like Intelligence having an even number of cops working under Voight again could mean more balanced stories and maybe even some mixed-up dynamics. I'm assuming Upton won't be taking Walker home with her like she did Rojas, but would Walker coming on board mean Voight mixing up the partners?
The Upstead relationship technically means that Upton and Halstead probably shouldn't be partnered up anymore, although as a fan of their friendship and partnership before their romance, I'd hate to lose that part of their relationship. Burgess and Ruzek have been partnered up a lot as well, and they have enough baggage between them that working with a different partner might make sense as well.
And poor Atwater hasn't really had much partner work at all in Season 8, or even much focus beyond those first two episodes that tied off the loose ends from Season 7. Most of the Chicago P.D. cast agrees that Atwater should be the next officer to make detective, so I for one am ready for more Atwater focus. Even if he doesn't get a love interest. Walker bumping the cop count up to six could open the door for balance.
The good news on the Atwater front is that the next new episode, called "Protect and Serve" and airing on March 10 at 10 p.m. ET on NBC, will see Atwater and Ruzek tasked with making an arrest following a high-profile shooting, but it becomes clear that somebody doesn't intend for them to make it back to the district.
Admittedly, that's probably terrible news for Atwater himself, but sounds like a pretty solid episode. The official description doesn't mention Cleveland Berto's Jalen Walker (or Rojas), but he's on the way. I'm just hoping that an update on Rojas is on the way as well.
Resident of One Chicago, Bachelor Nation, and Cleveland. Has opinions about crossovers, Star Wars, and superheroes. Will not time travel.
Your Daily Blend of Entertainment News
Thank you for signing up to CinemaBlend. You will receive a verification email shortly.
There was a problem. Please refresh the page and try again.