Young Sheldon's Showrunner Had The Best Reason For Casting David Hasselhoff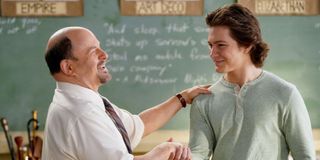 (Image credit: CBS)
Warning: spoilers ahead for the March 4 episode of Young Sheldon, called "Cowboy Aerobics and 473 Grease-Free Bolts."
Young Sheldon has included no shortage of big-name guest stars and cameos over its four seasons on CBS so far, but the latest might be one of the very best of the bunch. None other than Baywatch and Knight Rider star David Hasselhoff turned up on an episode of the hit CBS show, and he was a perfect fit for the role. Why? Because Hasselhoff was (sort of) playing himself, and showrunner Steve Molaro has the best reason for the casting.
In the episode, Georgie joined forces with Mr. Lundy (played by a pretty big name in TV as well) to produce a workout tape with a cowboy theme, explaining why the episode title includes the unusual phrase of "cowboy aerobics." As Big Bang Theory fans know, however, Georgie did not strike it rich in his teens via a workout tape, and the project hit a dead end when Georgie and Mr. Lundy couldn't agree on how they would split their profits. Georgie was out, but that didn't mean that Lundy was ready to give up, which led to the fabulous guest appearance by David Hasselhoff.
Mr. Lundy met with David Hasselhoff and managed to convince him to star in a series of cowboy-themed workout videos. So, why did Young Sheldon go for the real David Hasselhoff rather than doing the same thing as Young Rock over on NBC and cast a lookalike, considering Young Sheldon is set decades in the past? Showrunner and co-creator Steve Molaro explained why Hasselhoff had to be the one for the episode, telling TVLine:
Congratulations to David Hasselhoff for being considered young enough-looking in 2021 to play the 1990s version of himself! Young Sheldon didn't slather him with a distractingly thick layer makeup or prosthetics to age him down, but pretty much gave him back the mullet and the fashion to sell the blast to the past. Of course, even if Hasselhoff looked 30 years older than he does now, I think fans could have forgiven Young Sheldon just for the joy of Hasselhoff embracing his inner cowboy for some aerobics!
Steve Molaro casting David Hasselhoff in 2021 because he still looks young enough to play himself in the '90s is a pretty simple reason, but it's also pretty perfect. If only those cowboy aerobics tapes were real! Home workouts during quarantine might have been a lot more fun if The Hoff was going full cowboy, complete with the hat.
Whether or not David Hasselhoff ever returns to Young Sheldon remains to be seen, but the fourth season is still going with new episodes on CBS Thursdays at 8 p.m. ET, despite the production halt earlier this season, which itself followed the shortened third season due to production shutdowns throughout the entertainment industry.
Resident of One Chicago, Bachelor Nation, and Cleveland. Has opinions about crossovers, Star Wars, and superheroes. Will not time travel.
Your Daily Blend of Entertainment News
Thank you for signing up to CinemaBlend. You will receive a verification email shortly.
There was a problem. Please refresh the page and try again.