Alec Baldwin Deletes Twitter After Wife's Heritage Scandal, And The Crown's Gillian Anderson Is Involved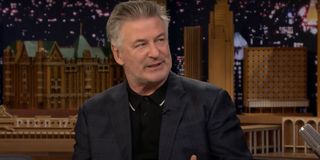 (Image credit: Tonight Show Starring Jimmy Fallon)
The Hilaria Baldwin heritage scandal continues. Only this time, it is at the behest of her husband Alec Baldwin. The Saturday Night Live star deleted his Twitter account again on Thursday following backlash from his tweet that reignited the debate about cultural accents. Consequently, he also dragged The Crown actress Gillian Anderson into it.
On Instagram, Alec Baldwin posted an almost 10-minute-long video explaining the lead up to his decision to quit Twitter for good. Apparently, Baldwin shared a link on Twitter about how Gillian Anderson frequently switches between an American and British accent, captioning it as, "Switching accents? That sounds…fascinating." It was a nod to the situation surrounding his wife, who is accused of faking a Spanish accent, and the Twitterverse was not having it. Baldwin had this to say on the matter:
The reaction online to Alec Baldwin's seeming dig at Gillian Anderson, who played Margaret Thatcher on The Crown, was huge to say the least. Many are of the opinion that Anderson's fanbase single-handedly ran Baldwin off the site. Anderson herself hasn't responded to the scandal on social media.
Alec Baldwin wanted to make clear in his Instagram video, however, that the tweet was not intended as a dig at Gillian Anderson, but more so an attempt at irony, saying,
In other words, Alec Baldwin thought it was hypocritical how others may get a cultural pass versus how his wife Hilaria was dragged through the coals. She was accused online of cultural appropriation. She admitted at the time that she was born in Boston but grew up bilingual and raises their six children the same way.
Regardless, Alec Baldwin should know that the Internet comes for everyone. Especially if you're going to bring up Golden Globe-winner/lord and savior Gillian Anderson, if you ask me.
Freelance writer. Favs: film history, reality TV, astronomy, French fries.