Looks Like The Mandalorian's Katee Sackhoff Is Missing WandaVision Just As Much As We Are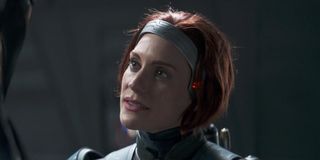 If you happened to hop into Disney+ this past Friday to check the latest episode of WandaVision, then you probably experienced a wave of emotions. With it being the finale, it probably sunk in that this will most likely be your last experience with the series, and it probably took the last bit of happiness you had left with it. Okay, so it might not be that bad, but your girl here is having some serious Wanda withdrawals -- and I'm not the only one! In fact, The Mandalorian star Katee Sackhoff looks to be missing the Marvel Studios series too, as she sounds pretty heartbroken over the ending.
Katee Sackhoff plays Bo-Katan on The Mandalorian, but it looks like the actress is missing a whole different Disney franchise right now. After viewing the finale of Marvel's WandaVision, she took to Twitter to post her personal reaction. Needless to say, the actress got pretty emotional about how things panned out for Wanda Maximoff and Vision. You can check our her tweet below:
It honestly makes sense that Katee Sackhoff is a WandaVision fan, because she's basically a fandom Queen. Sackhoff may be Bo-Katan Kryze in the Star Wars universe, which has allowed her to become a fan-favorite within the franchise for some time now, but the actress is actually in a lot of other fandoms as well. The Longmire star is also a pretty big part of Battlestar Galactica, having played the iconic role of Kara "Starbuck" Thrace. She's even had a recurring role in the DC series The Flash, making her a member of the Arrowverse as well.
While WandaVision in its entirety has been a whirlwind of confusion, speculation, and emotions, the finale that released to Disney+ just a few days ago gave fans all of the feels. Yes, some questions were answered, but the finale left us with new puzzles and honestly, a mild set of trauma we'll have to unpack when MCU Phase Four brings us some of our favorite characters back.
Even though WandaVision has come to an end, Marvel fans have a ton to look forward to. WandaVision is only the beginning of Phase Four and the first of many MCU series to come. We'll see Hawkeye, Bucky, Loki, and a number of new characters in Marvel series later this year. Black Widow and Spider-Man are also sett return to the big screen this year as well.
After the events of WandaVision, we'll probably all need some time to reflect and think about what went down on the show. And while we do that, we can look forward to the rest of the MCU content coming our way -- and also hope that Marvel fan Katee Sackhoff manages to land a role in the cinematic universe herself.