Miley Cyrus Explains That Viral Treadmill Super Bowl Running Sesh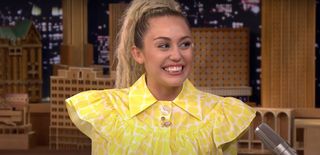 (Image credit: Tonight Show Starring Jimmy Fallon)
It's safe to say that Miley Cyrus is the millennial pop queen of making things go viral. This doesn't require much from the singer – just one foam finger at an award show or an eccentric haircut. But, the recent viral video of Cyrus running and singing on a treadmill ahead of her Super Bowl TikTok Tailgate performance back in February is now prefaced by an explanation for why she was doing it in the first place.
Miley Cyrus' pre-Super Bowl treadmill sesh went viral precisely because it was jaw dropping. Most people can hardly speak, let alone belt out "Rebel Girl" and "Angels Like You," during and after a sprint on the treadmill. Talking with Allison Hagendorf on her Rock This podcast, Cyrus explained that the video had a more practical reason than many people think:
The explanation from Miley Cyrus for her treadmill video underscores the often-overlooked fact that singing live can be just as much of an athletic practice as it is a creative talent. Singers are often walking a tightrope line of holding their breath for certain notes and finding time to take a breath as they jump around a stage in front of millions of fans. For Cyrus, now 28, this is nothing new, having been performing since her early teen years as Hannah Montana.
Her statement is that the treadmill exercise is part of an ingrained routine to sideswipe anxiety while performing, and it's a pretty astounding tactic. It is essentially a form of leaning into anxiety and learning how to work with it, rather than away from it, which makes it seem all the more grueling than ever before. Anyone who has anxiety can tell you that embracing it is the last thing they want to do.
This wouldn't be the first time Miley Cyrus has hinted at her anxiety. In fact, Cyrus' Instagram live quarantine talk show, called Bright Minded, kicked off with interviewing her own therapist and talking about her crippling anxiety and need for routine. The "Prisoner" singer has since interviewed the likes of Senator Elizabeth Warren, Selena Gomez, Elton John, and Reese Witherspoon, to name a few.
All in all, Miley Cyrus' viral treadmill video may not be the quick solution for everyday anxiety. But, it sure demonstrates the power of preparation through practice.
Freelance writer. Favs: film history, reality TV, astronomy, French fries.
Your Daily Blend of Entertainment News
Thank you for signing up to CinemaBlend. You will receive a verification email shortly.
There was a problem. Please refresh the page and try again.