WWE Network On Peacock: First Impressions Of The New WWE Streaming Setup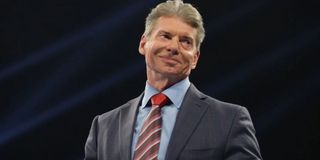 Back in February 2014, Vince McMahon forever changed the way in which we watch wrestling content streaming, with the debut of WWE Network. While its launch was a mess those first few days, the platform eventually became a pretty good service, despite a few hiccups along the way. Well, it's now essentially a thing of the past, with the launch of WWE Network on Peacock, the product of the massive five-year, $1 billion deal between WWE and NBCUniversal that will once again forever change the way fans enjoy the biggest wrestling promotion on the planet.
Launched on March 18, 2021, WWE Network on Peacock is a welcome change from the hard-to-navigate and glitchy confines of WWE's former streaming service, but that doesn't mean it's without its flaws. Over the course of the first 24 hours of the new and slightly improved WWE Network, I dove through the library of available shows, documentaries, and other features, and I have some thoughts on what I like, what I don't like, and what I hope comes to the service in the future.
What's WWE Network On Peacock?
For those who have been living under a rock (or WWE ring), WWE Network on Peacock is now the exclusive home for WWE content of yesterday and today (at least in the United States). No longer will you be able to access your WWE Network account on the standalone website or streaming app. Instead, all pay-per-view events, replays of weekly shows, and hours upon hours of the promotion's biggest moments are all found in the WWE hub on NBCUniversal's streamer alongside the likes of The Office and Yellowstone.
Things I Like About WWE Network On Peacock
It is still early in WWE Network on Peacock's existence, but I can tell you straight up that it is leaps and bounds better than the launch of the former network seven years ago. First day on Peacock: able to watch wrestling with no major issues. First day of the old WWE Network: I don't know...it didn't work for a couple of days.
All jokes aside, WWE Network on Peacock has some impressive features and quality of life functionality that is a welcome change from the way I've been watching wrestling for the better part of a decade now. Here are a few of my favorite things at this early stage in my exploration of all things wrestling on Peacock.
The WWE Hub Makes It Easy To Find My Favorite Wrestling Shows
As soon as you open Peacock, you are greeted by a massive WWE logo which takes you to the streamer's wrestling hub. There is so much there! So much! With categories for PPV specials, upcoming live shows, and replays of Raw, SmackDown, and NXT, you have immediate access to some of the best wrestling without even really climbing the turnbuckle and frog splashing into all the great content. Once you start digging, you find sections focused on documentaries (which are amazing, even for non-wrestling fans), "The Road to WrestleMania," and more.
Non-WWE Shows/Movies Featuring Wrestlers Like The Rock Are All In One Place
One thing that immediately caught my eye on WWE Network on Peacock (besides the wrestling, of course), was the section titled "The People's Picks" which centered on everything that had to do with Dwayne "The Rock" Johnson. In addition to showcasing his classic ladder match against Triple H at SummerSlam '98, the section also features movies like Fast 5, Johnson's appearances on Saturday Night Live, and a ton of other great stuff. Hopefully this is something that continues with the service and Peacock continues to integrate its non-wrestling content in with WWE.
The WWE Superstar Playlists Are Actually A Lot Of Fun
WWE Network on Peacock also has these neat WWE superstars playlists featuring some of each wrestler's biggest moments, matches, and promos from the past few months. I checked out current WWE Champion Bobby Lashley's page, and while his recent title victory wasn't on there (due to Raw content not being available until 30 days after first airing), much of the Hurt Business member's US Championship run is available for a quick primer for the Road to WrestleMania.
Things I Don't Like About WWE Network On Peacock
There are some things, however, that I don't like about WWE Network on Peacock, but both of my major complaints do seem to be things that could be worked out in time. And again, my pain points with the service pale in comparison to the myriad of issues that affected the former WWE Network at its launch.
The Search Function Is A Mess
I had originally hoped that the search function on WWE Network on Peacock would be a noticeable improvement from the previous model, but just like with the two-night WrestleMania 36 in April 2020, I was let down. For example, when you search The Rock in the search bar, the "Results" tab comes back with stuff like 3rd Rock From the Sun and The Rockford Files, neither of which have anything to do with the People's Champion. The "Clips" tab is a slight improvement, but it only brings up non-wrestling shows and none of The Rock's biggest moments.
It Is Hard To Find The Non-Marquee Wrestling Shows
The other main gripe I have with WWE Network on Peacock is the tough time I had looking for the smaller PPV events (WWE, WCW, ECW, etc.). It's easy to find big shows like WrestleMania, Royal Rumble, SummerSlam, and Survivor Series, but you have to dig in order to find the non-marquee events. There is a "Show & Events A-Z" section at the bottom of the WWE hub, but it only shows you a handful of shows at a time and only allows you to access the full listing after you've clicked through the entire section. You can use the search function but it requires you to know what you want to watch, which takes some of the fun out of exploring classic wrestling.
Things I Hope They Add To WWE Network On Peacock
When you open WWE Network on Peacock you will notice that a lot of the content that made the original network such a great streaming option is nowhere to be found. This isn't an oversight, as WWE has previously announced that content will continue to be added to the platform in the months to come. Here are some things I hope eventually get carried over.
The Extensive Library Of Old Wrestling Promotions Once Found On The Network
WWE has stated that all WWE, WCW, and ECW PPV events will be added to the on-demand function before SummerSlam (the company's annual August show), but the company hasn't said anything about the smaller territories that once filled up much of WWE Network's library. At this point in time you can't find anything from AWA, Mid-South Wrestling, Smoky Mountain Wrestling, or World Class Championship Wrestling on the network. On top of that, the classic Madison Square Garden shows from WWE's past are missing as well.
More Original Documentaries
One of the worst kept secrets about WWE is the company's ability to turn out captivating documentaries about some of wrestling's biggest names, events, and controversies. Although a decent chunk of these are available on WWE Network on Peacock, the lion's share of the docs are nowhere to be found, at least for the time being. Hopefully this is something that is addressed moving forward.
All that being said, WWE Network on Peacock (opens in new tab) is fairly impressive for all that it offers out of the gate, especially when you consider that it is all included with your regular Peacock account ($4.99/month for premium, $9.99/month for premium plus). Hopefully it only gets better from here with quality of life improvements and the return of the former network's massive library of wrestling's biggest moments. On top of that, Peacock is also home to a lot of the best shows currently found on our 2021 TV Schedule, allowing you to kill two birds with one stone.
Philip grew up in Louisiana (not New Orleans) before moving to St. Louis after graduating from Louisiana State University-Shreveport. When he's not writing about movies or television, Philip can be found being chased by his three kids, telling his dogs to stop yelling at the mailman, or yelling about professional wrestling to his wife. If the stars properly align, he will talk about For Love Of The Game being the best baseball movie of all time.
Your Daily Blend of Entertainment News
Thank you for signing up to CinemaBlend. You will receive a verification email shortly.
There was a problem. Please refresh the page and try again.