How To Watch Syfy's Resident Alien Streaming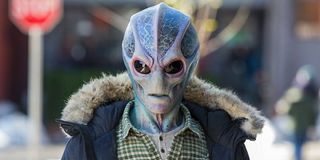 CinemaBlend participates in affiliate programs with various companies. We may earn a commission when you click on or make purchases via links.
It is hard to not like a show that involves an alien masquerading as a human while also relying on old Law & Order reruns to keep his job, and it's even harder to not like a show with that premise when the great Alan Tudyk is the one playing the alien wearing a human skin. And that appears to be the case for Resident Alien, the popular and hilarious Syfy series with that very premise. But if you're just now hearing about show that also features a 9-year-old boy who can see through the alien's flesh costume, you are probably wondering where you can watch Syfy's Resident Alien streaming.
Well, my friends, if you want to watch Alan Tudyk constantly have to figure out human social cues, binge Law & Order, and contemplate his decision to fulfill his mission of wiping humans from the planet, you are in for some good news. With various streaming services offering Resident Alien (some free of charge), there's no reason to not be taking part in all the fun.
Where Is Resident Alien Streaming
Syfy's Resident Alien is streaming on multiple websites and platforms, but not all will give you access to the first eight episodes of the show's freshman season (the Season 1 finale airs 10 p.m. Wednesday, March 31). It's not all bad news though.
At the time of this writing, the first five episodes of Resident Alien Season 1 are streaming for free on Peacock, which recently became the streaming home to WWE Network. You still need to create an account, but the episodes are not locked behind the "Premium" or "Premium Plus" paywalls, though you will be required to sit through a few ad breaks if you have the free option. But hey, you can't beat free.
Watch Resident Alien on Peacock.
If you want more than just the first five episodes, you can watch Resident Alien through the Syfy website or app. In order to do this, however, you will need to use the credentials for your TV provider. All available episodes are also streaming in the on-demand libraries of internet-based TV services like YouTube TV, Hulu + Live TV, and Fubo.
Will Resident Alien Be On Netflix?
It doesn't look like Resident Alien will be on Netflix anytime soon considering the show is still on standard television and the fact that Syfy is owned by NBCUniversal, which just so happens to operate a streaming service of its own, Peacock. Now, it wouldn't be completely out of the realm of possibility for the show to pop up on the streamer at some point especially when you consider other Syfy series, like Happy! eventually ended up there.
Want To Watch Alan Tudyk Do Most Of His Disney Voices?
To some, Alan Tudyk is the Law & Order obsessed extraterrestrial on Resident Alien, and to some he'll always be Hoban "Wash" Washburne on Firefly and its film continuation Serenity, but to the younger portion of his fanbase, he'll always be not one, not two, but multiple Disney characters, including a certain Duke of Weselton in Frozen.
Back in 2017 (so long ago, right?), CinemaBlend shared a video of the prolific voice actor recreating most of Disney voices (we say most because he's been in a more since then, including the Raya and the Last Dragon voice cast) that is just too good to pass up. You should really check it out for a quick laugh.
That should all be more than enough to set you on your way to watching Syfy's Resident Alien streaming. And if you want to check out the other shows taking up space on the 2021 TV schedule, don't worry because we have you covered.
Philip grew up in Louisiana (not New Orleans) before moving to St. Louis after graduating from Louisiana State University-Shreveport. When he's not writing about movies or television, Philip can be found being chased by his three kids, telling his dogs to stop yelling at the mailman, or yelling about professional wrestling to his wife. If the stars properly align, he will talk about For Love Of The Game being the best baseball movie of all time.
Your Daily Blend of Entertainment News
Thank you for signing up to CinemaBlend. You will receive a verification email shortly.
There was a problem. Please refresh the page and try again.