Did The Falcon And The Winter Soldier Just Quietly Introduce An Important Avengers Character To The MCU?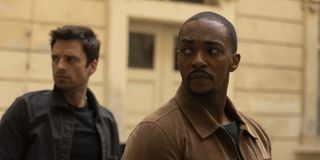 The Falcon And The Winter Soldier found an impressive way to stun us in its second episode. While it was long believed that Steve Rogers was the only previous Captain America in the Marvel Cinematic Universe, the Disney+ original pulls back the curtain and exposes that the United States had another super soldier in operation during the 20th century – but rather than being treated like a patriotic hero, he was instead treated like a prisoner and a science experiment. Though he is only in one scene, Carl Lumbly delivers a thunderous performance as Isaiah Bradley, and the implications of his story had us thinking deeply in the wake of the revelation.
There is hope that we will have the chance to learn more about this secret Captain America in future episodes, as there is a whole lot more that we want to know – but not to be totally overshadowed in the moment is also what seems to be another key character introduction featured in the same scene. After all, the person who greets Anthony Mackie's Sam Wilson and Sebastian Stan's Bucky Barnes at the door of Isaiah Bradley's house is young Eli Bradley, played by actor Elijah Richardson, and there is every possibility that in the next couple of years he may become a much more important individual in the Marvel Cinematic Universe as a member of the Young Avengers.
If you're a regular CinemaBlend reader and all of this rings a bell, it's because this is a drum that we've beaten before – and last September I actually wrote a piece that predicted that The Falcon And The Winter Soldier would introduce Eli Bradley to the canon. But now that he is officially here and established, it's hard not to think about all of the exciting things that exist on the horizon.
Elijah "Eli" Bradley was introduced in Marvel Comics 16 years ago this April in "Young Avengers #1" – an issue that saw him operating with the moniker Patriot while working together with a small group of other teenage superheroes after Earth's Mightiest Heroes disassembled. It was in that series that he was first established as the grandson of Isaiah Bradley, and it was written that he gained super powers genetically (this gets a bit more complicated as the story progresses, but I won't spoil what happens here). He becomes the leader of his squad, and demonstrates a strong mind for strategy.
Of course, while it's cool that The Falcon And The Winter Soldier has introduced this character, what makes the arrival of Eli Bradley especially noteworthy is the fact that his teammates are starting to become a significant presence in the Marvel Cinematic Universe.
First there was the news in 2020 that Jonathan Majors and Kathryn Newton had been cast in Ant-Man And The Wasp: Quantumania as Kang The Conqueror and the grown-up Cassie Lang, respectively – leading to widespread speculation about Iron Lad and the growing/shrinking hero Stature. Then along came WandaVision in January, which brought Billy a.k.a. Wiccan and Tommy a.k.a. Speed into the continuity – not to mention a "rebooted" version of Vision. Add in the fact that Hailee Steinfeld will be making her debut as Kate Bishop later this year in Disney+'s Hawkeye series, and that means Hulkling is the only founding member of the Young Avengers whom we haven't heard anything about (though we wouldn't rule out the possibility he could be in the Ms. Marvel series, the Secret Invasion series, or maybe even Captain Marvel 2).
Should things pan out as speculated, it could mean big things for Elijah Richardson, who is just at the start of his career. The young actor hasn't actually made a big screen feature yet (his most notable parts to date have been a recurring role on New Amsterdam and two episodes of Ava DuVernay's Netflix miniseries When They See Us), but Marvel Studios may have some big plans for him in the future. Nothing is officially confirmed, obviously, as there is no official Young Avengers project on the franchise's slate, and Kevin Feige has only affirmed that it is a possibility, but everything that's been happening makes the probability seem high.
It's been hard not to notice that the word "Avengers" is missing from the titles of any officially developing projects at Marvel Studios, which makes us think that they have some massive plans in the works, and we're certainly keeping our fingers crossed that Young Avengers is part of that plan. In the meantime, though, we're also sincerely hoping that we just get to see more of Eli Bradley on The Falcon And The Winter Soldier – which will launch its third episode on Disney+ this Friday at midnight PST/3:00am EST.
NJ native who calls LA home; lives in a Dreamatorium. A decade-plus CinemaBlend veteran; endlessly enthusiastic about the career he's dreamt of since seventh grade.