The MCU's White Vision: 5 Marvel Movies Or Shows He Could Show Up In After WandaVision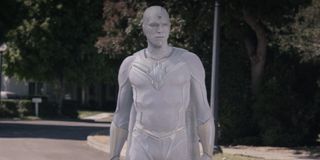 WARNING: The following article contains major SPOILERS about the end of WandaVision (and the Marvel Cinematic Universe as a whole, really). Unless you have are caught up on all nine episodes (and the preceding 23 movies, for that matter), please stand by.
In its epic series finale, WandaVision gave us with a real tearjerker of a conclusion in which Wanda Maximoff (Elizabeth Olsen) gets a second chance to say goodbye to Vision as the Hex and its artificial inhabitants evaporate around her. However, we can thankfully be certain that this is not the last we have seen of Paul Bettany in the Marvel Cinematic Universe because, in the franchise's typical fashion, the show left as many plot points open as it managed to resolve. The most puzzling cliffhanger of all is the current whereabouts of White Vision.
In the penultimate episode of the Disney+ exclusive hit, S.W.O.R.D. unveiled their own monochromatic recreation of the synethezoid, who was born when Tony Stark's virtual assistant JARVIS was combined with the Mind Stone in Avengers: Age of Ultron. This new Vision, with all the abilities of the original but none of heart, is initially programmed to destroy his counterpart, who instead convinces him to abort the mission on the grounds that he is not "the real Vision" before transferring his own memories to his evil twin. After proclaiming "I am Vision," White Vision flies away and out of the Hex.
The question that now remains is, where the hell did he go? Well, as WandaVision head writer Jac Schaefer explained, the whereabouts of White Vision are nothing to dwell on in the context of the show itself, but in the context of the MCU's future as a whole, we cannot help but dwell on it. That is exactly what we intend to do with the following upcoming Marvel movies and upcoming Marvel TV shows that we suspect could be the next time we see this new synthezoid, starting with the confirmed future whereabouts of his doppelgänger's wife.
Doctor Strange In The Multiverse of Madness
Now that White Vision is the sole possessor of the original Vision's memories, I imagine his goal now would be to become more like his predecessor which, by proxy, means to become more human. The best way for him to do that would be to reach out to the one person who made the synthezoid feel the most human, the love of his life.
As we already know, Elizabeth Olsen is confirmed to return as Wanda Maximoff, now officially owning the Scarlet Witch moniker after the events of WandaVision, alongside Benedict Cumberbatch in Doctor Strange in the Multiverse of Madness. How she and her late husband's clone could cross paths in the sure to be bizarre sequel from The Evil Dead and Spider-Man director Sam Raimi is a mystery only the Sorcerer Supreme may be able answer, but it is not a bad bet if this "reunion" of sorts is meant to happen.
Black Panther 2
There could be another way for White Vision to become more like his original his predecessor that, admittedly, relies more on sticking to scientific methods. In Avengers: Infinity War, Bruce Banner (Mark Ruffalo) theorized that Vision could still retain his personality without the Mind Stone, which Shuri (Letitia Wright) seemed on track to achieve before he decided to join in on the ill-fated fight against Thanos.
Based on this theory (which we do not know is proven or not), it could be possible to unlock Vision's true self from within the memories transferred to White Vision, which Shuri is clearly smart enough to figure out if she does not already have a back up of the old Vision on file in Wakanda. Either of these is a good enough reason to suspect the synethezoid will be Shuri's next "broken white boy to fix" when she supposedly takes over as the lead of Black Panther II, Ryan Coogler's upcoming sequel to his Oscar-winning blockbuster.
Armor Wars
Another mechanically minded person who likely could have helped White Vision become "The Vision" is Tony Stark (Robert Downey Jr.), if not for his tragic, sacrificial fate at the end of Avengers: Endgame. One Avenger you know must be taking the death of Iron Man pretty hard is Col. James "Rhodey" Rhodes (Don Cheadle) whose Disney+ show Armor Wars could shed more light on his grief over losing his friend.
The upcoming Marvel series originally based on a popular Iron Man arc could also be White Vision's first foray into doing something heroic. The memories of being JARVIS could prompt the clone to seek out Vision's creator and, instead, he finds War Machine when he is in need of some help fighting off an evil that has stolen Tony Stark's armor technology. Besides, who better to help fight "Armor Wars" with than a guy who was once intended to be a "suit of armor for the entire earth"?
Captain Marvel 2
The events of WandaVision clearly have a heavy influence over what we can expect in director Nia DaCosta's upcoming sequel to Captain Marvel, which will see Brie Larson's Carol Danvers joining forces with Iman Vellani's Kamala Khan (a.k.a. Ms. Marvel) and Teyonah Parris as Monica Rambeau, who now has superpowers of her own. Monica also has a bit of a history with Vision now following what they went through together in the Hex, and I imagine White Vision has some understanding of that from the memory transfer.
That being said, if White Vision were to were cross paths with Monica when she reunites with Carol and meets Kamala (possibly for the first time) in 2022's Captain Marvel II, it could also be an important stepping stone to his hopeful destiny as a hero. Even superheroes as powerful as those three ladies could always use an extra hand when fighting evil, so why not an existentially confused synthezoid who can do a lot of the same things they can?
Secret Invasion
Of course, for all White Vision is obviously capable of, he still has much to learn if he is going to become a hero. In that regard, I imagine his first course of action would be to seek as much knowledge of the outside world as possible, and beyond. So, perhaps, when he flew out of the Hex, he just kept soaring higher and higher until he hit outer space.
If this rings true, White Vision then has a good chance of bumping into Nick Fury (Samuel L. Jackson), who will soon be the lead of his own Disney+ exclusive series called Secret Invasion that once again pairs him with Talos (Ben Mendelsohn) and other Skrulls against otherworldly enemies. If you ask me, the synthezoid could not receive better superhero mentorship than from a race of shapeshifting aliens and the man responsible for putting the Avengers together.
The beauty of all of this speculation I have presented here is that these are only five potential examples of where White Vision could show up in the MCU next. The possibilities truly are endless with this shared universe, which still has plenty of characters and stories to introduce, and that is just the way we like it.
Jason has been writing since he was able to pick up a washable marker, with which he wrote his debut illustrated children's story, later transitioning to a short-lived comic book series and (very) amateur filmmaking before finally settling on pursuing a career in writing about movies in lieu of making them. Look for his name in just about any article related to Batman.
Your Daily Blend of Entertainment News
Thank you for signing up to CinemaBlend. You will receive a verification email shortly.
There was a problem. Please refresh the page and try again.