Nickelodeon Quietly Removed Some SpongeBob SquarePants Episodes, But The Internet Caught On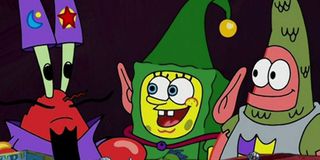 SpongeBob SquarePants has been around for over two decades and some of the jokes can go over anyone's head, especially a child's. That broad brand of comedy is what makes the show so special for adults and kids alike. However, Nickelodeon has surprisingly removed some episodes from both Amazon and newly-launched Paramount+ due to the nature of those episodes, but the internet was quick to catch on.
CNN recently reported that an episode from the show's 12th season, "Kwarantined Crab," in which a health inspector comes to the Krusty Krab and finds a case of the "Clam Flu," will not air. In the episode the health inspector quarantines patrons, while those who are assumed to have the virus are shunned and tossed in a freezer. Reportedly, the episode never aired due to sensitivities surrounding the global, real-world pandemic, a spokesperson for Nickelodeon told CNN Business. The second episode being pulled from streaming services is the fan-favorite episode, "Mid-Life Crustacean," where SpongeBob and Patrick try to make Mr. Krabs feel young again by breaking into a woman's house to steal her underwear. That episode hasn't been in rotation since 2018 because some story elements were not kid-appropriate, according to a Nickelodeon spokesperson.
The realization that the episodes are no longer airing finally caught on and fans are reminiscing one of the funniest episodes of SpongeBob SquarePants to ever air. It's not a surprise the episode is now banned but the Season 3 episode remains a favorite to this day, as one fan tweeted:
Some fans are going completely old school just so they can watch the episode, which is also paired with another fan-favorite, "The Great Snail Race." In the early 2000's, before the iPhone, there was VideoNow, a futuristic technology that made it possible to watch your favorite shows and movies in the palms of your hands. With horrible quality, one fan pointed out that it's still on the device:
There's one line in "Mid-Life Crustacean" that makes the episode so memorable and that is "Are you feeling it now, Mr. Krabs?" SpongeBob and Patrick ask Mr. Krabs repeatedly if he's feeling it, but every time he says no. The sudden realization that the younger generation will no longer know what that means is heartbreaking, as one fan put it:
Many fans, including this one, are pointing out that while the episode can no longer be streamed online or on television, it can still be seen on DVD. Even though it won't be on future releases, it's still watchable for anyone who owns Season 3 or the first 100 episodes on DVD.
It's not uncommon for an episode or two of SpongeBob SquarePants to have some inappropriate content, but it's sad that Nickelodeon pulled one of the funniest and most memorable episodes of the series. The reasoning is understandable, but hopefully these two episodes will be the only ones pulled. Older SpongeBob was the golden age of the series, no matter what.
Passionate writer. Obsessed with anything and everything entertainment, specifically movies and television. Can get easily attached to fictional characters.