How Real Housewives Fans Got Salt Lake City Star Jen Shah's Court Hearing Delayed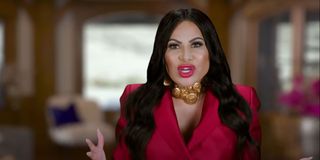 (Image credit: Bravo)
The Jen Shah debacle is good for reality television but not so good for district court, it appears. The Real Housewives of Salt Lake City star faces charges of fraud and money laundering that she was supposed to put in a plea for on Wednesday. It didn't happen then, though, because Real Housewives fans managed to get it delayed.
According to Fox 13 in Salt Lake City, the hearing was "shut down" because way too many Real Housewives fans "flooded" the virtual hearing for Jen Shah's arraignment. Apparently, more than 250 people were on the call and this prevented Shah or her lawyer from getting on the line and putting in her plea of guilty or not guilty.
What's kind of hilarious is that several unmuted mics on the line were reportedly heard referring to Real Housewives, commenting along the lines of "I'm on for the Housewives trial" or "Do you watch Bravo?" Eventually, the judge presiding, Sidney Stein, said the situation was "inadequate" and was forced to delay the proceedings.
It's amusing to see the almighty power of Real Housewives fans in a real-world scenario. Jen Shah is probably delighted that some of her Real Housewives of Salt Lake City fan base showed up in support, in their own way, though some were likely there as just spectators. But the drama from the arraignment could also be used as fuel against Shah in the future. Her extravagant lifestyle and wealth became notorious on the show, but there's nothing glamorous or truly helpful about shutting down federal hearings.
Real Housewives of Salt Lake City's Jen Shah was able to have her day in (virtual) court, though. On Friday, the marketing executive and her assistant Stuart Smith pled not guilty to allegations that they were involved in a telemarketing scheme that defrauded hundreds of individuals, most of whom were reportedly over 55 years old. Fox 13's Ben Winslow reported on the proceedings in a lengthy Twitter thread, stating that Shah's lawyer said,
The judge ruled that Jen Shah can be out on a $1 million personal bond, secured by $250,000 in cash or property. Shockingly, Shah could not put up the infamous "Shah Chalet" as collateral because it is actually a rental. The prosecutors apparently fought against the assertion that Shah was not a flight risk by stating that she and Stuart Smith were at "the highest level" of the scheme they are accused of, controlling $5 million in "crime proceeds."
The most important revelation from Jen Shah's latest arraignment for Real Housewives fans is that the controversial figure is still allowed to continue working outside of telemarketing – for the time being. This would allow Shah to continue filming with her other castmates, in theory, for Season 2 of Real Housewives of Salt Lake City that she was in the midst of before being arrested.
I said it before, and I'll say it again: these charges should not hurt Jen Shah in the eyes of the Real Housewives franchise in the slightest. Others have become household names from similar charges. This is all, of course, moot if Shah is found guilty in court – and ends up going to prison for 20-plus years.
Movies and TV News Writer
Freelance writer. Favs: film history, reality TV, astronomy, French fries.
Your Daily Blend of Entertainment News
Thank you for signing up to CinemaBlend. You will receive a verification email shortly.
There was a problem. Please refresh the page and try again.