Shameless: What The Cast Is Doing Next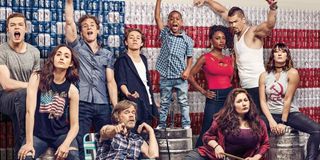 Ten years after its series premiere, Shameless is coming to an end with its eleventh season. A rambunctious, irreverent American adaptation of the notorious British series, Shameless became a popular favorite for Showtime, propelling Emmy Rossum's career, providing a nice, steady gig for character actor William H. Macy, and launching and/or elevating the careers of Justin Chatwin, Cameron Monaghan, Jeremy Allen White, Emma Kenney, Shanola Hampton, and Steve Howey. Now that the series finale is set to air this Sunday, April 11th, what is the Shameless cast working on now? Let's find out!
William H. Macy (Frank Gallagher)
Playing the part of Frank Gallagher, the family's dysfunctional, alcoholic single father, William H. Macy gives an Emmy-nominated performance in Shameless. He also wrote and directed a few episodes. Most notably, Macy is Oscar-nominated for his supporting turn as Jerry Lundegaard in Fargo. He also won two Emmys — both as an actor and screenwriter — for 2003's Door to Door. Macy's other film credits include Boogie Nights, Magnolia, Room, Jurassic Park III, The Cooler, Searching for Bobby Fischer, Mystery Men, Seabiscuit, Mr. Holland's Opus, The Sessions, Pleasantville, Psycho (1998), Air Force One, Ghosts of Mississippi, Spartan, The Lincoln Lawyer, and Happy, Texas.
Additionally, on television, William H. Macy's other notable credits include ER, Sports Night, Frasier, and Law & Order. Also, Macy wrote, directed, produced, and acted in 2014's Rudderless. He also helmed 2017's The Layover and Krystal. Furthermore, Macy narrated PBS's Curious George. At the moment, the actor's next project is unknown.
Emmy Rossum (Fiona Gallagher)
In the role of Fiona Gallagher, the eldest Gallagher child who often needed to take care of her rambunctious siblings (and her undependable father), Emmy Rossum played a main character in the first nine seasons of Showtime's Shameless. In addition to starring in this show, the actress directed a couple of episodes. Outside of Shameless, Rossum is known for her lead role in 2004's The Phantom of the Opera, for which she was Golden Globe-nominated. Her other film credits include Mystic River, The Day After Tomorrow, Poseidon, Dragonball Evolution, Beautiful Creatures, Comet (which she also produced), A Futile and Stupid Gesture, Songcatcher, and Cold Pursuit. Additionally, Rossum made guest appearances in As the World Turns, The Practice, and Mr. Robot.
Outside of acting, Emmy Rossum also directed episodes of TNT's Animal Kingdom and Amazon Prime's Modern Love. Additionally, she released two albums, 2007's Inside Out and 2013's Sentimental Journey, as well as 2007's EP, Carol of the Bells. Next, Rossum plays the lead role in Peacock's new limited series, Angelyne, which she'll also produce.
Justin Chatwin (Steve Wilton/Jimmy Lishman)
As Steve Wilton, i.e. Jimmy Lishman, i.e. "Jack," Justin Chatwin played a mysterious love interest for Fiona Gallagher in Shameless. Away from this series, Chatwin is known for playing Goku in Dragonball Evolution and Nick Powell in The Invisible. His other notable film credits include War of the Worlds, The Chumscrubber, Taking Lives, Superbabies: Baby Geniuses 2, Josie and the Pussycats, Bang Bang Baby, Urge, CHIPS, No Stranger Than Love, One Night, The Scent of Rain and Lightning, and The Assassin's Code. Also, on TV, Chatwin appears in Weeds, Traffic, Orphan Black, American Gothic, Doctor Who, Smallville, and Lost. Currently, the actor stars in Netflix's Another Life.
Next, Justin Chatwin will be seen in Die in a Gunfight and Boneyard Canteen. He'll also reprise his role as Erik Wallace in the second season of Another Life.
Cameron Monaghan (Ian Gallagher)
Playing the part of Ian Gallagher, the resilient but unstable third oldest Gallagher child, Cameron Monaghan plays a troubled personality in Showtime's Shameless. Outside of this series, Monaghan is known for his recurring roles as Jerome and Jeremiah Valeska, i.e. the twins who forge Joker's origins, in Fox's Gotham. Additionally, Monaghan played Tom Fairfax in PBS's short-lived series, Mercy Street. The actor's other television credits include Malcolm in the Middle, Ned's Declassified School Survival Guide, Criminal Minds, NCIS, The Mentalist, Monk, and Numb3rs.
Additionally, on the big screen, Cameron Monaghan can be seen in Click, The Santa Clause 3: The Escape Clause, Safe Harbor, Vampire Academy, Amityville: The Awakening, The Giver, Prom, and The Year of Spectacular Men. Furthermore, the actor played Cal Kestis in Star Wars Jedi: Fallen Order. As a voice actor, meanwhile, Monaghan is heard in Avatar: The Last Airbender and Reign of the Superman. Currently, Monaghan is lending his voice to My Love Affair with Marriage. Next, Monaghan is attached to the upcoming thriller, The White Devil.
Ethan Cutkosky (Carl Gallagher)
In the role of Carl Gallagher, the second youngest Gallagher child, Ethan Cutkosky was a main character throughout all eleven seasons of Shameless. Outside of this series, Cutkosky is known for playing a prominent part in The Unborn. His other film credits include Conviction and Fred Claus. Additionally, the actor can be seen in Vic Mensa Feat. Pusha T's "OMG" music video. This year, Cutkosky reprised his role as Henry Mesner — a character he first played in a 2013 guest spot — on Law & Order: SVU. Also, the actor guest-starred in Starz's Power. Next, Cutkosky appears in Alex/October.
Shanola Hampton (Veronica "V" Fisher)
As Veronica "V" Fisher, Fiona's best pal and the Gallaghers' friendly neighbor, Shanola Hampton plays a reliable supporting character in Shameless. She also directed an episode in the show's final season. Her other TV credits include Related, Miami Medical, Stalker, Reba, Popular, Criminal Minds, and Scrubs. Additionally, Hampton can be seen in films like You Again, Suburban Gothic, Forever, and Things Never Said.
Most recently, Shanola Hampton starred in Netflix's Deadly Illusions, which she also produced. Also, this past fall, the actress made a notable guest appearance in The Eric Andre Show's most recent season. She was cast in the lead role of NBC's Night School, but the pilot wasn't picked up. Hampton's next project hasn't been announced yet.
Steve Howey (Kevin "Kev" Ball)
Playing the part of Kevin Ball, i.e. "Kev," the Gallaghers' neighbor and the bartender at Frank's favorite pub, Steve Howey is a main cast member in Shameless. Most notably, the actor is known for playing Van Montgomery on Reba. His other TV credits include Ctrl, Sons of Anarchy, ER, The Drew Carey Show, Psych, New Girl, Sons of Anarchy, Workaholics, Law & Order: SVU, and Dead to Me.
Additionally, on the big screen, Steve Howey appears in movies like Something Borrowed, DOA: Dead or Alive, Still Waiting ..., Stan Helsing, Wrong Cops, Game Over Man!, See You in Valhalla, Bride Wars, Unleashed, Making Babies, Supercross, Love on the Run, and Stuber. Next, the actor will be seen in Netflix's vampire comedy, Day Shift.
Emma Kenney (Debbie Gallagher)
In the role of Debbie Gallagher, the third youngest Gallagher child, Emma Kenney was a mature character who became impulsive and self-centered as the series continued. Away from this series, Kenney was a main character on ABC's Roseanne as Harris Conner-Healy. Now, the actress plays the part in the spin-off series, The Conners. Kenney can also be seen in HBO's Boardwalk Empire. Additionally, her film credits include Robert the Bruce, Bittersweet, Day Camp, and Back to Lyla. Furthermore, the former child actress can be heard in Blue Sky Studios' Epic.
Next, Emma Kenney will appear in Growing Up Gorman. She'll also lend her voice to My Love Affair with Marriage.
Jeremy Allen White (Philip "Lip" Gallagher)
As Philip "Lip" Gallagher, the second-eldest Gallagher child, Jeremy Allen White plays a smart (if not always considerate) character in Shameless. Away from this series, White appeared in Homecoming, Law & Order, Conviction, and Law & Order: SVU. In film, meanwhile, White can be seen in Twelve, Rob the Mob, Movie 43, Bad Turn Worse, Beautiful Ohio, The Speed of Life, Afterschool, After Everything, and The Time Being. Additionally, White starred in, wrote, and produced 2008's short film, The Fourth.
Most recently, Jeremy Allen White appeared in The Rental and Vienna and the Fantomes. Next, the actor will be seen in The Birthday Cake and You Can't Win.
Noel Fisher (Mickey Milkovich)
Playing the part of Mickey Milkovich, the intense (and often violent) older brother of Mandy Milkovich, Noel Fisher is a recurring presence in Shameless. He was one of the main characters in Seasons 3 through 5, as well as 10 through 11, while also being a familiar face throughout the other seasons. Outside of this series, Fisher's notable film and TV credits include playing Cael Malloy in FX's The Riches, Ellison "Cotton Top" Mounts in The History Channel's Hatfields & McCoys, Vladimir in The Twilight Saga: Breaking Dawn — Part 2, and Michaelangelo in Teenage Mutant Ninja Turtles (2014) and its sequel, Teenage Mutant Ninja Turtles: Out of the Shadows.
Additionally, Noel Fisher can be seen in shows like Castle Rock, Fear the Walking Dead, Criminal Minds: Suspect Behavior, The Pacific, Law & Order: SVU, and Bones. Also, the actor's other film credits include Final Destination 2, Freddy Got Fingered, Max Keeble's Big Move, and Battle Los Angeles. Most recently, Fisher appeared in Capone and ABC's The Conners. His next project hasn't been announced.
Christian Isaiah (Liam Gallagher)
In the role of Liam Gallagher, the youngest Gallagher child, Christian Isaiah became a main character on Shameless during its extended run. Away from this series, Isaiah plays Young Phil Saunders in Borrasca. His other TV credits include Married, Reel Kids, Jimmy Kimmel Live!, Teachers, Unsolved: The Murders of Tupac and the Notorious B.I.G., and Action Nat and the Cat. In film, additionally, Isaiah appears in 21 Bridges, Induced Effect, and Dead Women Walking. His next project hasn't been announced.
Kate Miner (Tami Tamietti)
As Tami Tamietti, Lip's romantic partner and the mother of his child, Kate Miner became a main character in Shameless starting in Season 9. Outside of this series, Miner played lead roles in NBC's Persons Unknown and USA Network's Necessary Roughness, respectively. Her other TV credits include Two and a Half Men, Scandal, Hellcats, CSI: Miami, Ugly Betty, Drake & Josh, Malcolm in the Middle, Boston Public, ER, Hart of Dixie, Life in Pieces, The Secret Life of the American Teenager, and Grey's Anatomy. Also, the actress appears in The Campaign, Fifty Shades of Black, Deviant Love, Fired Up!, and Behind the Mask: The Rise of Leslie Vernon. Her next project hasn't been announced.
Joan Cusack (Sheila Jackson)
In the role of Sheila Jackson, Frank's former love interest, Joan Cusack won an Emmy for her work in Showtime's Shameless. While her performance is one of the show's most acclaimed, she exited the series after Season 5. An Oscar-nominated actress for her supporting turns as Cyn in Working Girl, and Emily Montgomery in In & Out, Cusack is also well-known for her voice work as Jessie in Toy Story 2, 3, and 4. Additionally, her other film roles include School of Rock, Addams Family Values, Nine Months, Grosse Point Blank, Runaway Bride, High Fidelity, Friends with Money, The Perks of Being a Wallflower, The End of the Tour, Popstar: Never Stop Never Stopping, and Let It Snow.
Additionally, on television, Joan Cusack appeared in Saturday Night Live, What About Joan?, and A Series of Unfortunate Events. The actress was also the narrator of Peep and the Big Wide World, for which she was Emmy-nominated. Most recently, Cusack was seen in Amazon Prime's Homecoming. Her next project hasn't been announced.
Shameless is airing its final season on Showtime.
Your Daily Blend of Entertainment News
Will is an entertainment writer based in Pittsburgh, PA. His writing can also be found in The Playlist, Cut Print Film, We Got This Covered, The Young Folks, Slate and other outlets. He also co-hosts the weekly film/TV podcast Cinemaholics with Jon Negroni and he likes to think he's a professional Garfield enthusiast.
Your Daily Blend of Entertainment News
Thank you for signing up to CinemaBlend. You will receive a verification email shortly.
There was a problem. Please refresh the page and try again.