Real Housewives Of Salt Lake City Star Jen Shah Finally Speaks Out Amid Legal Troubles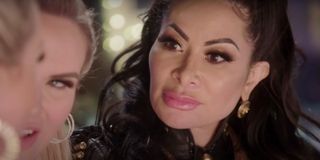 Jen Shah, it seems, is back at it and as confident as ever. The The Real Housewives of Salt Lake City star has been embroiled in intense legal troubles this week: an arrest, fraud and money laundering charges and a federal arraignment hearing. During which time, the marketing executive has been notably and publicly quiet about her thoughts on the allegations – until now. She is finally speaking out after pleading not guilty to criminal charges in court yesterday.
Jen Shah pled not guilty to her charges and then later posted some images on her Instagram stories that seem to indicate that the reality star thinks the allegations are baseless. At first, Shah was seen showing off her newly straightened hair with the captions "queen" and "gorgeous" and "big chillin, fresh press" while done up to the nines in a Gucci tracksuit. On top of a fan-made "Free Jen" merch shirt, the reality star also wrote:
Many assumed that Jen Shah's long silence was perhaps for the sake of not incriminating herself in her future case. Yet it is evident from her recent post that the Real Housewives of Salt Lake City star, who's usually known as a hothead, appreciates her fans' support during an incredibly contentious time. Shah is facing up to 20-plus years in prison if she is found guilty of the fraud and money laundering charges related to an alleged telemarketing scheme led by herself, her assistant Stuart Smith and several other co-conspirators in the case.
At the same time, it is hard not to consider Jen Shah's new post as potentially harmful and risky for her case. In the statements made by U.S. Attorney's Office for the Southern District of New York about Shah's charges, prosecutors indicated that Shah's "extravagant" lifestyle that she portrays will be a part of the issue at hand. HSI Special Agent-in-Charge Peter C. Fitzhugh even said in his statement:
Jen Shah's Real Housewives of Salt Lake City castmates haven't spoken out in support of her since the news broke, which could possibly be what Shah is referring to when she says she knows who her "real friends are." Her co-star Heather Gay seemed to be alluding to the precarious legal situation on her own Instagram, jokingly saying, "Its been quite a week...Is there anything stronger than propofol?" It seems to read like a dig, which is in direct contrast to the outpouring of fans that managed to delay Shah's initial arraignment hearing.
Real Housewives of Salt Lake City was supposedly in the middle of filming the second season this week when Jen Shah was arrested, so maybe the other ladies cannot contractually speak publicly in support of Shah. Yet during her arraignment hearing, the judge ruled that Shah could do business outside of telemarketing in the meantime, implying she could return to filming. However, it's hard to say if she will even want to do so, given the public frenzy surrounding the turn of events.
We'll provide updates on Jen Shah's situation as they become available. And while you're waiting for the new season Real Housewives of Salt Lake City, you can revisit the first season by binging it on Hulu.
Movies and TV News Writer
Freelance writer. Favs: film history, reality TV, astronomy, French fries.
Your Daily Blend of Entertainment News
Thank you for signing up to CinemaBlend. You will receive a verification email shortly.
There was a problem. Please refresh the page and try again.