That Time Scarlett Johansson's New Husband Colin Jost Totally Crashed Her Drag Race Appearance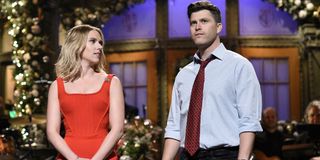 The latest episode of RuPaul's Drag Race involved multiple surprises, and they are the good kind! Black Widow star Scarlett Johansson made an appearance in the April 2 episode, surprising the five remaining contestants. However, that wasn't the only twist that was in store for them, as the actress' husband, Colin Jost, crashed the appearance.
Actor and Saturday Night Live star Colin Jost crashed new wife Scarlett Johansson's appearance on RuPaul's Drag Race. Johansson had chatted with the contestants on a video call in the Werk Room, where she shared her best acting advice to help them prepare for a new challenge. However, when the call was ending, she asked if anyone had any more questions, to which hubby Jost popped onscreen.
Colin Jost's appearance on RuPaul's Drag Race was a surprise to not only the contestants but fans watching the episode. And while it was quick, it was very memorable as it seemed ScarJo wasn't expecting her hubby to crash her appearance, either. It was nice seeing the two together as they aren't too public with their relationship, except for the times it's hilariously referenced on Saturday Night Live.
Over the years, RuPaul's Drag Race has managed to get some major names to appear as celebrity guest judges like Lady Gaga, Christina Aguilera and Nicki Minaj, and they've asked Cher, Madonna and even Dolly Parton. Although Scarlett Johansson wasn't a celebrity judge, it was still great to see her and hear the advice and stories she had for the aspiring drag queens, as well as Colin Jost's attempt to know more about the drag scene and the queens involved.
Scarlett Johansson and Colin Jost got married last fall after two years together and initially meeting on the set of Saturday Night Live. The two had a small and intimate wedding due to the COVID-19 pandemic but it didn't stop them from declaring their love for each other.
While Scarlett Johansson's highly-anticipated Black Widow won't be coming out until July after being delayed yet again due to the pandemic, Colin Jost can currently be seen in the new Tom & Jerry movie, both in theaters and streaming on HBO Max. Though who knows? Maybe Jost will return to RuPaul's Drag Race to get more knowledge of the drag world and be a celebrity judge along with wife ScarJo. But after their appearances, who will be next to surprise the remaining contestants and will there be another crashed appearance?
It's so nice to see celebrities give advice and tell their stories to aspiring performers, no matter what they want to do. Especially if you're someone who has had a career as extensive and iconic as Scarlett Johansson and as hilarious as Colin Jost.
Your Daily Blend of Entertainment News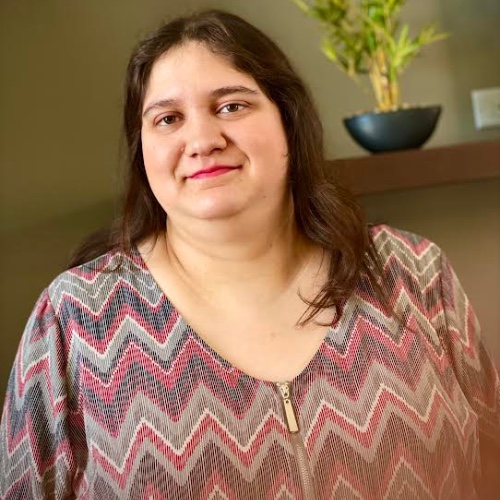 Passionate writer. Obsessed with anything and everything entertainment, specifically movies and television. Can get easily attached to fictional characters.