Rebel Cast: Where You've Seen The Actors Before, Including Katey Sagal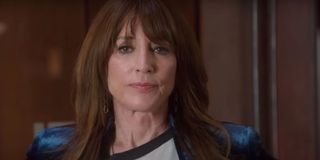 Katey Sagal, who is no stranger to television drama with roles on everything from Sons of Anarchy to Lost, is leading yet another show with the new ABC series Rebel. Inspired by the life of activist lawyer Erin Brockovich (who also serves as an executive producer), the show created by Grey's Anatomy and Station 19's Krista Vernoff looks to be a promising addition to the ABC midseason lineup. But, after watching the first episode or as you prepare to check it out, you are probably wondering where you've seen the Rebel cast before.
In addition to Katey Sagal, who leads as Annie "Rebel" Bello, Rebel also features a who's who of television and film greats including prominent fixtures of shows like Sex and the City, The Oceans trilogy cast, and the Hulu Marvel series Runaways, and that's just getting started. Below is a detailed breakdown of the Rebel cast and where you've seen them before.
Katey Sagal (Annie "Rebel" Bello)
Leading the show is Katey Sagal, who portrays Annie "Rebel" Bello, a blue-collar legal advocate with no law degree but enough brains and street smarts to tackle any issue that may arise when fighting for causes close to her heart. In the years leading up to her starring role on Rebel, Sagal made a name for herself on the classic Fox sitcom Married with Children, 8 Simple Rules and a number of animated series including the long-running Futurama where she voiced Leela. To a large portion of the audience, however, Sagal will always be remembered for her portrayal of Gemma Teller Morrow on Sons of Anarchy.
John Corbett (Grady Bello)
Playing Katey Sagal's on-screen husband, Grady Bello, is John Corbett, a television fixture for more than 30 years now with memorable roles on shows like Northern Exposure, Parenthood, and, most notably, Sex and the City. When he wasn't busy taking up space in the heart of Carrie Bradshaw on the groundbreaking HBO comedy series, Corbett played Ian Miller in the massive 2002 indie hit My Big Fat Greek Wedding and its 2016 sequel. You probably also recognize Corbett's voice in all those Walgreens television and radio commercials, which he has been a part of since 2012.
James Lesure (Benji)
James Lesure plays a corporate lawyer by the name of Benji on Rebel. Before he joined the cast as the second former husband of Katey Sagal's character, Lesure showed up in dozens of films and television series, with his most prominent role being that of Mike Cannon on the long-running NBC drama series Las Vegas. Over the years, Lesure has had smaller roles on shows like Alias, Lost, and Blue Bloods. Lesure also portrayed Sarah Jessica Parker's love interest on the HBO series Divorce.
Tamala Jones (Lana)
Playing Lana, Katey Sagal's former on-screen sister-in-law and current investigator on Rebel is Tamala Jones, an actress who has shown up in everything from the 1999 Martin Lawrence comedy Blue Streak to the ABC crime series Castle, where she portrayed Lanie Parish in nearly every single one of the ABC crime drama's 173 episodes. She has also appeared in a smaller capacity on shows like SEAL Team, 9-1-1: Lone Star, and L.A.'s Finest, to name only a few.
Ariela Barer (Ziggie)
Though not as well known as other members of the cast, Ariela Barer, who portrays Rebel's rebellious daughter who's overcoming severe addiction issues, brings a decent amount of work with her to the ABC drama series. Barer's biggest role to date is probably the Hulu Marvel series Runaways, where she played Gertrude "Gert" Yorkes, though she has appeared in small roles on Grey's Anatomy, Modern Family, and 90210 over the years.
Andy Garcia (Julian Cruz)
Since Rebel can't technically argue cases in court, she has to turn to someone with a law degree, and that person happens to be Julian Cruz, who's portrayed by Andy Garcia. Perhaps the biggest name on the Rebel cast, Garcia brings with him decades of experience in film and on television. Whether it is in The Godfather Part III, Mamma Mia! Here We Go Again, or as a fixture in the Oceans Eleven cast, you have probably seen Garcia at one point or another over the years.
Lex Scott Davis (Cassidy)
Lex Scott Davis takes on the role of Cassidy in Rebel. The daughter of Rebel and Benji, the fearless and talented attorney who steps up to the plate for her mother time and time again. A series regular on the short-lived Training Day television adaptation and star of the 2018 remake of Superfly, as well as a member of The First Purge's cast, Davis has built up an impressive resumé over the course of seven years, with surely more on the horizon.
Kevin Zegers (Nate)
While Katey Sagal's other two on-screen children are eager to be involved in their mother's crusade for justice, her oldest child, Nate, isn't so eager. Kevin Zegers, who first became a recognizable face after appearing in the 1997 family sports comedy Air Bud, has gone on to appear in Zack Snyder's 2004 Dawn of the Dead remake, Fear the Walking Dead, and Gossip Girl throughout the course of his career.
Sam Palladio (Luke)
Sam Palladio, who is best known for his performances as Gunnar Scott on Nashville and Prince Edward in the 2018 Netflix original movie The Princess Switch and its 2020 sequel (with another on the way), appears on Rebel as a young cutthroat attorney by the name of Luke. Over the years, Palladio has also appeared on shows like Episodes, Humans, and Catherine the Great, and movies like the animated Strange Magic and Runner Runner.
Dan Bucatinsky (Jason Erickson)
Dan Bucatinsky appears on Rebel as Jason Erickson, an edgy and bitter professor who comes through for Katey Sagal's tireless advocate from time to time. Bucatinsky, whose first acting credit came from an appearance on the 1994 made-for-TV movie Another Midnight Run, has gone on to have success with shows like Web Therapy, Scandal, and Gilmore Girls: A Year in the Life, in addition to countless one-off roles on a number of sitcoms like his appearance on Friends.
Mary McDonnell (Helen)
Mary McDonnell joins the Rebel cast as Helen, a character battling a serious illness who is inspired by Rebel to fight not only for her life but for justice for those in similar situations. Mary McDonnell has had one hell of a career leading up to the ABC drama, including roles in the classic Kevin Costner epic Dances with Wolves, Independence Day, Donnie Darko, and Scream 4, and that is just the film side. McDonnell's television credits include Syfy's hit drama Battlestar Galactica, where she portrayed President Laura Roslin, Grey's Anatomy, Major Crimes, and even an episode of Veronica Mars in 2019.
Adam Arkin (Mark Duncan)
Adam Arkin, the son of the great Alan Arkin, portrays Mark Duncan, a medical CEO who often finds himself at odds with Rebel. Arkin previously crossed paths with Katey Sagal on Sons of Anarchy Season 2, in which he played Ethan Zobelle, a white nationalist who attempts to bring change to Charming. The prolific television actor has also had major roles on Chicago Hope and A Year in the Life, with smaller roles on classics like The West Wing, Picket Fences, and Frasier.
Matthew Glave (Woodrow Flynn)
Matthew Glave portrays Woodrow Flynn, a beat cop and Rebel's first ex-husband, on Rebel. Throughout his career, Glave has appeared in everything from CSI: Miami to Baby's Day Out, and Mad Men to Argo. To some, however, Glave will always be Glenn Gulia, Drew Barrymore's obnoxious fiancé in The Wedding Singer (a.k.a. Adam Sandler's best movie). He also made appearances on shows like Picket Fences, Stargate SG-1, and Angie Tribeca.
Jalen Thomas Brooks (Sean)
Jalen Thomas Brooks, who is currently one of the stars of the TNT crime drama series Animal Kingdom, shows up on Rebel as a character named Sean, who is seen at Ziggie's Narcotics Anonymous meetings. Throughout his career, Brooks has also shown up on shows like Supergirl and Henry Danger.
Abigail Spencer (Misha)
Abigail Spencer joins the Rebel cast in a recurring role as a character by the name of Misha, a cardiothoracic surgeon with a steamy past with Nate, who becomes involved with her former beau's mother's campaign for justice. Since starting out on the soap opera All My Children in 1999, Spencer has had a decent film career and one remarkable run in television, starring in NBC's Timeless and appearing on everything from comedies like How I Met Your Mother to more dramatic shows like Mad Men, Rectify, and the True Detective Season 2 cast. She also appeared on a handful of episodes of Grey's Anatomy in 2017 and 2019.
As you can see, the Rebel cast is a remarkable bunch with years of experience, praise, and awards in the worlds of film and television. And, this is just the main and recurring cast, so you can only imagine who will pop up unexpectedly throughout the ABC drama's debut season.
Rebel airs on ABC on Thursdays at 9 p.m. ET, but if you want to know what else is coming to your television screen (and streaming service), check out CinemaBlend's 2021 TV premiere schedule so you don't miss a minute of your favorite shows.
Your Daily Blend of Entertainment News
Philip grew up in Louisiana (not New Orleans) before moving to St. Louis after graduating from Louisiana State University-Shreveport. When he's not writing about movies or television, Philip can be found being chased by his three kids, telling his dogs to stop yelling at the mailman, or yelling about professional wrestling to his wife. If the stars properly align, he will talk about For Love Of The Game being the best baseball movie of all time.
Your Daily Blend of Entertainment News
Thank you for signing up to CinemaBlend. You will receive a verification email shortly.
There was a problem. Please refresh the page and try again.