What The Castle Cast Is Doing Now, Including Nathan Fillion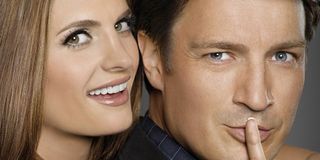 In 2016, following eight seasons on ABC, Castle closed its final case. The comedic crime-drama bolstered the lead talents of Nathan Fillion and Stana Katic, but the author-based detective series couldn't sustain itself to its proposed ninth season. Alas, now that the show has been off the air for nearly five years, what is the high-profile cast of this fan-favorite show working on? Let's take a look and find out!
Nathan Fillion (Richard Castle)
As Richard Castle, a best-selling author who moonlights as a volunteer, civilian consultant for the 12th Precinct, Nathan Fillion played the title character in ABC's long-running Castle. Outside of this procedural dramedy, Fillion is best known for starring in the cult favorite show, Firefly, and its film continuation, Serenity. He was also Emmy-nominated for One Life to Live, while later gaining notice for Two Guys and a Girl, Slither, Trucker, Dr. Horrible's Sing-Along Blog, Saving Private Ryan, Super, Waitress, Blast from the Past, Percy Jackson: Sea of Monsters, Con Man, and Much Ado About Nothing (2012). Fillion also appears in Modern Family, Santa Clarita Diet, A Series of Unfortunate Events, Halo 3, Halo 5: Guardians, Destiny, and Buffy the Vampire Slayer.
Currently, Nathan Fillion stars in ABC's The Rookie, which is airing its third season. The actor was also recently heard in Starfinder and Robot Chicken. Additionally, he narrated last year's audiobook for Yudhanjaya Wijeratne's The Salvage Crew. Next, Fillion will appear in The Suicide Squad, which is slated to be released on August 6th.
Stana Katic (Detective Katherine "Kate" Beckett)
In the role of Detective Katherine Beckett, Richard Castle's partner (in more ways than one) and the eventual NYPD Captain in charge of the 12th Precinct, Stana Katic played a lead part in ABC's Castle, though the actress left the program on controversial terms. Her other notable television credits include 24, ER, The Shield, Heroes, JAG, The Closer, Alias, CSI: Miami, The Unit, and The Librarian: Curse of the Judas Chalice. Katic can also be seen in Quantum of Solace, CBGB, The Spirit, The Double, Big Sur, The Possession of Hannah Grace, Feast of Love, Lost in Florence, and For Lovers Only. Additionally, the actress can be heard in Superman: Unbound and Batman: Arkham City.
Currently, Stana Katic stars in AXN's Absentia. The third season premiered on Amazon Prime this past July. Most recently, Katic was seen in A Call to Spy. Next, she'll lend her voice to Wonder Woman in Justice Society: World War II, which debuts on April 27th.
Jon Huertas (Detective Javier "Javi" Esposito)
As Detective Javier Esposito, the homicide sergeant of the New York Police Department's 12th Precinct, Jon Huertas was a main cast member on ABC's Castle. Outside of this network drama series, Huertas is best known for his work in ABC's Sabrina the Teenage Witch and HBO's Generation Kill. His other notable credits include Why Do Fools Fall In Love?, Picking Up the Pieces, Executive Decision, Beverly Hills Chihuahua 2, JAG, NYPD Blue, The Shield, NCIS, Elementary, CSI, and Con Man.
Currently, Jon Huertas stars in NBC's popular drama series, This is Us, where he plays one of the main characters. The actor also recently appeared in Imprisoned and The Rookie. Next, Huertas will star in Initiation. Additionally, he's expected to be featured in The Last Transport.
Seamus Dever (Detective Kevin Ryan)
As Detective Kevin Ryan, a homicide gumshoe who works with our main characters, Seamus Dever played a notable ally in ABC's Castle. Away from this series, Dever can be seen in General Hospital and Army Wives. He also guest-starred in NCIS, CSI, Mad Men, JAG, Charmed, Legion, MacGyver, and Ghost Whisperer. His film credits include Hollywoodland, Outside the Law, and Ready or Not (2009). The actor can be heard in video games like Far Cry 5 and Soldier of Fortune II: Double Helix.
Currently, Seamus Dever plays a recurring role in Titans. The third season premieres on HBO Max later this year. He also recently guest-starred in an episode of The Rookie. Next, Dever will star in The Extraordinary Farewell, as well as the short film, Awaken.
Tamala Jones (Dr. Lanie Parish)
In the role of Dr. Lanie Parish, a medical examiner and forensics analyst for the NYPD, Tamala Jones was prominently seen in ABC's Castle. Previously, she played a recurring character in Veronica's Closet. Her other notable TV credits include ER, My Name Is Earl, SEAL Team, CSI: Miami, The Tracy Morgan Show, JAG, The Fresh Prince Of Bel-Air, Party Down, Everybody Hates Chris, and, more recently, L.A.'s Finest. On the big screen, meanwhile, Jones appeared in Can't Hardly Wait, The Wood, Blue Streak, The Ladies Man, Booty Call, Up in the Air, Daddy Day Camp, Head of State, Kingdom Come, On the Line, Two Can Play That Game, Next Friday, What Men Want, and Nora's Hair Salon, which she produced.
In 2019, additionally, Tamala Jones could be seen in Netflix's Holiday Rush. That same year, the actress starred in TV One's Deadly Dispatch. Most recently, she played a role in 9-1-1: Lone Star. Next, Jones will star in ABC's Rebel, which will premiere on April 8th.
Ruben Santiago-Hudson (Captain Roy Montgomery)
Playing the part of Captain Roy Montgomery, Kate Beckett's boss at the Twelfth Precinct's Homicide Division, Ruben Santiago-Hudson had a pivotal role during the first half of Castle's run. Most notably, Santiago-Hudson is a Tony-winning actor for his 1996 performance in Seven Guitars. Additionally, the playwright wrote and starred in 2001's autobiographical Lackawanna Blues, which he later adapted into an HBO movie, for which he was Emmy-nominated. He also appeared in Broadway's Stick Fly in 2011.
Away from Castle, Ruben Santiago-Hudson starred in AMC's short-lived Low Winter Sun. His other notable television credits include Law & Order, NYPD Blue, The Quad, Public Morals, Michael Hayes, and The West Wing. Additionally, Santiago-Hudson did voice work for Gargoyles. On the big screen, meanwhile, the actor appeared in Selma, The Devil's Advocate, Coming to America, Shaft (2000), Blown Away, Mr. Brooks, The Invention of Lying, American Gangster, and Domestic Disturbance. Most recently, the actor wrote the adapted screenplay for Netflix's Ma Rainey's Black Bottom. He was also seen in David Makes Man, Billions, and Obsession.
Molly Quinn (Alexis Castle)
As Alexis Castle, Richard Castle's oldest daughter, Molly Quinn played a prominent supporting character. Away from this network series, Quinn is known for her voice work in Nickelodeon's Winx Club. Her other notable credits include We're the Millers, Guardians of the Galaxy Vol. 2, The First Time, Walk Hard: The Dewey Cox Story, My One and Only, A Christmas Carol (2009), Disney Channel's Avalon High, Last Rampage, and Newly Single. As a voice actress, Quinn can be heard in Superman: Unbound, Ben 10: Ultimate Alien, and Artifact. Also, as Gretel, Quinn played one of the title roles in Hansel & Gretel Get Baked, where she served as an associate producer. Furthermore, the actress produced and starred in Welcome to Happiness.
Recently, Molly Quinn appeared in Doctor Sleep. She's also seen in The InBetween and The Fix. Next, Quinn stars in Agnes, where she also serves as an executive producer. Additionally, she produced Marzipan, which also features Castle's Susan Sullivan.
Susan Sullivan (Martha Rodgers)
In the role of Martha Rodgers, Richard's actress mother who lives with him, Susan Sullivan played a spirited personality on Castle. With decades of experience, Sullivan is an Emmy-nominated actress for the 1978 series Having Babies. She's also Golden Globe-nominated for her supporting turn in Dharma & Greg. Some of Sullivan's other notable television credits include Another World, It's a Living, Falcon Crest, The George Carlin Show, Hope & Faith, The Real O'Neals, The Nine, Brothers & Sisters, Dead Like Me, Joan of Arcadia, Taxi, The Incredible Hulk, Kojak, S.W.A.T., Two and a Half Men, Judging Amy, and McMillian and Wife. Away from TV, the actress was notably seen in My Best Friend's Wedding.
Most recently, Susan Sullivan provided a supporting turn in Last Man Standing. Also, the television veteran currently has a recurring role in Netflix's The Kominsky Method. Additionally, she's heard in Big Hero 6: The Series. Next, Sullivan appears in Marzipan.
Penny Johnson Jerald (Captain Victoria Gates)
Playing the part of Captain Victoria Gates, a high-ranking NYPD officer, Penny Johnson Jerald became an authoritative figure for Castle. Away from this network series, Jerald is known for The Larry Sanders Show, Star Trek: Deep Space Nine, and 24. She can also be seen in ER, October Road, House of Payne, Star Trek: The Next Generation, Columbo, Frasier, The X-Files, and The Path to 9/11. Additionally, the actress's film credits include Absolute Power, Rent, The Hills Have Eyes Part II, What's Love Got to Do with It, Swing Shift, Krippendorf's Tribe, The Color of Friendship, Night Visions, and DC 9/11: Time of Crisis. Furthermore, as a voice artist, Jerald can be heard in Justice League: Gods and Monsters and The Lion King (2019).
Currently, Penny Johnson Jerald can be seen in The Orville, which was renewed for a third season by Hulu. It's expected to premiere on the streaming service later this year.
Toks Olagundoye (Hayley Shipton)
As Hayley Shipton, an independent investigator who works at Castle's PI agency, Toks Olagundoye became a main character in the final season. Prior to Castle, Olagundoye starred in ABC's The Neighbors. She was also seen in Veep, Crazy Ex-Girlfriend, Modern Family, NCIS, CSI: NY, Law & Order, Switched at Birth, and Ugly Betty. It's also worth noting that she recently reunited with Nathan Fillion for The Rookie. Additionally, the actress appeared in Brown Sugar, The Salon, Dog Days, and A Beautiful Soul. Furthermore, as a voice artist, Olagundoye is heard in Steven Universe, The Death of Superman, Reign of the Superman, and Carmen Sandiego.
Most recently, Toks Olagundoye was seen in Shameless's newest season. Additionally, the actress was heard in Star Trek: Lower Decks, Cleopatra in Space, and DuckTales.
Who's your favorite Castle cast member? Write us your thoughts in the comments!
Will is an entertainment writer based in Pittsburgh, PA. His writing can also be found in The Playlist, Cut Print Film, We Got This Covered, The Young Folks, Slate and other outlets. He also co-hosts the weekly film/TV podcast Cinemaholics with Jon Negroni and he likes to think he's a professional Garfield enthusiast.
Your Daily Blend of Entertainment News
Thank you for signing up to CinemaBlend. You will receive a verification email shortly.
There was a problem. Please refresh the page and try again.