Parenthood: 9 Famous People You Forgot Were On The NBC TV Show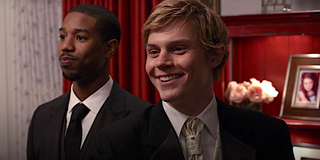 It's been six years since Parenthood's sixth season wrapped, tying up the stories of our beloved Bravermans. And while the actors on Parenthood were an ensemble master class — boasting names like Lauren Graham, Peter Krause, Dax Shepard and Craig T. Nelson, to name just a few — the generation of Braverman grandchildren provided an opportunity for a number of young up-and-coming actors to guest star as the friends and foes who came in and out of the Braverman youngsters' lives. Let's take a look back at some of the famous faces you might have forgotten were on the NBC weekly cry-fest, and even some you might not have known back then.
Michael B. Jordan (Alex)
Michael B. Jordan had a recurring role in Seasons 2 and 3 as Haddie's boyfriend Alex, who Haddie meets working at a soup kitchen. Alex is older, a recovering alcoholic who lives alone after leaving an abusive situation. So it's no surprise that Adam and Kristina take issue with him dating their 16-year-old daughter, but Alex is consistently a model of the perfect boyfriend, and you can't fight young love. I can't believe Jordan was only in 16 episodes, because I absolutely fell in love with him in this role, but bigger and better things awaited on the big screen.
Michael B. Jordan garnered multiple awards and nominations for his roles in Fruitvale Station, Creed and Black Panther. Michael B. Jordan is as busy as ever, starring in the upcoming action thriller Tom Clancy's Without Remorse. He's also stepping behind the camera for the first time, serving as director for Creed III, as well as reprising his role as Adonis Creed.
Jake Borelli (Steve's Friend)
You might know him better as Dr. Levi Schmitt (or "Glasses") from Grey's Anatomy, but back in the Season 1 episode of Parenthood, "Team Braverman," Jake Borelli had a small role as a friend of Steve, Haddie's ex-boyfriend who slept with her cousin Amber post-breakup. As Steve continues to pursue Amber — all while Amber endures the slut-shaming that comes with the wonderful double standard of high school — Steve's friend also expresses his frustration that Steve won't just let it go. If only Borelli would use that line of thinking with his Grey's hook-up Nico.
Zosia Mamet (Kelsey)
Back in Season 2, Zosia Mamet had a short stint on Parenthood as Amber's friend Kelsey. Kelsey's parents blame bad-influence Amber after Kelsey drinks too much at a Halloween party and ends up alone in the pool as she's mocked by the other party-goers. (But how many of them can say they they've been carried out of a pool by Billy Baldwin? Who's the real winner here?) The final nail in the friendship coffin comes when Kelsey gets into Yale and Amber fails to get accepted into college. After Parenthood, Zosia Mamet went on to co-star in Girls, and most recently was excellent as Ani, best friend of Kaley Cuoco's Cassie, on The Flight Attendant.
Evan Peters (Brandon)
Evan Peters has caused quite a stir lately as Pietro Maximoff/Ralph Bohner on WandaVision, but back in the Season 2 episode "New Plan," he played Brandon, Amber's blind date to the prom. Haddie and Alex hook Amber up with Brandon, who Alex knows from the community center, so the couples can double-date. Evan Peters' presence here is almost suspiciously uneventful, but maybe I've just seen too many episodes of American Horror Story.
Jurnee Smollett (Heather Hall)
Jurnee Smollett was a seasoned actor already by the time she joined the ensemble cast of Parenthood in Season 5 as Heather Hall. And Smollett brings that veteran energy to the role of Kristina's very capable campaign manager; her interview scene with Kristina is especially hilarious, as she dominates the conversation, leading Kristina to meekly ask, "Are you hired?" Smollett started acting at age 5 as Denise Fraser on Hangin' With Mr. Cooper and Full House, and has been a TV mainstay ever since, more recently as the fabulous Leti Lewis on Lovecraft Country and Black Canary in Birds of Prey — a role fans hope to see her reprise.
Anthony Carrigan (Cory Smith)
Anthony Carrigan has made a name for himself in recent years as NoHo Hank on Barry and Victor Zsasz on Gotham. He most recently caused trouble for the most excellent titular duo in Bill and Ted Face the Music. But toward the beginning of his career, Carrigan had a small arc on Season 2 of Parenthood as Adam and Sarah's new boss as T&S, Cory Smith. Cory's eccentricity first drives Sarah to quit, and Adam is later let go after he and Cory butt heads over advertising ideas.
Scott Porter (Amber's Significant Other)
Before Hart of Dixie and long before he was Mayor Paul Randolph in Ginny & Georgia, Scott Porter had an uncredited cameo in Parenthood's series-ending montage. At the end of Season 6's "May God Bless and Keep You Always," scenes from the Bravermans' future are shown to the tune of the theme song, and Scott Porter is shown as Amber's future significant other, sitting at the dinner table with Amber's family, holding a little girl, presumably his and Amber's daughter, as Amber's ex Ryan York (played by fellow Friday Night Lights alum Matt Lauria) drops off their son. The two men shake hands, assuring viewers that Amber is in a healthy co-parenting situation.
Vanessa Marano (Holly)
Vanessa Marano gained fame as April from Gilmore Girls, but she made an appearance in the Parenthood universe as Holly, Drew's lab partner in Season 2's "Date Night." Sarah sees Holly and Drew working together on a science project and senses chemistry between the two. Sarah gets super intrusive and encourages Drew to make a move, saying girls like a confident guy. So he does, and Holly shoots him down, making for a super awkward scene where Drew repeatedly asks Holly to leave. Marano has since appeared on the Netflix revival Gilmore Girls: A Year in the Life, as well as in Dexter, Switched at Birth, and the movie Saving Zoe, which she co-stars in with her sister Laura Marano.
Courtney Ford (Lily)
Before playing Nora Darhk on DC's Legends of Tomorrow, Courtney Ford was the cellist Lily in six episodes of Season 3. Lily is a recording artist at Adam and Crosby's recording studio, The Luncheonette, and she and Crosby start dating while he's on the rebound from his and Jasmine break up. The relationship becomes problematic for Jasmine, particularly when Lily forms a connection with her and Crosby's son Jabbar. Crosby ultimately ends it with Lily and gets back together with Jasmine. Ford went on to land roles as Kelly Kline on Supernatural and Portia Bellefleur on True Blood.
Part of the fun of rewatching our former favorite series is seeing which of the familiar actors you didn't know or didn't remember from your first watch. Parenthood's all-star cast provided a perfect opportunity for guest stars, not to mention the number of Bravermans, who all needed friends, co-workers and significant others to facilitate drama over the course of six seasons. We may not have new episodes of Parenthood to look forward to anymore, but be sure to check out the 2021 TV premiere dates to find out when to catch your new favorites.
Your Daily Blend of Entertainment News
Mom of two and hard-core '90s kid. Unprovoked, will quote Friends in any situation. Thrives on New Orleans Saints football, The West Wing and taco trucks.
Your Daily Blend of Entertainment News
Thank you for signing up to CinemaBlend. You will receive a verification email shortly.
There was a problem. Please refresh the page and try again.