Why I'm Still Hopeful For Evan Peters' Quicksilver After WandaVision's Finale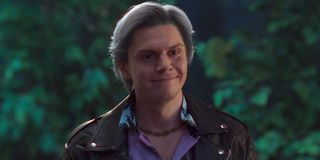 Spoilers for the WandaVision finale -- "The Series Finale" -- lie ahead.
WandaVision has finally reached its conclusion, and it was a wild, weird and wonderful ride, to say the least. Marvel Studios' first TV show took the Marvel Cinematic Universe into new territory, giving viewers a sitcom-infused story that examined the effects of grief and trauma. On top of that, it also gave viewers plenty of comic book goodness, though it also managed to dash a number of our theories in the process, including the ones surrounding Evan Peters' Quicksilver. While things didn't quite turn out the way fans hoped when it came to "Fake Pietro," I'm actually still hopeful that this isn't the last we see of the metahuman imposter.
Many were shocked when a seemingly revived Pietro Maximoff appeared in the closing moments of WandaVision's fifth episode. What was even more surprising is that he was played by none other X-Men franchise vet Evan Peters. With this, many people (including myself) began to assume that he was a Quicksilver from another universe -- specifically the one belonging to the X-Men. However, we later learned that he was only a tool used by Agatha Harkness to spy on Wanda and, in the finale, it was revealed that he was simply a Westview, New Jersey resident named Ralph Bohner, who had been enchanted by Harkness.
While it's easy to write off Evan Peters' faux Quicksilver as an Easter egg meant to misdirect fans, there could still be a way for him to stay around. WandaVision left the character in a pretty unique position, giving me reason to hope we could see more of him. So why exactly am I hopeful about his chances of an MCU future? Well, let's take a look at a few of my reasons:
Agatha Harkness' Magic Could Still Be In Effect For This Quicksilver
As mentioned, viewers learned in the finale that Agatha used a necklace to make Ralph Bohner do her bidding, and the enchanted neckwear was ultimately destroyed by Monica Rambeau. Bohner's true self was restored in the process, but I still can't help but remember something Agatha said to Wanda. During the finale, Agatha stated that spells cannot be reversed. It's true that Wanda did manage to reverse The Hex and release the residents of Westview, but she's a special case -- she's the all-powerful Scarlet Witch after all. Agatha, on the other hand, is a bit of a wild card. So with all of this in mind, it may be possible that Ralph's enhanced speed is permanent.
It goes without saying that such a development could put Ralph Bohner in a major position going forward. As a matter of fact, if he was to keep his powers, he could actually end up becoming the new Quicksilver of the MCU. The move would actually be kind of genius in a way. By doing this, Marvel Studios would effectively give fans what they were asking for, without actually giving them what they asked for. Sure, it's a longshot but, given the true nature of magic is still being fleshed out in the MCU, anything is possible at this point.
The Marvel Cinematic Universe Could Use Another Speedster (Or Two)
When it comes to varied kinds of heroes, the MCU really isn't lacking much. There are still plenty of cosmic heroes, ground-level heroes (Falcon, Spider-Man, etc.) and magically powered beings. Though since the death of Pietro Maximoff, the cinematic universe has been without a speedster. Super speed is a powerset I've honestly missed in this universe, and I'm willing to bet I'm not the only one. With this, having Ralph Bohner become the new Quicksilver fills a void that's been present within this franchise for nearly six years. Of course, there is another variable that has to be considered here.
I absolutely have to point out that "Fake Pietro" wasn't the only speedster viewers met in WandaVision, as the series also introduced Wanda and Vision's son, Tommy. Most fans undoubtedly know that in the comics, Tommy goes by the superhero moniker of Speed and eventually joins up with the Young Avengers. And based on the finale's post-credits scene, there's a firm chance we haven't seen the last of the mischievous young hero. So the MCU could be well on it's way to getting another permanent speedster. But who says we can't have both Tommy and Ralph? Quicksilver and Speed co-existed in the comics, so the same could definitely be possible in the MCU. Plus, given all that's gone down, a hypothetical reunion between the two would be interesting.
I Cannot Believe WandaVision Only Created One New Superhero
This is probably the biggest reason why I'm still holding on to hope for Evan Peters' Quicksilver. Moving forward, the "Westview Anomaly" will be known as a seminal event in the MCU, not unlike the Battle of New York or the Fall of Sokovia. Not only did it see the New Jersey town fall under the control of Wanda Maximoff, but it also saw the rise of Monica Rambeau. The heroine selflessly re-entered The Hex, which altered her bloodwork and gave her superhuman abilities. With that in mind, it's still hard for me to believe that such a massive supernaturally-infused event only left one new person with superhuman abilities.
From a storytelling perspective, such a massive event is bound to have lasting effects. This is certainly the case with Monica and Wanda. But when considering just how much this show depicted the effects of magic on normal people, I can't help but feel that somehow another person could come out of this ordeal with abilities. And for me, that person is Ralph Bohner.
Admittedly, I could definitely be overthinking things, and Ralph Bohner could just end up being a playful nod to the Peter Maximoff we know from the X-Men universe. Still, I will not rule out the possibility that more could lie ahead for the Trevor Slatterey-like character. The character could fit perfectly into the established MCU and, let's be honest, who wouldn't want Evan Peters to be a regular part of this franchise?
If you're still thinking about WandaVision, you can always revisit the entire series on Disney+ now.
Your Daily Blend of Entertainment News
Covering superheroes, sci-fi, comedy, and almost anything else in film and TV. I eat more pizza than the Teenage Mutant Ninja Turtles.