Friends Reunion Special: Premiere Date, Cast And Other Quick Things We Know About The HBO Max Special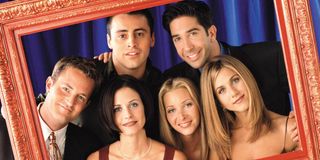 After more than a decade of fans hoping that it could one day actually happen, the Friends Reunion Special is steadily getting closer to being a reality. The program, which will bring all six cast members (including the likes of Jennifer Aniston and her onscreen former roommate Courteney Cox) together, is set to premiere relatively soon on HBO Max and we could not be any more excited.
Since the hit sitcom saw Monica, Rachel, Phoebe, Ross, Chandler, and Joey moving on to new stages of life in 2004 after 10 seasons on NBC, the cast of Friends has entertained fans by coming back together in small doses, onscreen and off. For instance, Courteney Cox would play a love interest to Matthew Perry on his dramedy Go On after playing the same kind of role on her sitcom Cougar Town. Jennifer Aniston and Lisa Kudrow would also appear on Cougar Town, after Cox did an episode of Kudrow's Web Therapy, on which David Schwimmer also guested before playing himself opposite Matt LeBlanc on Episodes. Those are only the few examples.
However, this is the first time in many years in which all six cast members will share the screen together again, which is especially exhilarating since doing anything "together" is particularly difficult these days. In fact, if it were not for social distancing, we would have gotten the Friends Reunion Special even sooner. We can elaborate on that and more regarding this highly anticipated event in the following quick convenient breakdown of seven essential things to know about the upcoming special, starting with news that will surely make your day, your week, your month, or even your year.
The Friends Reunion Special Will Premiere On HBO Max In May 2021
After the series became no longer available on Netflix at the end of 2019, HBO Max has become the only place to stream Friends since it launched in May 2020. The streaming platform will also be home to the Friends Reunion Special, adding that already legendary program to its long list of highly anticipated exclusive content. At long last, HBO Max has confirmed that the Friends: The Reunion premiere date is set for May 27, 2021.
In addition to confirmation of the premiere date, HBO Max announced appearances of a number of special guests, including: David Beckham, Justin Bieber, BTS, James Corden, Cindy Crawford, Cara Delevingne, Lady Gaga, Elliott Gould, Kit Harington, Larry Hankin, Mindy Kaling, Thomas Lennon, Christina Pickles, Tom Selleck, James Michael Tyler, Maggie Wheeler, Reese Witherspoon and Malala Yousafzai.
If you're not a subscriber of HBO Max you can sign up for it here (opens in new tab).
The Friends Reunion Was Set To Start Filming In April 2021
With the May premiere date quickly approaching, it's likely that at least some of the special has filmed, if not all of it. Filling us in on this information was Ross Gellar himself, David Schwimmer, who was a guest on the SiriusXM show Radio Andy on March 3 and revealed to host Andy Cohen that he was flying out to Los Angeles "in a little over a month" to shoot the reunion, meaning that filming may have started and possibly completed in April. Based purely on the confidence in his voice from audio clip, this sounds like promising update yet of the special's status, of which there have been many that, unfortunately, came to no avail.
The Friends Reunion Special Was Originally Meant To Come Out In May 2020
Anticipation for a Friends Reunion Special has been high since the series ended, if we are being honest, but really kicked into gear once it was officially announced in early 2020. The event was given a release date for the following May on HBO Max, to coincide with the launch of the streaming service that same month until the outbreak of Covid-19 incited the first of multiple delays over the past year. In fact, until David Schwimmer's recent update, the special was most recently intended to shoot in March, but perhaps they needed the extra time to figure out the safety protocols.
Some Portions Of The Friends Reunion Will Be Shot Outdoors
In July 2020, David Schwimmer mentioned how the cast and crew had hoped to film the Friends Reunion Special in front of a live studio audience, which Covid-19 made "tricky." However, the actor would say in his recent Radio Andy interview that they "finally we figured out a way to film it safely," adding that some of the special will take place in an outdoor setting. This might be amusing to fans who were excited to see more fountain dancing and less of the gang catching up on each other's separate lives over a Central Perk coffee, even though neither should actually be expected for the event.
The Friends Reunion Will Be An Unscripted Gathering Of The Full Cast
We imagine most fans probably wanted something along the lines of a reboot or revival for the Friends reunion which would see Ross and Rachel's daughter, Emma, and Monica and Chandler's twins grown up or Joey finally becoming an A-list actor. Well, as early reports of the special suggested and Lisa Kudrow later confirmed on Rob Lowe's podcast Literally, the show will not be a scripted sequel of the sitcom. It will simply show the cast as themselves reminiscing about the series' greatest memories and preceding legacy, a la the last time HBO Max hosted a reunion show with the Fresh Prince of Bel-Air cast in November 2020.
Some Cast Members Have Already Shot Portions Of The Friends Reunion
While speaking to Rob Lowe on his Literally podcast in January 2021, Lisa Kudrow (who more recently starred on the Netflix comedy Space Force with Steve Carell) added that she has actually filmed some of the Friends Reunion Special herself ahead of the upcoming shoot with the full-cast. That being said, we can likely infer that her former co-stars have done the same and will have their own little individual moments in between footage of the gathering.
The Cast Is Reportedly Receiving $2.5 Million To Appear In The Friends Reunion
The cast of Friends is famous for (other than acting on the show, of course) becoming some of the highest paid actors in history by demanding equal pay among the six of them. It appears that tradition will be honored for their participation in the reunion special when they each receive $2.5 million, instead of the $3-4 million as earlier reports had suggested initially.
I actually agree with most of what the cast and creators of Friends, David Crane and Marta Kauffman, have said about bringing the cast back for a scripted special or multi-episode event: that it never would have been able to top that once-in-a-lifetime success they achieved with the original long-running sitcom. Then again, instead of calling it a "reboot" or "revival," they could have just said they were on a break... On second thought, maybe not.