Why Amazon Prime's Invincible Is The Perfect Superhero Show For 90s Kids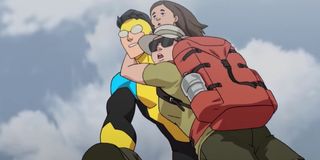 There are so many superhero shows out these days, it's very easy for one to get lost in the mix. I'm bound and determined not to make Robert Kirkman's Invincible on Amazon Prime one of them, because this show is the perfect show for '90s kids who love heroes.
Invincible is somehow both the show I would've made sure never to miss when I'd get home from middle school and also a primetime-worthy superhero drama, which I'm enjoying throughout Season 1 so far. This series is incredible in a way we haven't really seen with more recent hero shows, and perhaps, only something '90s kids will understand.
Invincible Evokes The Style Of Some Of The Most Iconic Animated Hero Shows
Part of the charm that immediately roped me in on Invincible was the fact it immediately felt very familiar. Though I wasn't familiar with the source material or the heroes, the general animation and tone of the show evoked the style of some of the best animated superhero series of my youth.
Though it really has the energy of Batman: The Animated Series and Superman: The Animated Series, Invincible definitely feels like I'm watching an episode of Batman Beyond. Mark Grayson has that Terry McGinnis energy all over him, with the occasionally over-confident hero who's somehow unable to carry that confidence into his high school life. There are also shades of many other iconic heroes throughout this series, though obviously not quite like the characters they're inspired by.
Additionally, with one glaring exception, the episodes of Invincible follow the same beats and feel of the average animated adventure a '90s kid would've enjoyed back in the day. I think it's definitely because the show leans pretty hard on a complicated romance in which his significant other doesn't know he's a hero. There are a lot of typical hero tropes in Invincible, though, which may be a large part of what makes this series feel so familiar.
Invincible Is A Concept That Would've Fit Perfectly In The Late '00s Era
When I saw Invincible is centered on a hero whose father is the Superman of their world, I was stunned the concept hadn't been done in superhero animation before. At least, not on the level in which the son is the heir to the title and is mentored by his father along the way.
While it won't take long to learn, the relationship of Mark and his father, Nolan, is a little more complex than just father and son. After all, being a hero is a lot more complicated, and few can really understand the responsibility of putting the lives of millions over those closest to you. I certainly can't, because I'm still struggling to fully understand what Omni-Man's deal is.
Invincible Retains The Energy Of A Classic Series While Aging Up With Its Audience
One problem I've had trying to revisit shows like Teen Titans and Static Shock is that while they still have a place in my heart, they're no longer stories meant for me. There's always that moment or two in an episode where you're swiftly reminded, "Oh yeah, this is a show for kids," and that can suck the fun out of it a bit.
This isn't the case in Invincible, which may fool viewers with the type of show it is in Episode 1. Of course, those that finish the episode will get a jarring, violent display of why this isn't a show that any child should watch, though, for me, it makes it so much better. This is the type of action I want to see, and was what took this show to the next level for me.
What's most impressive about Invincible is that it's able to tackle complex, mature situations while retaining its identity of a classic animated superhero series from my youth. Usually, a show like The Boys will go full-tilt on the violence and kind of center the whole show around its darkness and grit. What makes Invincible work is that it exists in both spaces and occasionally pulls them together in a way that never feels forced. It's magical, really, and I'm not quite sure how it works so well, but it does.
The Voice Cast Is Packed With Familiar Names
It doesn't take long into watching Invincible before one will recognize the voice of some very famous actors. When it comes to voice talent, Invincible is absolutely stacked with actors like J.K. Simmons, Steven Yeun, Jason Mantzoukas, and Gillian Jacobs, just to name a few. Yeun isn't the only alumni of The Walking Dead along for the ride either, as Lauren Cohan, Sonequa Martin-Green, Lennie James, Ross Marquand, Chad Coleman, and Michael Cudlitz are also featured.
While I'll admit I was slightly disappointed that Invincible didn't go the route of casting the series with a ton of classic DC voice actors like Kevin Conroy, Michael Rosenbaum, and Tara Strong, there are a few surprises in the star-studded voice cast. In fact, it won't take long at all for viewers to hear the Mark Hamill cameo in the first episode, even though he's not playing a clown.
There Are More Twists Than You Can Shake A Stick At
Remember that arc in Teen Titans where Robin ended up working for Slade? Invincible has a few of those types of twists like that but amplified to a level I can't possibly do justice to with words. That's probably thanks in large part to Robert Kirkman, who, after launching successful comics and television shows like The Walking Dead, knows a thing or two about building suspense and delivering on action.
I can't really sit here and say the twists in Invincible are something on a level that hasn't been seen in a superhero series before, but definitely not the type of twist I'd expect in the average animated series. That's definitely thanks in large part to the fact the Amazon Prime series is more serialized than the average superhero animated series, which makes it a bit easier to pack some twists in when the story isn't so episodic.
The only unfortunate part of the twists so far (for me personally) is that the weekly release schedule is too slow for my curiosity. Season 1 has 8 episodes total, and there are over a hundred issues of Invincible just waiting for me to track down and read. I really want to finish Season 1 spoiler-free, though there's no guarantee I can make it the next few weeks without having read at least half of those issues. Then again, it's not like Robert Kirkman stayed 100% faithful to The Walking Dead comics when making that adaptation, so maybe it's OK to read a few comics?
Invincible Season 1 airs on Amazon Prime Video (opens in new tab). Check out the series, and for more on the best the streamer has to offer, take a look at our list of the Best Amazon Prime movies available right now.
Your Daily Blend of Entertainment News
Mick likes good television, but also reality television. He grew up on Star Wars, DC, Marvel, and pro wrestling and loves to discuss and dissect most of it. He's been writing online for over a decade and never dreamed he'd be in the position he is today.
Your Daily Blend of Entertainment News
Thank you for signing up to CinemaBlend. You will receive a verification email shortly.
There was a problem. Please refresh the page and try again.