12 Great Family-Friendly Shows To Watch On Paramount Plus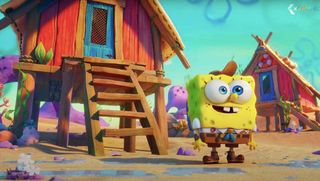 CinemaBlend participates in affiliate programs with various companies. We may earn a commission when you click on or make purchases via links.
With the arrival of another new streaming service, Paramount looks to please fans of all ages with Paramount+ and its endless selection of possible dramas, comedies, and multiple other genres to watch. However, sometimes you don't want the next Game of Thrones or Breaking Bad. Sometimes you just want to sit down with your family and watch a show that you can all enjoy.
Well, that's where this comes into play because these are going to be some of the best shows where you can do exactly that. From iCarly to Sabrina the Teenage Witch, these are some of the best family-friendly shows that are available to stream on Paramount+ right now that you should check out.
Avatar: The Last Airbender (2005-2008)
Hands down one of my absolute favorite shows ever. Avatar: The Last Airbender might be a cartoon, but it's so much more than that. The show follows the legend of Aang, who is the last airbender of his colony, on his quest to beat the fire nation and the Firelord, Ozai, when the leader wishes to take over the rest of the surrounding nations.
Avatar: The Last Airbender is the perfect cartoon that everyone will enjoy at any age. Not only is the animation stunning, the characters relatable, and the world-building fantastic, but the story is one of the best on TV (in my opinion). There's some amazing characterization, awesome friendships, and romances built, and the themes are amazing to any kid. Most certainly worth the time to binge with your kids if you haven't already. Everyone needs to see this show.
Stream Avatar: The Last Airbender on Paramount+ here (opens in new tab).
Sabrina The Teenage Witch (1996-2003)
For all the magic lovers out there, Sabrina The Teenage Witch is for you. The classic comedy series shows the story of Sabrina, a teenage witch who is learning to cope with her powers while living in a mortal world and trying to hide them from her mortal friends.
While the most recent remake of the classic character tends to lean a bit more towards the dark side, this fun-loving witch is the complete opposite and fun for the whole family. Kids and adults will find themselves laughing along with the hijinks that Sabrina gets herself into being a young witch. And who can forget about Salem, the awesome talking cat?
Stream Sabrina The Teenage Witch on Paramount+ here (opens in new tab).
Family Ties (1982-1989)
The eighties gave way to plenty of awesome family sitcoms that have become popular over the years and cemented their way into pop culture, but nothing hit quite like Family Ties. This legendary eighties sitcom is all about the ties that bind family, and no matter how you feel about certain issues or how often you may fight, you're still family no matter what.
This show is perfect for the whole family to watch because not only does it deal with relevant issues that all families face, such as politics, religion, growing up and more, the cast is amazing and I'm sure you will recognize many familiar faces. A young Michael J. Fox stars in one of the main roles, along with Justine Bateman (Jason Bateman's sister), and guest appearances from big actors like Tom Hanks, Geena Davis, Courtney Cox, and more. It's such a fun show.
Stream Family Ties on Paramount+ here (opens in new tab).
iCarly (2007-2012)
Okay. I am from this generation who practically grew up on iCarly. The famous Nickelodeon show focuses on Carly, Sam, and Freddie, three young teenagers who end up creating a web show and it grows insanely popular.
At first, you may think this is just another kids show that's meant for tweens, but rewatching it as an adult now, I realize that there are a lot of jokes that still land even now and not just for kids. Sometimes it can be a little zany with the bits they've done on the show, but most of the time a lot of the comedic moments are still just as funny as an adult – if not even funnier for how silly some of them are. Also, surprisingly iCarly covers some heavy topics as well, such as emotional abuse, parents in the military, and many more. It's actually quite a great watch if you've never seen it.
Stream iCarly on Paramount+ here (opens in new tab).
Kenan & Kel (1996-2000)
Another Nickelodeon show, but one of the classics for a reason. Kenan & Kel is all about high schoolers Kenan Rockmore and Kel Kimble, who often get into misadventures because of Kenan's usual "get-rich-quick" schemes that never seem to work because of Kel's happy-go-lucky nature.
It's most certainly more kiddish than iCarly, but Kenan & Kel still provides plenty of fun for the whole family to enjoy. And considering the gags and the formula are usually the same in many of their episodes, it's not hard for younger fans to start following along and understanding what's happened. Plus, you get to see a young pre-SNL Kenan Thompson rocking the stage.
Stream Kenan & Kal on Paramount+ here (opens in new tab).
The Brady Bunch (1969-1974)
Probably one of the most family-friendly shows there is out there, The Brady Bunch is the epitome of what a sitcom is. The Brady Bunch follows the life of the Brady family, who were brought together by two widowed parents who both had three kids – one with three girls with blonde hair, and one with three boys with brown hair.
The premise doesn't sound like it would be anything interesting, but this was one of the most popular sitcoms of all time. It led to multiple reunion films and spinoff series due to the popularity of the show and the icon of which it became in the TV industry. With plenty of standard themes like sibling rivalry, self-image, puppy love, and more covered in this iconic show, I guarantee everyone in the family will find something to love about this series.
Stream The Brady Bunch on Paramount+ here (opens in new tab).
Everybody Hates Chris (2005-2009)
I remember this being one of the first sitcoms I would sit down and watch when I was younger, mainly because it's a gem hidden among the rest. Everybody Hates Chris tells the story of the young comedian Chris Rock, and the troubles which he would face as a young kid, including the struggles and problems he would face daily.
Personally, I feel like this is the perfect series for a family to watch because everyone can relate to Chris at some point, from his self-doubts to his family issues occasionally to everything else that happened, Everybody Hates Chris turns into "Everybody Loves Chris" because you can't help but feel bad for the guy in this sitcom. It's definitely a bit more mature than some of the other sitcoms on here, but still fun for the whole family. I'd say it's a good watch for when you're kids are about tween age – that's when I began viewing it.
Stream Everybody Hates Chris on Paramount+ here (opens in new tab).
I Love Lucy (1951-1957)
Arguably the most classic sitcom of all time, I Love Lucy has integrated itself into pop culture forever. This famous 1950's sitcom is about Lucy and Ricky Ricardo, an interracial couple and the hijinks of which they run into every day of their marriage, as in love as they are.
I Love Lucy is iconic. In the 1950s, no one ever spoke about an interracial couple – it just wasn't a thing that happened in movies or TV shows all that often, so they were groundbreaking in that regard. And they covered serious topics that were considered taboo at the time, such as divorce, revealing pregnancy on TV, and many more. I know that feels shocking to hear about but it truly was life-changing, and everyone deserves to watch it at least once. For kids, the humor is easy to keep up with and sometimes even slapstick to a point. For adults, the love that Lucy and Ricky share for each other would be enough for anyone to support.
Stream I Love Lucy on Paramount+ here (opens in new tab).
Spongebob Squarepants (1999-present)
Another show I grew up on, my father can attest to the love he has for this show, mainly because he would watch it with me. Spongebob Squarepants follows the life of the titular sponge, Spongebob, and the daily activities and problems that this mischievous little sea critter always seems to get himself into.
Okay, so later seasons of the show do tend to lean a bit more on the "kiddish" side, but the earlier seasons of Spongebob Squarepants have some of the best episodes and specials, ones that both kids and parents will enjoy. Kids can laugh along to the craziness that is Spongebob and his friends, while parents can find joy in Spongebob's optimistic attitude, Squidward's approach to life, and many of the other parallel that can be found with each character. What makes it even better is that there's no cohesive storyline, so you don't need to watch episode after episode – just pick one and you're good to go.
Stream Spongebob Squarepants on Paramount+ here (opens in new tab).
Kamp Koral: Spongebob's Under Years (2021-present)
And now we move onto the next Spongebob Squarepants item here. Kamp Koral: Spongebob's Under Years features everyone's favorite characters from the official show, but now aged down, where they all attend a summer camp.
Alright, ignore the logistics and plot holes of this (pretty sure Sandy only came down below the sea when Spongebob was older but okay), and this is really cute. As one of Paramount+'s first original shows, it's the perfect show to watch with your little tyke. Not only does it have a good amount of the same humor you would expect from Spongebob Squarepants, but the design of the younger characters is so adorable. The CGI animation is actually great too, unexpectedly, which makes this little show stand out even more. Give it a try, I promise it will be worth it.
Stream Kamp Koral: Spongebob's Under Years on Paramount+ here (opens in new tab).
Nathan For You (2013-2017)
I feel like so many people have never heard of Nathan For You and that is a crime. This popular Comedy Central show stars Nathan Fielder, playing an off-kilter version of himself where he goes from business to business, trying to come up with ideas to help their struggling companies that are just absolutely ridiculous and outlandish in every way.
Nathan For You is the perfect series to watch with children when they're grown up, because not only are some of the jokes fantastic adult humor, but it's jokes that everyone in the family can get. And some of these businesses actually end up gaining traction out of these ridiculous ideas – like a "poop-flavored" yogurt that brings in money. I know, it sounds crazy, but trust me, it's worth the time to watch, and hilarious too.
Stream Nathan For You on Paramount+ here (opens in new tab).
Key & Peele (2012-2015)
As my last entry on this list, Key & Peele fun in the best kind of family way. This show stars Keegan Michael-Key and Jordan Peele, who create ridiculous and hilarious skits that will have you holding your side for hours after laughing.
Honestly, I love watching these two work together. While this show isn't necessarily "family-friendly," as some of the humor is definitely more catered to older people, teenagers would get a kick out of some of the jokes. This is where these two famous actors really got their start and became the popular megabrands that they are now, with Jordan Peele's movies like Get Out and Keegan's acting roles. But if you want to learn where they came from and laugh a whole lot, check out Key & Peele.
Stream Key & Peele on Paramount+ here (opens in new tab).
There's still plenty more on Paramount+ for you to check out, but hopefully, this list gave you some insight into what shows are available. Happy streaming, everyone!