The Boys Season 3: Everything We Know So Far About The Amazon Series
By Jason Wiese last updated
Remember what we told ya' about The Boys Season 3.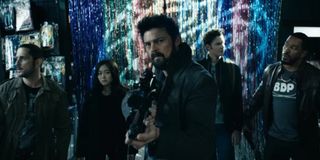 WARNING: The following article contains SPOILERS for the first two seasons of The Boys, so proceed with caution.
The small screen adaptation of Garth Ennis' gritty socio-political satire/superhero movies parody comic The Boys has cemented itself as one of those shows that really knows how to keep the pot boiling with one daring plot twist after another - with much credit to its source material. In fact, taking a peek at the Dynamite Entertainment comic book series (formerly under DC's Wildstorm imprint) can help give us insight into what we can expect when The Boys Season 3 becomes available to stream on Amazon Prime. The following is a full breakdown of all the confirmed details about the hit, Emmy-nominated TV show's return, beginning with exactly when that will be.
What Is The Boys Season 3 Premiere Date?
Despite what some fans might have hoped for, a 2021 release for The Boys Season 3 was not promising, especially after the series' production schedule was affected by the outbreak of Covid-19 in 2020. Thankfully, Amazon Prime Video would announce in January that the latest run of episodes are confirmed to premiere on the streaming platform on Friday, June 3, 2022.
Production On The Boys Season 3
After initial projections that shooting would commence in January 2021 or in the following February, the latter proved correct as The Boys Season 3 went into production in Toronto Tuesday, February 16. The exciting news also came after series star Jack Quaid teased his return to something that "rhymes with Buh Toys Teason Shree" in a January Instagram post of the actor on a plane wearing a T-Shirt bearing Gene Wilder's Young Frankenstein character and a protective face mask. This reflects the shoot's "highly tested, PPE, zone controlled, socially distanced" set, as promised by co-star Karl Urban in his own similar Instagram photo from later that month.
The Boys Season 3 Plot
Now, this is something that we can speak a little more in-depth about, but, admittedly, with only so many details - most of which are based on the cast's comments over how Season 2 left things off and a few teases from showrunner Eric Kripke. For instance, the EP tweeted a photo of the Season 3 premiere script, bearing the title "Payback," which likely refers to another superhero group from the comics that famously pokes fun at Marvel's Avengers.
Eric Kripke also took to Twitter to announce that he has taken fans' dares to adapt a risqué miniseries spin-off from The Boys comic called Herogasm, in which supes engage in a corporate-sponsored orgy on a remote island, for Season 3's sixth episode. However, he would later claim he, somehow, has something even crazier than that in store when speaking to EW mid-July. Kripke has also mentioned how much material reality has provided recently, meaning we could expect a little Boys-style pandemic-related political satire - a fitting way to incorporate the next season's confirmed, and supposed, antagonists.
The Boys Season 3 Villains
For however long The Boys lasts, I think we can rely on Homelander's extreme power and more extreme insanity to keep us in fear, even with Queen Maeve's blackmailing scheme. However, his reputation as the series' most hateful character was challenged by Aya Cash's Nazi supe Stormfront, whom some have speculated is still alive even after she was cooked by Homelander's biological son, Ryan (Cameron Crovetti).
More likely than Stormfront's survival, however, is the possibility that The Boys will find a new, unexpected enemy in Congresswoman Victoria Neuman, whom last season's finale revealed to be the head-exploding supe, but not necessarily if her loyalty lies with Vought or a personal, potentially insidious agenda. We can most confidently expect trouble when The Boys Season 3 introduces Jensen Ackles as Soldier Boy, Sean Patrick Flanery as Gunpowder, Miles Gaston Villenueva as Supersonic, and Nick Wechsler as Blue Hawk - the four new, confirmed cast members.
The Boys Season 3 Cast
Let's take a closer look at who we can expect to see in The Boys Season 3 cast...
Karl Urban (Billy Butcher)
The Boys Season 2 saw Billy Butcher initiate a truce with Homelander and his own anti-supe agenda by ensuring Ryan was put into safe hands after the boy accidentally killed his mother, and Billy's wife, Becca (Shantel VanSanten). Yet, some speculate The Boys' leader, played by New Zealand-born comic book adaptation veteran Karl Urban, could become consumed by his demons again if the character's murderous evolution in the comics becomes part of his return in Season 3.
Jack Quaid (Hughie Campbell)
It seems The Boys' meekest recruit (former Hunger Games star Jack Quaid) was finally getting what he wants by the end of Season 2. We shall see how things go with Hughie's assumedly less violent method to stand against Vought by taking a job with Congresswoman Victoria Neuman and his recently reignited romance with The Seven's youngest member.
Erin Moriarty (Annie January/Starlight)
The superhero better known as Starlight (Jessica Jones star Erin Moriarty) certainly made progress in her defiance of Vought's demeaning control, with help from The Boys, most notably for exposing the existence of the superhuman hormone Compound V. However, as we will likely see more of in The Boys Season 3, it has also created friction among her Seven teammates, including its ruthless leader.
Antony Starr (Homelander)
The world's most famous (and dangerously self-serving) supe, admittedly, has reason to be pissed after losing his unholy union with Stormfront and any chance of a relationship with his son. We can only imagine what chaos the vengeful Homelander plans to bring when fellow New Zealander Antony Starr returns to the role, unless his teammate's blackmailing scheme proves successful.
Dominique McElligott (Queen Maeve)
Said blackmailing scheme (threatening to expose Homelander's willful ignorance of a plane full of helpless passengers) was a much-needed victory for Queen Maeve (Irish actress Dominique McElligott) after much of his (and Vought's) torment. Of course, The Seven's own Wonder Woman was a reluctant accomplice to that tragedy, so she still has some room for redemption in The Boys Season 3.
Laz Alonso (Mother's Milk)
I actually think the long-awaited reunion of Marvin "Mother's" Milk and his family was the most satisfying character resolution of The Boys' second season. That being said, I am expecting a heartbreaking cause to bring Laz Alonso's character back into action and I wonder if it involves the return of the hilariously NSFW supe known as Love Sausage, with whom he had a "traumatic" encounter in Season 2.
Tomer Kapon (Frenchie)
We got a closer look into the past of tactician Frenchie (Israeli actor Tomer Kapon) in Season 2, such as the failed heist that actually got him recruited into The Boys' original line-up. We may have the chance to learn plenty more about him in Season 3, though, such as if his use of Compound V in the comics will play a role.
Karen Fukuhara (Kimiko)
While she says even less on The Boys than she did as Katana in Suicide Squad, I would still say Kimiko is Karen Fukuhara's most fascinating and badass comic book character role to date. I suspect that we may also learn more about her origin in Season 3 and witness her relationship with Frenchie strengthen as she finally teaches him how to communicate with her.
Jessie T. Usher (A-Train)
While I would not necessarily call A-Train's arc in Season 2 "redemptive," he managed to earn my sympathies and a shred of respect for helping The Boys take down Stormfront by exposing her Nazism. While the assist was mostly for personal gain, I hope to see Jessie T. Usher's recently reinstated speedster mature on The Boys Season 3 and, perhaps, even earn forgiveness from Hughie for obliterating his girlfriend.
Chace Crawford (The Deep)
You almost cannot help but feel pity for The Deep after all the hilariously misguided steps he has taken to earn his place among The Seven again after Starlight's sexual assault charge got him cancelled. Chace Crawford's aquatic supe is one I would actually hope to see properly redeemed in The Boys Season 3 because right now he just seems lost, swimming up the wrong creek at every turn.
Nathan Mitchell (Black Noir)
I do, however, see little chance of redemption for Black Noir in The Boys Season 3, not necessarily because of the severity of his evil actions, but because of the vegetative state Queen Maeve put him in after triggering his tree nut allergy by force-feeding him an Almond Joy. This betrayal also allowed us to catch a glimpse of Nathan Mitchell's face underneath his helmet, ruling out the possibility of a twist from the comics that reveals the deadly Seven member is actually a clone of Homelander.
Claudia Doumit (Victoria Neuman)
Speaking of twists, Congresswoman Victoria Neuman was the face of, arguably, the greatest twist of The Boys Season 2: she was the supe telepathically blowing people's heads up, as previously mentioned. Since Claudia Doumit has since been made a regular cast member, we can be sure to see where that reveal will take her in Season 3.
Colby Minifie (Ashley Barrett)
Also earning series regular status on The Boys is Colby Minifie, whose role as Ashley Barret was greatly expanded on in Season 2 as she was promoted from Vought's Director of Talent Relations to Senior Vice President of Hero Management, succeeding the late Madelyn Stillwell (Elisabeth Shue). She really made an effort to earn her position by going above and beyond for The Seven despite a constant, unflinching stream of debilitating threats to their image which seems to be less of a priority in Season 3… for now.
Jensen Ackles (Soldier Boy)
Someone who could likely become the next greatest threat to The Seven's image is Soldier Boy, who is described in The Boys comic as the world's first supe and was tight with also tight with Stormfront. As mentioned earlier, the character is the first major TV role for Jensen Ackles after the 2020 finale of Supernatural, which was also created by The Boys showrunner Eric Kripke.
Sean Patrick Flanery (Gunpowder)
The fire-breathing Judge Dredd parody Gunpowder briefly appeared on the first season in a supe orgy and supporting the 2nd Amendment on TV. He has been recast for The Boys Season 3 with Sean Patrick Flanery, who is best known from The Boondock Saints movies as Connor MacManus.
Miles Gaston Villanueva (Supersonic)
While it sounds like The Boys Season 3 may be adding another speedster to the cast, all we really know about Supersonic is that he reportedly dated Starlight before she met Hughie. Miles Gaston Villlanueva from The CW's Nancy Drew and Jane the Virgin, will play the supe, who seems to be a reinterpretation of Drummer Boy - a minor character from the comic.
Nick Wechsler (Blue Hawk)
It is also speculated that Blue Hawk is a reinvention of Ground Hawk, a hammer-handed supe who dresses a lot like DC's Hawkman in the original comic. Nick Wechsler of This Is Us and For All Mankind fame will portray the character, however that may turn out.
The Boys Is Also Getting Spin-Off Shows
Just when you thought there could not be more for a fan to look forward to, a Boys prequel series from writer Craig Rosenberg following a school for supes-in-training, was announced and already put on the development fast-track by Amazon in September 2020. Plus, while you wait for The Boys Season 3 and the spin-off, you can watch monthly episodes of Seven on 7 with Cameron Coleman - a Vought-produced propaganda… I mean, news program that exists in the world of the show - on YouTube and the animated anthology series The Boys: Diabolical, which premiered on Amazon Prime on March 4, 2022.
I, for one, am glad there is more from the world of The Boys already available and in the works as I cannot get enough of this show. Thus, Season 3 is high on my list of anticipated 2022 TV premieres.
Jason has been writing since he was able to pick up a washable marker, with which he wrote his debut illustrated children's story, later transitioning to a short-lived comic book series and (very) amateur filmmaking before finally settling on pursuing a career in writing about movies in lieu of making them. Look for his name in just about any article related to Batman.
Your Daily Blend of Entertainment News
Thank you for signing up to CinemaBlend. You will receive a verification email shortly.
There was a problem. Please refresh the page and try again.