Family Matters' Steve Urkel Actor Just Launched A Weed Brand With An A+ Name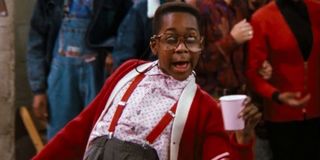 For some parts of the country, smoking marijuana is a perfectly legal way to enjoy some good old-fashioned rest and relaxation. As such, there's a massive market just waiting to be tapped into, with a number of celebrities lending their likeness to growing weed brands. Family Matters' Jaleel White, who is famous for playing Steve Urkel, is the latest celebrity to fire up his own weed brand with an A+ name to boot.
The actor-turned-entrepreneur recently announced a partnership with 710 Labs, a high quality marijuana dispensary. White's involvement will see him launching a number of purple-based strains under the moniker ItsPurpl. But the fun doesn't stop there. One of the flagship strains under the new partnership is aptly named Purple Urkle.
In an interview with Forbes, Jaleel White outlined his reasoning for getting in on the business and what it meant to have a long-standing cannabis strain named after his Family Matters character:
I mean, you just have to respect that move. When something is named after one of your famous roles, I imagine it's hard not to feel a bit of ownership. It sounds like White wasn't happy with the Purple Urkle strains he was seeing, so he decided to make his own. When asked about how long he wanted to get into the cannabis business, White mentioned that he had been thinking about it quite a while:
Under the partnership with 710 Labs, Purple Urkle will only be available in California to start, but White noted that there are plans to eventually expand into New York. With more states legalizing recreational cannabis every year, the market is ripe for the pickings, as they say.
As laws around cannabis become increasingly relaxed, celebrities have been more willing to share their own personal experiences, as well as get in on some surely lucrative endorsements. Seth Rogen recently made headlines for starting his own weed brand, which featured a fun Pineapple Express connection.
Hopefully the whole deal pans out for Jaleel White. Although going into the weed business probably wouldn't have pleased Reginald VelJohnson's Carl Winslow, it's nice to see White taking ownership of a brand to ensure that quality is what shines through.
Your Daily Blend of Entertainment News
Into tracksuits by Paulie Walnuts, the Criterion Channel and Robert Eggers.