The Falcon and the Winter Soldier's John Walker Actor Shares Thoughts On His Potential MCU Future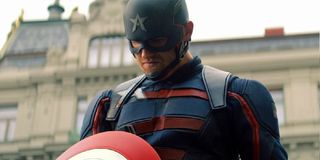 Spoilers ahead for The Falcon and the Winter Soldier Season 1 finale, "One World, One People."
The final episode of The Falcon and the Winter Soldier, at least for this season, dropped on Disney+ in the early hours of this past Friday, and the episode was as intense as it could get. The ending left the door open for multiple characters, should Marvel and Disney choose to renew the series, and Wyatt Russell, who portrayed military vet-turned-Captain America John Walker, shared his thoughts on the possibility of his MCU future.
Towards the end of the episode, Julia Louis-Dreyfus reprised her role as the mysterious Contessa Valentina to draft Walker into a new super team. Walker showed up dressed in a black and red costume and was given his familiar comic book name, U.S. Agent. But what could this mean for Wyatt Russell's character moving forward? Well, based on what he told Vanity Fair, it sounds like even he's still trying to figure things out:
Unlike WandaVision, which set up and will tie into Doctor Strange: In the Multiverse of Madness, The Falcon and the Winter Soldier was not announced to be setting up a specific MCU film. Though with Captain America 4 now officially on the way, you could make an argument that it primes viewers for that. Still, the conclusion to the first season was an open-ended one that could leave even more storylines for a future season. In John Walker's case, the possibility of building up this new team, seeing him as U.S. Agent and more than likely, going against Sam and Bucky would be an interesting storyline since it's already set up.
When John Walker was first introduced as the new Captain America at the end of the series premiere, fans didn't know how that would turn out and how Sam and Bucky would react. Unsurprisingly, they were not here for this replacement. While Walker tried to become their ally, Sam and Bucky weren't on board. Walker soon went over the edge and impaled a Flag Smasher with his shield in front of onlookers. That lost him not only his title as Captain America, but his position within the United States Military as well. With U.S. Agent officially a thing and Walker not one to walk away without a fight, his future might just be beginning.
The future of John Walker in the MCU is unknown but, with the way The Falcon and the Winter Soldier ended, it wouldn't be surprising if there's another season to continue his arc, or if Marvel continues John Walker's story in another project.
All six episodes of The Falcon and the Winter Soldier are streaming now on Disney+ (opens in new tab).
Passionate writer. Obsessed with anything and everything entertainment, specifically movies and television. Can get easily attached to fictional characters.
Your Daily Blend of Entertainment News
Thank you for signing up to CinemaBlend. You will receive a verification email shortly.
There was a problem. Please refresh the page and try again.