Netflix's Master Of None Season 3 Trailer Is Finally Here, And It's Like A Completely Different Show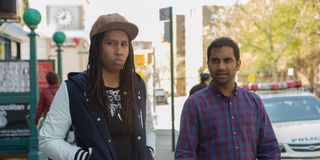 Aziz Ansari and Alan Yang's hit television series Master of None first premiered on Netflix way back in 2015, with the second season releasing in 2017. Despite ending on a pretty massive cliffhanger, Ansari decided to take a break from working on the series. That is until last year when production started for the secretive third season. Now, Aziz Ansari has shared the first trailer for Master of None Season 3, titled Master of None Present: Moments In Love, and it's like a completely different show.
Instead of following Ansari, who plays budding actor Dev Shah, and Eric Wareheim's Arnold Baumheiser, Master of None Presents: Moments In Love will focus on recurring character Denise, played by Lena Waithe. From the trailer it looks like the new season will focus exclusively on Waithe's character and a blossoming relationship with her partner Alicia, played by Naomi Ackie.
According to the credits Lena Waithe co-wrote the new season alongside Ansari, who directed every episode. Unfortunately, the long-awaited third season will only run for five episodes, instead of the ten released for each of the first two seasons. But hey, I can't complain. I'll take any and all Master of None I can get.
The first season of Master of None followed Ansari's Dev as he navigated New York City, an acting career and the dating scene. The show was a massive hit for Netflix, earning a number of awards including three Emmys and a Golden Globe. The second season saw Dev and 'big bud' Arnold galavanting across Italy before returning to New York. Season 2 culminated with a pretty intense cliffhanger, leaving fans searching for answers.
However, Ansari was adamant about taking a "pretty long break" from the series after the release of Season 2. According to the actor, he needed to make some major life changes before coming back for Season 3, which I totally respect. While I certainly loved watching Dev frolic around New York, I would love to see the show explore more of the personal aspect of romance, which is what we were seeing towards the end of Season 2, until that cliffhanger.
It doesn't look like fans will be getting a ton of answers in terms of Dev's relationship status for Master of None Presents: Moments In Love, but they will be able to see what Denise has been up to all of this time. Hopefully Ansari and Waithe can lean into the more romantic side of things, because I think that's where the show really shines. Don't get me wrong, the comedy is great, but the show's best moments are rooted in the romantic relationships of its characters.
Fans can check out the long-awaited Master of None Presents: Love Moments In Love when it releases on Netflix May 23rd, 2021. If you haven't had a chance to watch the first two seasons, now is the perfect time to dive in ahead of Season 3. As Dev would say, Allora!
Your Daily Blend of Entertainment News
Into tracksuits by Paulie Walnuts, the Criterion Channel and Robert Eggers.