In Rare Interview, Rapper Jay-Z Touches On Avoiding Social Media And His Real Thoughts On Cancel Culture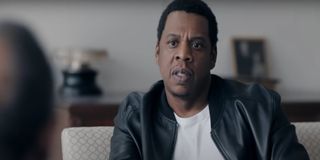 Social media can be an extremely effective tool. It allows us to connect with people from all over the world. It allows small businesses to promote themselves and for content creators to reach a wider audience. However, social media can also become a breeding ground for negativity and criticism. More recently, the concept of being "cancelled" has become a consideration. Rapper and bona fide cultural icon Jay-Z shared his perspective on it.
The hip-hop star is notable for his lack of presence on social media. He has a Twitter account, although it's barely updated, and he doesn't have an Instagram account at all. Compared to other celebrities of his stature, such as reality star Kim Kardashian and music icon Britney Spears, it seems odd at first glance. After all, why wouldn't an artist want to use social media to promote themselves?
Speaking with The Sunday Times in a rare interview (via Black Enterprise), Jay-Z discussed his avoidance of social media, saying:
When you're as famous and well-respected as Jay-Z, one wrong tweet could signal the end of a career - or a least some serious backlash. It has happened in many other cases for high-profile figures, including Harry Potter author J.K. Rowling getting blowback on Twitter last summer, Jeopardy GOAT Ken Jennings apologizing for past offensive tweets, and Justin Timberlake even received backlash for Hulu's Britney Spears documentary.
Jay-Z has simply chosen to avoid social media in general. He's focused on his family and his various business deals, including his upcoming campaign for Puma. Kids Blue Ivy, Sir, and Rumi took up most of Jay-Z and Beyoncé's time in lockdown, as he went on to explain (via People):
All things considered, it sounds like Jay-Z has his mind in a good place, even if he's unlikely to start sharing all his thoughts on social media any time soon. There can be no doubt that plenty of other celebrities will stick with Twitter for their commentaries, and some will surely be more well-received by fans than others.
Your Daily Blend of Entertainment News
Actor, singer, and occasional dancer. Likes: fashion, books, old buildings. Dislikes: cilantro, the NJ Turnpike, sneaker wedges.