Kim Kardashian Is Back On Instagram… Well, Kind Of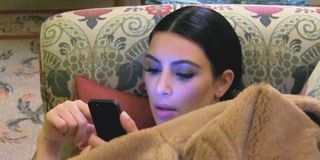 (Image credit: Keeping Up With the Kardashians)
Kim Kardashian is finally back on social media! Well... in a way, at least. Though the reality star still hasn't posted anything to her Instagram since her robbery at gunpoint at the start of October, she proved that she is still active on the app last week when eagle-eyed followers noticed that she started following some fellow celebs, including one major blast from her past.
Nearly a month and a half since being robbed in Paris, Kim Kardashian broke her social media silence with a whisper last week by following Ariana Grande, Sofia Richie, and Paris Hilton's accounts on Instagram. This marks the second sign of Kardashian's activity across all of her social media platforms in the past six weeks --- the first being a photo posted to her Facebook that was thought to be scheduled from before her attack, and which Kardashian deleted within a few hours. Before the armed robbery, Kardashian was known for posting to her Instagram, Twitter, Facebook, and Snapchat accounts multiple times daily, which is what has made her absence from the world of social media so notable.
The three celebrities that Kim Kardashian chose to break her Instagram hiatus for make have all been closely linked to her family, so it makes sense that they'd get a follow. Ariana Grande partied with the Kardashian-Jenner girls a couple months back at one of Kanye West's concerts, and Kardashian goes way back with Sofia Richie's older sister Nicole Richie.
But it's the Paris Hilton follow that's catching the eyes of most fans. In case you had forgotten, Kim Kardashian actually got her start in what critics have dubbed the "famous for being famous" lifestyle as the hotel heiress' assistant back in the mid-2000s. Though Kardashian's main duty was organizing Hilton's closet, she also became close friends with Hilton and made brief appearances on the heiress' reality show The Simple Life. Recently, Kardashian's younger sister Kendall Jenner resurrected the Hilton-Kardashian connection by wearing what she called a "vintage Paris Hilton" look to her birthday party.
Paris Hilton celebrated her new Instagram follower by sharing a throwback pic of herself and Kardashian posing like Charlie's Angels at the beach. The mid-2000s truly are alive and well in this photo!
Though it's nice to know that Kim Kardashian can keep up with all things Ariana Grande and Paris Hilton now, it looks like fans are still going to have to wait a bit to hear from Kardashian herself online, as she continues to recover from her traumatic robbery. Thankfully, brother Rob Kardashian gave fans a look at his big sister recently as a guest blogger for her app, sharing photos of Kim and daughter North West both dressed as Jasmine from Aladdin for Halloween. She may not be online, but she seems perfectly happy disconnecting and bonding with her kids.
Your Daily Blend of Entertainment News