90 Day Fiancé: A Timeline Of Andrei's Feud With Libby's Family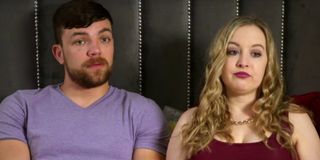 90 Day Fiancé couple Andrei and Elizabeth "Libby" Castravet have been a part of the TLC franchise since Season 5, and after their premiere season, have continued their journey in the series 90 Day Fiancé: Happily Ever After?. The couple's prolonged stint in reality television is thanks in part to Andrei's ongoing feud with Libby's family, which has gone on for years now.
Since the couple was married in 2017, there has been constant tension between Andrei and Libby's father, Chuck Potthast, her brother Charlie, and her sisters Jenn and Becky. The Potthast family has created a united front of sorts against Andrei, though to fully understand the story and why things are so tense, one needs to know the full scope of just how deep this feud goes.
Libby Met Andrei While On A Trip To Ireland
Libby Castravet (then Potthast) first met Andrei on Tinder while searching the Dublin area for friends during her solo trip. Andrei worked two jobs in the country and explained to Libby that he moved to Ireland for better job opportunities and money he couldn't have made in his home country of Moldova. The two Skyped ahead of her trip, and when she arrived in Ireland, Andrei ushered her around and forged a relationship that lasted longer than her trip. The two eventually got engaged on a joint trip to Sicily, and the news was not well received by the bulk of Libby's family.
Libby And Andrei Married In Florida, Despite Her Family's Objections
Libby brought Andrei over on the K1-visa program, and the two began their 90 days. Over that time, Libby's family expressed concerns that Andrei was too controlling and at the speed at which the marriage was happening. There were also concerns about the fact that Andrei didn't have a job and that 90 Day Fiancé and Libby's part-time job wasn't enough to support the two of them. Despite all objections and tension, though, the two were wed in Florida in 2017 in an outdoor ceremony, which Libby described as beautiful.
Libby Got Pregnant, And Andrei Didn't Have A Job
Six months after Andrei and Libby Castravet were married on 90 Day Fiancé, Libby became pregnant with their daughter Eleanor. Andrei had trouble finding work in America and, despite an offer from Elizabeth's father, Chuck, refused to work for her father. Eleanor was born, and Andrei still didn't have a job, though he did handle most of the childcare for Eleanor while Libby returned to work. Still, the fact that Andrei didn't have a job drew criticism from Libby's family, despite the fact I believe the two both received pay for doing the show.
Libby's Family Visits Moldova For The Second Wedding
After Eleanor was born, Andrei announced to the family that they were all invited to the couple's second wedding in Moldova. What he didn't mention ahead of that was that he hoped Elizabeth's father Chuck would pay for it. While Chuck still had reservations about Andrei, he agreed on the condition he and other members of Libby's family could attend. Unfortunately, Libby's family took the opportunity to grill members of Andrei's family about his past and assumed the reason he left Moldova was for criminal activity. The line of questioning caused Andrei to have a violent outburst in a restaurant, and he almost fought Libby's brother, Charlie. Tensions eventually calmed, and Andrei apologized, but neither side really forgot the incident.
Libby's Brother Charlie Embarrassed Andrei At The Moldovan Wedding Reception
Despite all the drama, Andrei and Libby's wedding day finally came. It was a pleasant ceremony, though things got nasty once drinks started flowing at the reception. Libby's brother Charlie was seen drinking throughout the ceremony, and in the midst of her father's wedding speech, decided to take the microphone. Charlie then, in front of Andrei's family and friends, proceeded to berate Andrei and imply he was using their family for their money. Even Libby's family admitted Charlie took things too far, and Chuck gave Andrei credit for being the bigger man and avoiding confrontation. Charlie, meanwhile, was unapologetic to his sister and father for his actions and said he'd do what it took to make sure his family wasn't taken advantage of.
Andrei Asked Chuck For A $100k Loan
After years of being unable to find work, Andrei finally found success and got his real estate license. His ultimate goal was to start a business flipping houses, but in order to make that happen, he needed startup money. Andrei and Libby then went to her father Chuck, requesting $100,000 to get their business rolling, to which he predictably refused. Chuck, who actually owned properties and worked in that business, instead offered Andrei a job once again and said that if Andrei put in the work, he'd consider the loan at a later date. Andrei agreed, though there was apprehension from Chuck and Libby that Andrei would be able to actually work alongside Charlie and Jenn, who both also work with Chuck.
Andrei And Charlie Begrudgingly Agreed To Work Together
With the apprehensions about Andrei and Charlie being able to get along in the way of the two working together, Libby arranged for her husband and brother to meet up and break bread in an attempt to make things work. Neither man had spoken to each other since the wedding, and no apologies were truly exchanged by either side. With that said, Charlie agreed to be civil in the interest of his wife and niece having a good life, and Andrei said he would be professional if it meant bringing in money. The two reached an understanding, though even then, it seemed shaky whether the agreement would hold.
What's Next?
We're not entirely sure whether Andrei and Libby's drama with her family will ever cease, especially because it's the crux of the reason the two are still on 90 Day Fiancé. While theories abound that the two sides perpetuate drama just to remain on television, there's also a case to be made that so much has happened in the years since the two married that it will always be hard for either side to truly put the past behind them. Only time will tell, and with the couple's drama ongoing on Season 6 of 90 Day Fiancé: Happily Ever After? there may be more to add to the saga as time goes on.
Andrei and Libby Castravet's journey can be followed Sundays on TLC via 90 Day Fiancé: Happily Ever After? or with a Discovery+ subscription. Continue to stick with CinemaBlend in the meantime for more on the couple, such as the OnlyFans controversy the two dealt with some time ago. For more on what to watch this summer, be sure to reference our 2021 Summer TV schedule.
Mick likes good television, but also reality television. He grew up on Star Wars, DC, Marvel, and pro wrestling and loves to discuss and dissect most of it. He's been writing online for over a decade and never dreamed he'd be in the position he is today.
Your Daily Blend of Entertainment News
Thank you for signing up to CinemaBlend. You will receive a verification email shortly.
There was a problem. Please refresh the page and try again.