When Calls The Heart Actor Chris McNally Has A Message For Fans Who Say They've Quit The Show After Love Triangle Resolution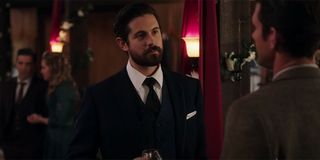 It was a long weekend for fans of When Calls the Heart. First, we've been waiting for seasons for the resolution of the love triangle between Elizabeth, Nathan and Lucas and the time between the penultimate episode and finale felt lengthy. Then once the episode aired and the love triangle did resolve, a slew of Hearties voiced their displeasure over the ultimate outcome, leading Lucas actor Chris McNally to finally take matters into his own hands and speak out.
Of course, if you aren't caught up on the Hallmark series yet, we are going to have to get into spoilers here to get anywhere. If you didn't know already, Elizabeth chose Lucas to be her next partner in life. This was after When Calls the Heart spent the last couple of episodes selling fans on the idea that Nathan could be the one, despite Elizabeth's tentative new courtship with Lucas. At the end of the day, it's Lucas for Elizabeth, and that's the story. Yet, some hearties weren't happy about it.
There are literally a slew of tweets directed at the When Calls The Heart creatives about how they are going to quit the series now that the show chose the wrong man for their Elizabeth! I guess I can't say I'm super surprised. I've been following this love triangle all season and most of the time we gave readers the opportunity to respond to a poll, Nathan was chosen. Still, there's more vitriol about the choice on social media than I anticipated. Lots of quitters out there and ample use of the #GoodbyeHopeValley hashtag.
So, how do you think actor Chris McNally feels? The man actually plays Lucas on When Calls the Heart after all, and he eventually responded on Twitter to give a very diplomatic answer.
Tune in or don't, but When Calls the Heart will be back for Season 9 and, according to Chris McNally, there will be more story to tell. Of course, some fans were not angry on social media and even if they did like Nathan for Elizabeth, they weren't ultimately panicking or lashing out over the fact.
So, really, there are a lot of different perspectives out there. Ultimately, I feel like When Calls The Heart started as a show about a woman and a mountie. But that changed, or as Kavan Smith put it the other day, "I thought this show was a lady and a mountie but now I have no idea." Ultimately, Lucas inspired Elizabeth as a writer, he's taken her to places and on outings that Jack never would have. Nathan is familiar but Lucas is different. I can see why that might not be what viewers thought they were signing up for.
However, if you are Team Nathan, you should be really excited for Season 9. He's a free man on the market! He still has a love story to play out. And honestly, things were looking pretty chummy between himself and Faith as they dealt with the gaps in their love lives at the end of Season 8. And Nathan actor Kevin McGarry confirmed to ET he will be back next season, noting:
Really, truly, the end of this love triangle could be a good thing for everyone involved. I felt like things were off, honestly, when Nathan revealed he came to Hope Valley earlier this season to watch over Elizabeth when Jack died. Good intentions, odd execution. Plus, because Elizabeth chose Lucas, it's not going to be a situation where When Calls the Heart will be repeating storylines from past seasons. A life with Elizabeth and Nathan would have been very similar to the life Elizabeth had with Jack. A life with Lucas has a lot of different possibilities.
We'll have to wait and see what that means when When Calls The Heart returns next season. For now, take a look at what is coming up with our summer TV premiere schedule.
Amazing Race & Top Chef superfan with a pinch of Disney fairy dust thrown in. If you've created a rom-com I've probably watched it.
Your Daily Blend of Entertainment News
Thank you for signing up to CinemaBlend. You will receive a verification email shortly.
There was a problem. Please refresh the page and try again.