What's Up With Loki's Cartoon Clock? And 4 Other Questions We Have About New Disney+ Poster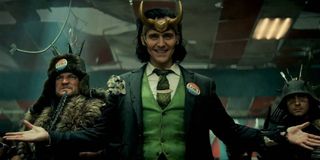 Disney+ has dropped a new poster for Loki, and while at first glance it may seem like the typical poster of characters looking at the viewer, there's actually a lot happening. I can't ignore the Cuphead-esque cartoon clock in the frame, but there's also a lot more to gawk at than just that.
Time is a valuable thing, and because Loki seems really relevant to the concept of time and readers don't have much to waste, I decided to break down some of the stuff you may have overlooked. Like, what is the deal with that cartoon clock, and does this mean the Disney+ series is going to have a cartoon Loki? For those who haven't seen the poster, check it out below, and continue on for all the questions so far regarding it.
What's The Deal With That Cartoon Clock?
That lovable cartoon clock may very well be plastered all over Disney merch before Loki is complete, and it's also in the trailer a few times. While I don't know what its name is, this little cute clock looks to be the mascot of the Time Variance Authority. Revisit the trailer, and you'll see it's present on a poster at the headquarters and what looks to be an informational video. It probably won't play a huge part in the series if I had to guess, but that's just speculation.
What's With The Batons?
I know from the Loki trailer that the batons pictured are some form of weapon, but I don't really know what they do. All I can tell is that they seem more than capable of keeping Loki and his two knives in check. To me, they kind of look like stun batons, but they have to be just a bit cooler than that, right?
Is The Doctor Who Aesthetic Intentional?
The new Loki poster has the same aesthetic as the average Doctor Who poster. I think it's mainly the gold rings encircling the characters that give that vibe, and maybe the premise of Loki involving time? I'm not sure, but I definitely think there's something about this poster that Whovians can appreciate.
Who Is That In The Background?
Over the shoulder of Owen Wilson's Mobius is a hooded figure shrouded in shadows. I have no idea who this is, obviously, though there is someone in the trailer that's also hooded. I should also point out that while I think there's a slim chance it's him, that silhouette resembles Red Skull sporting the cloak he wore on Vormir. I know there are rumors could be someone like Lady Loki, but I've been burned by too many internet theories to believe them at this point.
Why Is Loki On The Poster Twice?
It seems odd to have Loki on the poster not once, but twice. Sure, one is of him in what looks to be a TVA trenchcoat and the other is his usual getup, but did we really need a visual of both? Was there a fear we wouldn't know Tom Hiddleston was Loki if he wasn't wearing the gold horns? Possibly, but maybe there's also more than one Loki running around in this series.
Loki premieres on Disney+ Wednesday, June 9. There's still a healthy wait until this series is out, so take the time to buff up on facts about the MCU character via our handy guide.
Mick likes good television, but also reality television. He grew up on Star Wars, DC, Marvel, and pro wrestling and loves to discuss and dissect most of it. He's been writing online for over a decade and never dreamed he'd be in the position he is today.
Your Daily Blend of Entertainment News
Thank you for signing up to CinemaBlend. You will receive a verification email shortly.
There was a problem. Please refresh the page and try again.