Owen Wilson's Loki Character: What We Know About Mobius M. Mobius From The Comics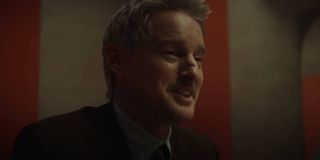 For all the various reasons to be excited for one of the most highly anticipated Marvel TV shows on Disney+, fans are especially jazzed for Owen Wilson's Loki character - but more for the actor himself joining the Marvel Cinematic Universe than the induction of the man he is playing. A more recent trailer for the upcoming Marvel movies spin-off series, led by Tom Hiddleston as the God of Mischief, revealed just a bit more about how his role as Mobius M. Mobius will fit in with the still somewhat mysterious plot - something that an avid, expert reader of Marvel Comics would likely have been able to pick up on already with ease.
While many fans have had much to say about his grayed hair and mustache and the awesome irony that his co-star, Tom Hiddleston, famously does a wicked impersonation of him, others have been reading up on the history of the role whom Owen Wilson is bringing to life outside of the comics for the very first time on the Loki TV show, and that includes us. In fact, to help better prepare you for when the series becomes available to stream on Disney+ on Friday, June 11, 2021, we have compiled all the most essential information that we could find about Mr. Mobius M. Mobius from the pages of Marvel Comics and, with it, put together the following quick, convenient bio. Quick and convenient and not an exaggeration, by the way, as our list consists of four main facts that may wow you, starting off with a little insight into his occupation.
Mobius M. Mobius Is A Manager At The Time Variance Authority
Created by writer and artist Walt Simonson, the Honorable Mr. Mobius "Moby" M. Mobius is a black-haired, mustachioed bureaucrat who works for the TVA (Time Variance Authority) as a senior executive of middle management. In his Marvel Comics debut (which we will talk about in more detail soon), we learn he originally held a position in junior management before rising up in the ranks at the organization, which has a fascinating purpose.
The Time Variance Authority, also the brainchild of Walt Simonson with fellow artist Sal Buscema, was first introduced in Marvel Comics in a 1986 issue of Thor, coincidentally. As a recent Loki trailer sheds light on, the agency closely monitors the multiverse's individual realities to make sure things, including time itself, run smoothly. Much like his tampering with events of 2012's The Avengers in Loki's Avengers: Endgame cameo, the TVA has cracked down on a few bumps in the space-time continuum in the comics, some created by even the most heroic characters.
Mobius M. Mobius Has Tried Fantastic Four And She-Hulk For Time Violations
Despite the Time Variance Authority's introduction five years earlier, Mobius M. Mobius would not appear in Marvel Comics until June 1991 in Fantastic Four Vol 1. #353. The issue sees Marvel's superhero family taken in by TVA agent Justice Peace and prosecuted by Mobius for various offenses, including the destruction of a Time Bubble intended for the ridding of their timeline decades later, before managing to escape and erasing their criminal record, which put Mobius in hot water.
Mobius M. Mobius would also assume a judicial position at the Time Variance Authority, as seen in the February 2006 issue of She-Hulk in which Jennifer Walters is tried for warning Hawkeye about his impending death. In other words, Mobius has a bit of an antagonistic quality in the comics which Owen Wilson's portrayal in Loki seems to be slightly diverting from. Other than his hair color, that may or may not be the only creative liberty the series is taking with the character.
Mobius M. Mobius Is One Of Many Clones Working At The Time Variance Authority
Something about Mobius M. Mobius that the promotional material for Loki has not revealed is that, like other employees of the Time Variance Authority, he has genetically engineered physiology due to actually being a clone. To better explain this, in the comics, the very bottom of the TVA's corporate rank system is entirely inhabited by faceless drones performing the more thankless tasks, while everyone in a middle management level position appears more human, but are also identical. As a senior executive, Mobius is essentially in charge of himself.
It is difficult to tell from the trailers if the TVA's rank system will be portrayed in Loki the same as it is in the comics as most employees who have appeared have faces that are also unique to one another. If writer Michael Waldron and director Kate Herron are just saving that element for the series' premiere, we may be seeing a lot of Owen Wilsons running around. "Wow," indeed.
Mobius M. Mobius Was Based On A Real Marvel Writer
The world of the Time Variance Authority and Mobius M. Mobius' role in it all sounds so bizarre, it is a wonder how Walt Simonson was able to come up with it all as there is no chance this is all grounded in any sort of reality. Well, as it turns out, there is some truth to the inspiration behind the character, whose original design is said to be modeled after fellow Marvel Comics writer Mark Gruenwald.
The comic book legend is famous for writing more Captain America issues than anyone else and creating many notable characters, such as U.S. Agent - whom Wyatt Russell's The Falcon and the Winter Soldier character John Walker is adapted from. He would hold various titles at Marvel Comics until his death of a heart attack in 1996, including Editor-in-Chief and the publisher's continuity expert. This is where the idea to have clones of Mark Gruenwald managing timelines in the multiverse at the TVA came from.
You know, a fun fact about Mobius M. Mobius' name that mathematicians might have picked up on is how it pays reference to a Möbius strip. Discovered by August Ferdinand Möbius and Johann Benedict Listing in 1858, it is demonstrated by joining two ends of a rectangular strip at a 180-degree twist to create what appears as a one-sided surface on infinite loop, which, metaphorically, is Owen Wilson's objective that Loki has made more difficult by stealing the tesseract, it seems. When Loki premieres on Disney+ this summer, we shall then find out how (or, better yet, if) the God Mischief will help repair the damages.
Your Daily Blend of Entertainment News
Jason has been writing since he was able to pick up a washable marker, with which he wrote his debut illustrated children's story, later transitioning to a short-lived comic book series and (very) amateur filmmaking before finally settling on pursuing a career in writing about movies in lieu of making them. Look for his name in just about any article related to Batman.
Your Daily Blend of Entertainment News
Thank you for signing up to CinemaBlend. You will receive a verification email shortly.
There was a problem. Please refresh the page and try again.