Peacock's Girls5Eva: 6 Reasons To Watch The New Series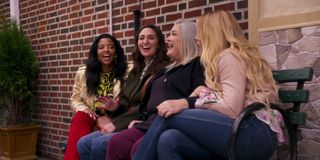 Peacock's Girls5Eva has been an early bright spot in the summer TV lineup. It's one of the best 2021 summer TV shows (so far) because of how effortlessly it blends silly, fun comedy with heartfelt storytelling. It's about going after your dreams even when others may say it's too late. Girls5Eva stars Sara Bareilles, Busy Philipps, Renée Elise Goldsberry, and Paula Pell. The series premiered in May 2021 and is quickly becoming one of Peacock's most exciting original series. Girls5Eva on Peacock is a must-binge for comedy TV fans.
Girls5Eva had a short 8-episode Season 1 run, with hopefully a lot more episodes to come in future seasons. Many who have seen Girls5Eva on Peacock love it, but it's one of those shows that may develop a bigger fan base through word of mouth. So if you've already seen the show and love it, then make sure to tell your friends to watch it. However, if you haven't seen it yet, let me tell you why you need to check out Girls5Eva.
Girls5Eva Is About 40-Somethings Reuniting Their Girl Band
Girls5Eva follows four forty-something women who decide to reunite their band, Girls5Eva. A rapper named Lil Stinker (Jeremiah Craft) decides to sample their music for his new single. He then asks the band to sing backup on a performance at The Tonight Show Starring Jimmy Fallon. The band reunites after years of not seeing each other, and the performance makes them want to get their band back together full-time.
All the women are in their early 40s, so they have settled into their lives, some with marriage and children and others with thriving careers. I believe one of the things that makes Girls5Eva so unique and charming is that we don't often see a show with women of a certain age trying to follow their dreams. That type of series is reserved for 20 or 30-somethings, or even teens. It shouldn't be revolutionary, but it is in a way because we need to see more shows showcasing that life doesn't end after 20. You can still go after your dreams at any age. Girls5Eva does this by showing the comedy that can come with the hard-but-worth-it road to achieve your dreams or restarting them after 40.
The Heavy Dose Of Nostalgia
Generation X and Millennials get more than enough nostalgic treats with Girls5Eva. It has many nods to the '80s, '90s, and the early 2000s pop scene. This includes TRL references, parodies of the popular boy and girl bands of the time like NSYNC, Backstreet Boys, B*Witched, Spice Girls, and some commentary on those insane music videos and song lyrics that we used to all love but were definitely problematic or even silly.
Girls5Eva is like a mini detour to our childhoods (at least those born before the 2000s). It's a fun and also sobering look at those decades in the music industry, both the good and bad of it all.
The Clever Commentary On The Pop Industry
Girls5Eva definitely does a great job of criticizing the pop industry of yesteryears, but it does an equally good job of making commentary on today's pop industry. It shows why kids growing up in front of the camera on Tik Tok may not be the best thing. The never-ending singing reality shows like America's Got Talent and its revolving door of judges, and the still questionable lyrics that make their way onto the music scene today.
Girls5Eva criticizes pop music and the celebrity lifestyle in a way that allows viewers to laugh and understand the ridiculous nature of it all. However, it's not all criticism because you can also feel the joy and appreciation that the writers and the cast have for the pop industry, especially when used in an empowering and freeing way.
The Fantastic Cast That Includes Busy Philipps, Sara Bareilles, And Renee Elise Goldsberry
The Girls5Eva cast was one of the main reasons that I decided to watch Girls5Eva. I adore Sara Bareilles' voice and music, and Renée Elise Goldsberry is just a divine performer. I've seen and loved so many Busy Philipps shows over the years, everything from Dawson's Creek to Vice Principals. I am also one of the few people who watch and love A.P Bio, and Paula Pell is great in it.
Girls5Eva has an amazing cast that aren't just really talented actresses but have the singing chops to be a really believable former all-girls group. All four actresses also embody their characters perfectly. Goldsberry is perfect as the diva Wickie, Bareilles excels as Dawn the worrier who wants to seem chill, Philipps as the clueless but kind Summer, and Pell as practical Gloria.
Girls5Eva also has a supporting cast of lesser-known actors and actresses (at least to a screen-only audience). Daniel Breaker is best known for his stage work, so those who missed his Broadway and off-Broadway productions may be unfamiliar with the actor but he's really a standout as Dawn's supportive husband. Ashley Park has both stage and screen credits. She is great as the fifth member Ashley. Erika Henningsen is also great as the younger version of Gloria. The entire guest, main, and supporting cast fit their roles so well that the series has nearly flawless casting.
The Guest Stars In Unexpected Roles
Some of the guest appearances you need to see with your own eyes to believe. So I won't say too much about the surprise ones, but I will mention a few of them. Stephen Colbert is almost unrecognizable in his role as music writer and genius Alf Musik. It's the type of strange and hilarious performance that you come to expect from Girls5Eva.
Andrew Rannells is golden as Summer's husband and former boy band member Kev. He's the type of over-the-top you expect from someone who hasn't quite let go of his boy band days. Philipps and Rannells play off each other very well. They're a good duo. Girls5Eva has a bunch of little sprinkles of guest stars in surprising and fun roles that you have to watch and see.
The Catchy Tunes of Girls5Eva
Once you hear the original Girls5Eva songs, they'll be stuck in your head. No matter how ridiculous the lyrics, the songs get in there and don't go away. I still can't stop thinking about the New York Lonely Boy and Space Boys songs. It helps that these outlandish lyrics are backed with great vocals from the cast and equally enticing backing beats. 4 Stars combines funny lyrics with more genuine lyrics. It's catchy enough to work on today's radio waves.
All of these songs are crazy but just crazy enough to work within the pop music landscape.
Girls5Eva is unique, fun, and worth the few hours it takes to binge all eight episodes. It's a series that I believe with enough time, it'll just continue to grow and get better. You can currently stream Girls5Eva on Peacock.
Spent most of my life in various parts of Illinois, including attending college in Evanston. I have been a life long lover of pop culture, especially television, turned that passion into writing about all things entertainment related. When I'm not writing about pop culture, I can be found channeling Gordon Ramsay by kicking people out the kitchen.
Your Daily Blend of Entertainment News
Thank you for signing up to CinemaBlend. You will receive a verification email shortly.
There was a problem. Please refresh the page and try again.