10 Times Station 19's Maya And Carina Made Us Believe In Love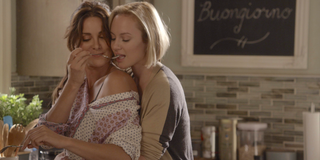 Spoiler alert! The following story contains spoilers for the Station 19 Season 4 episode "Comfortably Numb," and many episodes that came before it.
Fans of Station 19 tune in weekly, not just to watch the firefighting action, but also — as with its Seattle predecessor Grey's Anatomy — to vicariously live the romantic escapades of our heroes. And no couple is more swoon-worthy than Maya Bishop and Carina DeLuca, who even come with the Seattle-appropriate couple name "Marina." With lots of tough storylines on Station 19 in Season 4, Maya and Carina's relationship has been a bright spot, with Danielle Savre and Stefania Spampinato bringing the red-hot chemistry on and off screen. l
Early in Season 4, Marina decided to forgo their separate quarantines and move in together, and man do they make the domestic life look good. But fans have been going crazy for the couple ever since Carina watched Maya run into Grey-Sloan Memorial Hospital carrying a severed nose, back in the Grey's Anatomy Season 16 episode, "A Diagnosis." The couple's on-screen relationship packaged with their adorable real-life interactions on social media could make a Marina shipper out of the hardest of hearts. Let's take a look as some of Carina and Maya's cutest moments:
When Their Ad-Libbed Pillow Talk Made The Final Cut
The opening of Season 3's "Poor Wandering One" showed Maya and Carina in bed, with Carina giving the firefighter a pep talk about speaking her truth at work. In an improvised moment, Carina said to Maya in Italian, "Basciami." Maya's response — an elated, "Is that 'Kiss me?'" — was also unscripted. I love that the editors kept the ad-libbed moment, as it spotlights the actresses' natural connection.
When Maya's Mom Didn't Understand Who Carina Was
In the Season 3 episode "The Ghosts That Haunt Me," Maya and Carina were making out in Maya's office when they were interrupted by Maya's mother, Katherine. Katherine hilariously missed all of the social cues and asked if Carina was "one of Maya's fire women," before assuming she was Maya's doctor. Carina said she was neither of those things, and as she walked out of the room gave Maya the funniest "WTF" look behind Katherine's back.
When They First Said "I Love You"
Marina fans probably don't like to remember the time Maya cheated on Carina with Jack and used that to push Carina away (we certainly don't). But when Maya realized the error of her ways and went crawling back to Carina, we got the first beautiful "I love you"s from the couple. Arguably more heartwarming than the scene itself was seeing actresses Danielle Savre and Stefania Spampinato name that as their favorite moment of Season 3, which you can see below.
When Carina Stroked Maya's Hair
Maya and Carina were absolutely on fire in the Season 4 episode "Save Yourself," leaving Marina fans in fits with their longing looks and skipping and chin strokes. But it was Carina playing with Maya's hair as they listened to Jack telling a story that really did the fandom in. Surely an unscripted choice, the hair stroking showed the intimacy between the actresses, and Maya's giddy smile was everything.
When They Post Candid Promos For Station 19
Stefania Spampinato and Danielle Savre truly enjoy being around each other, if their promos for upcoming Station 19 episodes are any indication. Whether they're making fun of Savre's dance moves or stumbling over their words (as seen below), you can't help but laugh along with them.
When Maya Helped Carina Grieve
In Season 4's "Learning to Fly," Carina's grief is palpable after the murder of her brother Andrew DeLuca, and Maya's inability to help is just as heartbreaking. The performances of both Danielle Savre and Stefania Spampinato were so raw through the whole episode, but nothing hit quite as hard as when Maya led Carina into the barn of the fire station and flipped on the fire engine's sirens to allow Carina to scream out the frustration and emotion and guilt that were weighing her down. When Carina still couldn't scream, Maya started screaming, and Carina was finally able to allow herself to do the same.
When Maya's Push-up Challenge Win Left Everyone Speechless
When Maya took her first vacation probably ever in Season 3's "No Days Off," evil forces kept trying to force themselves into Marina's getaway — namely a five-alarm fire back home and Todd. Todd and his friends tried lamely to hit on them at the pool, leading Maya to challenge Todd to a push-up contest. Maya won (easily), and as Todd fulfilled his part of the bet — buy them drinks and leave them alone — Maya and Carina dropped all of our jaws with a smoldering kiss.
When Danielle Savre Was Jealous of Carina's Ex
In Season 4's "Make No Mistake, He's Mine," Carina's ex Gabriella showed up at Marina's door after hearing about Andrew DeLuca's death (pushing right past Maya — rude). Maya showed superhuman emotional maturity as Gabriella flaunted her and Carina's previously sexual relationship, because she knew Carina needed all the support she could get. But that didn't keep Danielle Savre from chiming in on the injustice being done to her character. As well as sharing a photo of Maya shooting daggers at the former flames, Savre posted a warning that basically told Gabriella to take a step back.
When Marina Left Shippers Wondering
Danielle Savre and Stefania Spampinato have an undeniable chemistry each other, both on and off screen, which naturally would lead to their fans wondering if the on-screen romance continues after the cameras stop rolling. Savre even surprised Spampinato by saying she was learning to speak Italian! When asked directly, the actresses didn't seem to be willing to spoil the fun, with Savre channeling Gossip Girl in her response of, "That's one secret we'll never tell." Spampinato added the cherry on top of her retweet, with a noncommittal emoji.
When They Got Engaged
Station 19 did fans dirty in Season 4 with multiple episodes where Marina dealt with Carina's visa expiring. At first Maya said she'd go with her back to Italy, then they decided they were strong enough to withstand the distance. In "Comfortably Numb" as Maya started to talk about getting married so she could stay, Carina stated that she was against it. Of course, it was actually "ex-sex-friend" Gabriella who pointed Carina back to Maya. And this time it was Carina's turn to go crawling back to Maya. Watch the amazingness below!
Now that our queens are getting married, I'm looking forward to many, many more electric moments between the two, and probably at least a couple interesting conversations about having kids. Station 19 airs at 8 p.m. ET Thursdays on ABC. Be sure to check out our list of upcoming TV season finales as well as our 2021 summer TV schedule so you don't miss any of your favorite shows.
Your Daily Blend of Entertainment News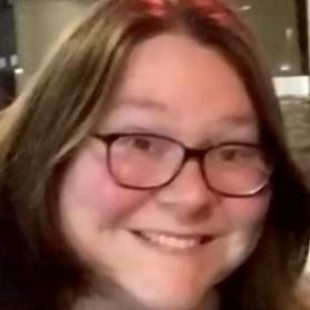 Mom of two and hard-core '90s kid. Unprovoked, will quote Friends in any situation. Thrives on New Orleans Saints football, The West Wing and taco trucks.