How The Bold Type's Shortened Season 4 Creates New Opportunities For Season 5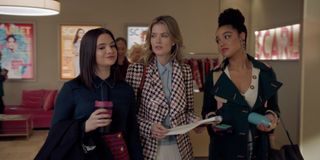 Warning! Spoilers ahead for The Bold Type Season 4 finale.
The Bold Type Season 4 ended prematurely, with the cast filming only 16 of the 18 ordered episodes due to the Hollywood-wide production shutdowns in March. And so, the Freeform series wrapped its fourth season with some unexpected character twists and a plethora of unresolved plotlines. Recently, The Bold Type showrunner Wendy Straker Hauser explained how the shortened Season 4 actually created new opportunities for a potential Season 5.
The Season 4 finale saw Sutton, still estranged from husband Richard, hooking up with her married ex-boyfriend, Kat texting Ava that things shouldn't go any further between them, and Jane confronting Jacqueline after one of her stories was scrapped. Viewers were on the edge of their seats.
However, The Bold Type hasn't been renewed yet, leaving Season 5 up in the air for the time being. Despite Season 4 being cut short, Wendy Straker Hauser has come around to seeing the silver lining in getting a shortened season. Speaking with TV Guide, the showrunner revealed how The Bold Type's Season 4 stories will move forward if there's a Season 5. Here's what Hauser said:
Wendy Straker Hauser's response is very much in line with other showrunners who have come around to seeing the shutdown as a creative opportunity. If The Bold Type is renewed for Season 5, then it's possible that any number of the previous storylines could be changed or dropped completely. It's an "awesome opportunity," that's for sure.
In fact, The Bold Type already made one last-minute change to Kat's story in Season 4. As it so happens, the finale was originally written with the intention to keep the door open on the relationship between Kat and Ava, whose father Kat publicly outed as being pro-conversion therapy earlier in the season. However, the Season 4 finale was edited to include the new text Kat sent to Ava, revealing that their relationship had to end because it was "too complicated."
I'd wager that, if The Bold Type is renewed for Season 5, Ava will be out of the picture completely and Kat will move on to someone else who is more suited to her. In fact, this is one of the storylines where Wendy Straker Hauser could indeed "do something different" with Kat's trajectory. Let's hope the show is renewed for Season 5 so that they get that chance.
The Bold Type Season 4 is currently streaming on Hulu. For more on what to watch in the coming months, be sure to check out our 2020 fall TV premiere guide.
Your Daily Blend of Entertainment News