WandaVision: The 7 Most Heartbreaking Moments In The Marvel TV Show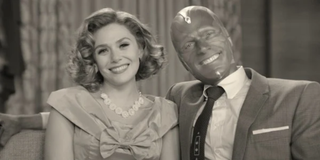 WandaVision may rely heavily on the sitcom format but it's often not all situational humor, physical comedy, and cleverly written jokes. Instead, WandaVision can be quite sad and even tragic. Marvel Cinematic Universe fans know the love story of Wanda (Elizabeth Olsen) and Vision (Paul Bettany) and how it came to an end, so no one knew exactly what was going on with WandaVision, at least not until spring 2020, when the show debuted. The series ended up producing some of the saddest moments in Marvel history.
WandaVision is a show about grief, sacrifice, lost love, and a cycle of loss. It was never going to be all rainbows and sunshine. Now that WandaVision has concluded, let's explore the series' saddest moments, and relive the pain together.
Warning: WandaVision spoilers ahead. Proceed with caution.
7. Sparky Dies
In Episode 5 of WandaVision, Wanda and her sons go looking for their missing dog, Sparky, only to receive news from "Agnes" (Kathryn Hahn) that he died from eating some of her azalea bushes. Many would argue that Sparky's death was only a footnote in the whole season, but did you see Tommy (Jett Klyne) and Billy (Julian Hilliard)'s faces after learning that their new puppy had just died? Heartbreaking. It was made even more emotionally impactful when Wanda told her sons not to age up to try and run away from their grief.
In general, unless you hate dogs and animals, it's always at least a little sad when the dog dies. However, WandaVision had several sadder moments than Sparky's death, which is why it ranks so low on this list. Plus, one of the best lines of "Agatha All Along," is when Agatha confesses to killing Sparky and then laughs maniacally. That moment can't happen without Sparky's death.
6. Monica Volunteers To Go Back To Westview
Once Wanda kicks Monica (Teyonah Parris) out of Westview, she's determined to help Wanda. In Episode 6, while talking to Darcy (Kat Dennings) and Jimmy (Randall Park), Monica admits that she understands Wanda because she knows how she feels. She means because she has felt Wanda's emotions and because she is going through the same thing. At this moment, Monica's eyes reveal that she's broken over her mother's death and knows that she can't really deal with it. She must be strong, because there is a greater purpose right now that needs her attention.
Monica learns that returning to Westview could have dire consequences because it's affecting her cells on a molecular level. It's changing her. In the WandaVision series finale, she still takes that risk. Luckily, this risk turns her into a cool new superhero, but going back to Westview could have killed her. It says a lot about Monica's character, how she copes with her grief, and fights for what she believes in at any cost.
5. Norm Remembers His Real Life
Every passing episode, Vision becomes more and more suspicious of what's going on at Westview. In Episode 5, he finally takes action to figure it out. He releases his co-worker "Norm" (Asif Ali) from Wanda's mind control. Throughout the first four episodes of WandaVision, we saw moments of the residents glitching from the storylines Wanda had created for them. Norm's release was the first time we saw a Westview resident completely freed.
It was the first time viewers got a small snapshot of how Wanda has been torturing these people by leaving them locked in their own minds. We saw how Norm and the others were being completely robbed of their real lives and thoughts. It was a moment that put the kidnapping of the Westview residents into perspective and showed how Wanda was seen as a villain in this situation.
4. Wanda Says Goodbye To Vision, Billy, and Tommy
There was always only one way this could all end: Wanda having to let go of the life she built in Westview. On the WandaVision series finale, after learning that removing the Westview Hex means that Vision, Billy, and Tommy will all be destroyed, Wanda makes the difficult decision to remove the barrier. This means the end of her husband and two sons.
This WandaVision moment isn't ranked higher because, despite the agony viewers have to endure of seeing Vision and Wanda torn apart again, the scene still has hope. There is hope that somehow, someway, they'll be reunited. The scene after the credits offers even more hope. Wanda hears her sons calling to her, likely setting up their return to the Marvel universe. We may get more clues about how Billy, Tommy, and Vision could return in upcoming Marvel TV shows, but it's more likely that answers will show up in Doctor Strange in the Multiverse of Madness.
3. Wanda And Vision's Avengers Compound Talk
Many of the best Marvel movies have given us little glimpses into the Wanda and Vision romance. It's a romance that has been built over multiple movies. In WandaVision Episode 8, we got another glimpse of its development. While going through a trip down memory lane with Agatha, Wanda recalls a moment with Vision at the Avengers Compound.
She's still grieving the death of Pietro (Aaron Taylor-Johnson) and opens up to Vision about her mourning and pain. Vision then offers the famous, "But what is grief, if not love persevering?" line. This moment is one of the saddest WandaVision moments because you see the clear agony that Wanda feels over Pietro's death, but you also see the start of Vision and her developing feelings for each other. In many ways, he brings her hope after so much loss, so for her to lose him, too, it's no wonder she deals with her grief in such an extreme manner.
2. Wanda And Pietro's Parents Die
In WandaVision Episode 8, viewers witness Pietro and Wanda's parents dying in a civilian bombing. They're all just sitting around watching the Dick Van Dyke Show, then a bomb hits the home and kills their parents. Pietro and Wanda are then trapped for two days.
This moment is the start of Wanda's cycle of loss. To lose both of your parents in such a tragic way is bound to mess up anyone. However, the moment also shows little Wanda (Sophia Gaidarova) hoping it's all a bad dream. It's a sad response, but also shows how these sitcoms had given her a sense of joy and hope from childhood until now.
1. Wanda Sees Vision's Body At S.W.O.R.D Headquarters
Imagine seeing the man (or A.I.) whom you love being broken into parts and having his raw materials extracted. Then being told there is nothing you can do to stop this from happening, and in such a jerky way. It's enough to make anyone break down. In WandaVision Episode 8, this is what happens to Wanda. She then goes to see the place where they planned to build a home, which leads to her powers creating the Westview Hex.
It's just such a powerful and heartbreaking moment to see Vision treated like he's just parts, and seeing Wanda not able to do anything to help him. This was such a devastating way to remind everyone that Vision is indeed dead. In that moment, we feel the loss of him right along with Wanda.
WandaVision is just one of the many great 2021 TV shows to come from Marvel. Let's hope Loki, What If...?, and the other shows have a fewer heartbreaking moments. We're still trying to recover from WandaVision's saddest moments.
Spent most of my life in various parts of Illinois, including attending college in Evanston. I have been a life long lover of pop culture, especially television, turned that passion into writing about all things entertainment related. When I'm not writing about pop culture, I can be found channeling Gordon Ramsay by kicking people out the kitchen.
Your Daily Blend of Entertainment News
Thank you for signing up to CinemaBlend. You will receive a verification email shortly.
There was a problem. Please refresh the page and try again.