Queens: 7 Quick Things We Know About Brandy And Eve's Upcoming ABC TV show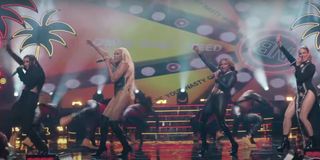 The '90s are back. Well not really, but it's back for Brandy, Eve, and their fans as the R&B and pop artist and rapper make their way back to the TV world. The two women will be co-leads, along with Naturi Naughton and Nadine Velazquez in Queens. The series by Zahir McGhee and Sabrina Wind was picked up by ABC in 2021. It's bound to be one of the most anticipated shows of the upcoming TV season.
Queens will be Brandy's return to TV after Star was cancelled in 2019. Eve's last series regular role (which isn't a guest appearance or hosting gig) was in 2006's Eve. This will be a major scripted television return for both women. Before adding Queens to your weekly must-see viewing schedule, let's look at some quick things to know about the series.
Queens Is About A Former Hip-Hop Girl Group Reuniting
Queens will follow a former Hip Hop Group called Nasty Bitches as they reunite 20-years after their breakup. Nasty Bitches formed in high school and started to make a name for themselves in the '90s. Now with them all in their 40s, reuniting Nasty Bitches is a chance for these women to recapture some of their past glory.
The premise of Queens may sound very familiar because Peacock has another series about a 40-something former girl group reuniting. It's called Girls5eva. The major differences between the two series are that Girls5Eva is about a pop group and a half-hour comedy, and Queens will be an hour-long drama about a hip hop group. Both shows should hit that itch for '90s nostalgia. Girls5Eva and Queens may also tap into different fan bases, because I'm not sure if Eve and Sara Bareilles have a big overlapping fan base.
Queens Premieres In Fall 2021 On ABC
Despite being perfect for the Summer TV season, Queens will not be part of the 2021 Summer TV schedule. Instead, Queens will premiere in Fall 2021. It'll air on Tuesday nights after The Bachelorette. Queens airing after The Bachelorette seems to imply that ABC really wants this show to do well, because they paired it with one of their biggest hit shows.
Queens and The Bachelorette may also share a similar audience: Women of a certain age that love a little bit of romance, drama, and unexpected moments with their weekly primetime TV. I suspect that Queens will premiere in early fall, likely in September or early October.
The Queens Cast Includes Brandy, Eve, Naturi Naughton, And More
Queens has an extremely talented cast of actresses, actors, and musicians. Brandy is a multi-platinum artist with hit singles like The Boy Is Mine, Almost Doesn't Count, I Wanna Be Down, and Put It Down. Eve is another chart-topper with singles like Who's That Girl?, Gangsta Lovin', and Got What You Need.
Naturi Naughton was in the girl group 3LW before the two other members, Kiely Williams and Adrienne Bailon, joined The Cheetah Girls. Some of 3LW's biggest hits include No More and Playas Gon' Play. The rest of the main Queens cast includes Nadine Velazquez, Taylor Sele, and Pepi Sonuga. Velazquez has a long movie and television career, appearing in movies such as Ride Along 2 and Snitch. She also appeared in the series The Bold and the Beautiful, Arrested Development, Hart of Dixie, and Major Crimes.
Sonuga has appeared in The Fosters, General Hospital, Famous in Love, and Ash vs. Evil Dead. Sele has appeared in P-Valley, Orange is the New Black, The Deuce, and When They See Us.
Queens Will Feature Original Music
Queens will be another show that creates its own original music. The announcement of Eve joining the cast also included details about the singer creating original music for her character. We're sure they'll be original songs for Nasty Bitches as well. The songs will likely be some of their past hits and new music for their evolving careers and characters.
ABC should be able to create some hip hop and pop songs that won't just appeal to fans of Queens, but ones that also have the potential to reach a general music audience. I'm most excited to listen to the new original music that will be created for Queens. We should get some hip-hop songs that fit within the realm of '90s and early 2000s music as well as some songs that work within today's music landscape.
Tom & Jerry Director Tim Story Will Direct The Pilot
Tim Story, whose directing credits include Barbershop, 2005's Fantastic Four, Think Like a Man, Ride Along, and Tom & Jerry, directed the Queens pilot. According to Deadline, Story will also executive produce the pilot. Eve and Nadine Velazquez have worked with Story in the past, so their familiarity with his directing style could lead to a very successful pilot.
There is no word yet on if Story will direct multiple episodes of Queens' first season, nor has there been any other directors announced for future Queens episodes.
Queens Will Have Plenty Of Drama And Romance
With their casting announcements, Queens released a short storyline description for all the main cast. They gave a little hint into the main plot lines of Season 1. For example, Brandy's character Naomi, aka Xplicit Lyrics, will be dealing with reuniting with her lost love (I'm assuming Taylor Sele's character) and trying to build a relationship with a daughter that she neglected.
Velazquez will be playing Valeria, aka Butter Peacon. She wasn't an original member of the group but was added by their manager Eric Jones (Sele). She then becomes the face of Nasty Bitches, which angers the other members. However, making friends is not Valeria's priority, so the rivalry doesn't bother her. Twenty years later, Valeria is still on top as the host of a popular morning talk show called The Shade.
Eve's character Brianna, aka Professor Sex, will be a wife and mom of five. She'll be dealing with losing her stage confidence after being out of the spotlight for so long. Naughton's character Jill, aka Da Thrill, will be a devoted wife and Catholic whose life isn't as perfect as it seems. She's still haunted by secrets from her past. Her friendship with Sonuga's character Lauren Rice, aka Lil Muffin, will help her discover her true self.
Lil Muffin will be dealing with men trying to control her career, including her manager Eric Jones. Jones will be having a bit of a mid-life crisis and starts to remember his days managing Nasty Bitches. This will set in motion him trying to reunite the group. Queens is going to provide plenty of drama in its first season.
Queens Starts With The Women Being Reunited For An Award Show
In the Queens teaser, it shows all four women eating together and discussing having to reunite for the first time to perform at an award show. The teaser doesn't give much away, just some sequences of Nasty Bitches performing and highlighting each of the four main characters, but it's enough to get us really excited about the series.
We can't wait to watch Queens when it premieres on ABC in Fall 2021. Stay glued to CinemaBlend for premiere date updates.
Your Daily Blend of Entertainment News
Spent most of my life in various parts of Illinois, including attending college in Evanston. I have been a life long lover of pop culture, especially television, turned that passion into writing about all things entertainment related. When I'm not writing about pop culture, I can be found channeling Gordon Ramsay by kicking people out the kitchen.
Your Daily Blend of Entertainment News
Thank you for signing up to CinemaBlend. You will receive a verification email shortly.
There was a problem. Please refresh the page and try again.