How Tall Is Khloe Kardashian Really? Star Spills The Tea On Why She Often Seems Different Heights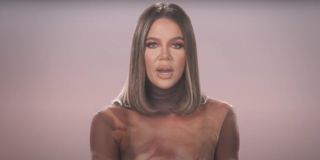 (Image credit: Keeping Up With the Kardashians)
Their personal lives and glamorous lifestyles are for public consumption on the reality show Keeping Up With the Kardashians (at least for a little while longer). Often as a result, spectators are left wondering about the real truth behind the Kardashian and Jenners' carefully crafted and choreographed images. Khloe Kardashian has had to set the record straight a few times in the recent past concerning her changing body and face appearance, and now she is spilling the tea on her height.
A Twitter fan posted side-by-side photos of Khloe Kardashian, one by herself and one next to her supposedly way shorter sister Kylie Jenner. They questioned Kardashian about the supposed huge difference in her height in the two photos, prompting a series of responses from the reality star herself. See Kardashian's first explanation here:
Khloe Kardashian continued to respond to other comments concerning her true height. In one, she laughed off the perceived "insults about being so short" and confirmed that she is close to 5'10", despite what some of the pics circulating seem to show in relation to her height. In another response, Kardashian also said she was "tall and fabulous."
Others in the comments also talked about the height snafu -- which Khloe Kardashian herself agreed with -- noting that the two pics in question seem edited purposefully which made it seem as though her height had changed somehow. Kardashian's green bikini selfie is cropped close to her body, which gives the illusion of a longer frame, while the one with Kylie Jenner is clearly designed oppositely to make the two half siblings look more similar. Honestly, the situation is all a bit moot given how you can't really tell Kardashian's height in the bikini pic anyway.
Though the Kardashian-Jenners are forced to set the record straight every once and awhile, it is odd for Khloe Kardashian to bother confirming or corroborating her true height to the masses. But perhaps Kardashian is hoping to get ahead of any further contention about her height. Might as well get ahead of the spectators, as they have in the past even dissected Kardashian's facial appearance and how it seems drastically different in different photos.
Last month, the Keeping Up With the Kardashian star even became embroiled in a heated debate about an unfiltered pic of herself that she attempted to scrub from the Internet. In the wake of the backlash, Khloe Kardashian wrote about feeling pressure to answer to the preoccupation over her looks, which she has done several times throughout the long-running reality show. She once said to E! Online about being labelled the "fat sister,"
Khloe Kardashian has since rebounded from the unfiltered pic drama. To also note, as a whole, the reality family has had to endure all forms of curiosities and concerns over the years. The curious case of Khloe Kardashian's differing heights seems resolved now, at least. That one about seeing an UFO is still up for debate, however.
Your Daily Blend of Entertainment News
Movies and TV News Writer
Freelance writer. Favs: film history, reality TV, astronomy, French fries.