Joe Exotic: The Cast And Other Things We Know About The Tiger King Limited Series On Peacock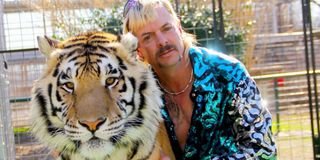 CinemaBlend participates in affiliate programs with various companies. We may earn a commission when you click on or make purchases via links.
In March 2020, there was one pop culture thing on everyone's minds: Tiger King. The Netflix docuseries, which became an "out of left field" success was watched by as many as 34 million unique viewers when it was first launched, just as everyone was beginning to shelter in place. Tiger King fever quickly became the subject of numerous potential adaptations, including the upcoming Joe Exotic TV show starring Saturday Night Live mainstay Kate McKinnon.
The upcoming Peacock limited series, which currently has a working title of Joe Exotic, will one day come to NBCUniversal's streaming service, bringing with it a star-studded cast with the unenviable task of faithfully portraying some of the most colorful and hard-to-believe-they're-real grifters and drifters the world has seen in quite some time. And, even though we don't yet know how the limited series will compare to the Netflix series or even the podcast on which it was based, what we do know is that the show sounds just as crazy as you'd expect…
Kate McKinnon, John Cameron Mitchell, Nat Wolff And Dennis Quaid Lead The Joe Exotic Cast
When Joe Exotic launches on Peacock (hopefully with the same momentum as Netflix's Tiger King), it will feature an impressive cast of actors taking on some of the more larger-than-life characters involved in the world of big cats and the years-long feud between Carole Baskin and Joe "Exotic" Maldonado-Passage, one which could have potentially led to murder. According to Deadline, Kate McKinnon is set to take on the role of big cat enthusiast Baskin, with John Cameron Mitchell portraying her charismatic and unique adversary. Nat Wolff and Sam Kelly will be playing two of Exotic's husbands: Travis Maldonado and John Finlay, respectively. Dennis Quaid will step in as Rick Kirham, Exotic's reality show producer, and Brian Van Holt will take on the role of John Reinke, one of the less wild figures in the Netflix docuseries.
The Peacock Limited Series Will Center On The Years-Long Feud Between Carole Baskin And Joe Exotic
When Joe Exotic was first announced in April 2020, NBCUniversal revealed that the Peacock limited series will center on Carole Baskin around the time she learns Joe Exotic is not only breeding big cats but also using them to make profit. What follows will be a multi-episode dramatization of the years-long feud between the two, as Baskin attempts to shut down Exotic's various ventures, including his Greater Wynnewood Exotic Animal Park, while Exotic takes things to the next level by exposing his enemy's checkered past.
Joe Exotic Is Based On The Wondery Podcast Of The Same Name
One thing that should be pointed out is that Joe Exotic isn't a recreation of Netflix's Tiger King: Murder, Mayhem and Madness, but instead based on the 2020 Wondery Podcast series Joe Exotic: Tiger King. Created and hosted by Robert Moor, this six-part podcast takes an extremely deep dive into the life and times of Joe Exotic and Carole Baskin, providing even more crazy stories which the producers of the Netflix docuseries couldn't squeeze in during the show's run.
Listen to Joe Exotic: Tiger King on Wondery.
Shameless Writer Etan Frankel Is Penning The Joe Exotic Limited Series
Writing the Joe Exotic series, as well as serving as an executive producer, is Etan Frankel, according to Variety. Prior to landing the writing gig for the upcoming Peacock limited series, Frankel made a name for himself penning multiple episodes for shows like Shameless, Gossip Girl, Friday Night Lights, Animal Kingdom, and the Epix adaptation series of Get Shorty. The number of episodes has yet to be revealed at this time.
Other executive producers include Kate McKinnon, and a group from Wondery consisting of Hernan Lopez, Marshall Lewy, and Aaron Hart.
The Chi's Justin Tipping Will Direct The Joe Exotic Pilot And Additional Episodes
When Joe Exotic enters production, the first few episodes, including the show's pilot, will be directed by Justin Tipping, according to The Hollywood Reporter. While Tipping's name might not stick out, the shows he's worked on in the past include a few notable series: The Chi and Black Monday from Showtime, and Netflix's Dear White People. Tipping, who got his start with a series of short films in 2012 has since gone on to direct episodes of Flatbush Misdemeanors, Run the World, and Twenties.
Joe Exotic Will Be Exclusive To Peacock
If you want to watch Joe Exotic whenever it premieres at some point in the future, you will need to have a Peacock Premium account (as is the case with other Peacock originals) in order to do so, and that's because it will be exclusive to the streaming platform. There was a time when the limited series was slated to air across NBCUniversal's different platforms like NBC and USA Network, but the media conglomerate made a change of course in May 2021 when it reversed its decision. The reason for this change has been attributed to Susan Rovner, Chairman of Entertainment Content for NBCUniversal Television and Streaming, who felt the nature of the show was better suited for streaming than traditional broadcast, per Deadline.
Carole Baskin Has Urged Joe Exotic's Producers To Avoid Using Real Big Cats
Shortly after the Joe Exotic Peacock series started to build up steam in March 2020, Carole Baskin issued an open plea (via EW) to one of the show's executive producers and main stars, Kate McKinnon, asking her to not use actual big cats during production, arguing that it would be cruel to use live animals in a show that has a large focus on the effects of animal cruelty. In the letter, Baskin also suggested McKinnon and the other producers make us of advanced CGI technology to recreate the big cats rather than forcing live animals to suffer.
Amazon Is Also Developing A Joe Exotic Limited Series, With Nicolas Cage Tapped To Portray The Tiger King
The Peacock Joe Exotic limited series isn't the only show in the works that is centered around the star of Netflix's docuseries. In May 2020, just when the world was coming down from the high that was Tiger King, word began to spread that another scripted series based on the life and times of Joe Exotic was in the works, this time with Nicolas Cage set to portray the zoo owner-turned-convict. The momentum kept going throughout the year, especially after Amazon acquired the rights for the show in September 2020, per Variety.
Based on the Texas Monthly article "Joe Exotic: A Dark Journey Into the World of a Man Gone Wild," the Amazon series will largely focus on Joe Exotic as he becomes the over-the-top character while he loses himself in the persona he crafted over the years.
There is still a lot we don't yet know about Joe Exotic on Peacock, including its release date, episode count, or when it will enter production. While we wait for updates, why not check out CinemaBlend's 2021 Summer TV schedule to see when your favorite shows return to the airwaves.
Your Daily Blend of Entertainment News
Philip grew up in Louisiana (not New Orleans) before moving to St. Louis after graduating from Louisiana State University-Shreveport. When he's not writing about movies or television, Philip can be found being chased by his three kids, telling his dogs to stop yelling at the mailman, or yelling about professional wrestling to his wife. If the stars properly align, he will talk about For Love Of The Game being the best baseball movie of all time.
Your Daily Blend of Entertainment News
Thank you for signing up to CinemaBlend. You will receive a verification email shortly.
There was a problem. Please refresh the page and try again.