The Fresh Prince Of Bel-Air's Best Carlton Episodes: Which Ones To Watch If You Love Alfonso Ribeiro's Character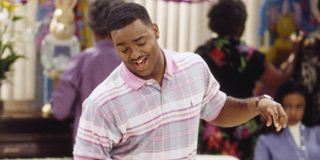 CinemaBlend participates in affiliate programs with various companies. We may earn a commission when you click on or make purchases via links.
Spoilers for various episodes of The Fresh Prince of Bel-Air lie ahead.
There are a number of reasons to love The Fresh Prince of Bel-Air, from its signature running gags to its tackling of real-life issues. But of course, what truly makes the show iconic is its memorable cast of characters, including the charming and scheming Will Smith and the always sarcastic Geoffrey Butler. The one character who has truly "danced" his way into pop culture and fans' hearts, though, is resident preppy Carlton Banks, who was played perfectly by Alfonso Ribeiro. The beloved actor made a serious splash and, as a result, there are still plenty of Carlton fans. And if you're a part of this group, there are a number of Carlton-centric episodes you need to watch.
The Fresh Prince of Bel-Air cast wouldn't have been what it was without the addition of Alfonso Ribeiro. It's honestly hard to believe the actor was actually disappointed by his original audition, though most would agree that things worked out. To some, Carlton may just be a straight-laced and condescending overachiever, but he's much more than that. Thanks to Ribeiro and the writers, the young man managed to grow over the course of six seasons, and he had some big moments in the process. So let's revisit some of them as we list off the Fresh Prince's best Carlton-centric episodes:
Mistaken Identity (Season 1, Episode 6)
This is easily one of The Fresh Prince of Bel-Air's most iconic episodes and is essentially the series' first "very special episode." With Uncle Phil and Aunt Viv in Palm Springs with Mr. Furth (Phil's legal partner) and his wife, Will and Carlton drive Furth's Mercedes down there for him. However, the two are unfortunately pulled over and arrested for allegedly being car thieves. While in jail, the two are then forced to pull a media stunt to get the attention of Philip, Vivian and Mr. Furth. The episode is filled with funny moments, but it also deepens the relationship between Will and Carlton. Additionally, it teaches the sheltered Carlton a hard lesson about racial-profiling, and he further reevaluates his views on the topic after learning of his father's own experience with it. The episode is filled with sobering truths, and it definitely serves as a turning point for Carlton's characterization.
Watch "Mistaken Identity" on HBO Max.
Courting Disaster (Season 1, Episode Episode 11)
Jealousy is the key theme here, as it's exactly what Carlton feels when Will becomes the star player of Bel-Air prep's lagging basketball team. It's the first time in the series' run where the arrogant Carlton truly feels overshadowed by Will. Most probably remember the sad and hilarious sight of Carlton and his teammates practicing, before Will (accompanied by Jazz) leaves coach Smiley in awe. Of course, the funniest moment comes during the game when Carlton steals the ball from Will and takes the game's final shot, only to miss horribly. He ultimately learns that there are some things that Will can do better than he can, while Will recognizes that he's had a swollen head since becoming the star. It's a very "'90s sitcom" kind of resolution, but it still holds up quite well.
Watch "Courting Disaster" on HBO Max.
72 Hours (Season 1, Episode 23)
"72 Hours" is another episode that perfectly develops the relationship between Carlton and Will, which was a bit contentious during the early part of the show. Carlton, tired of being criticized by Will and Jazz, agrees to spend a weekend in Compton. And to the surprise of his cousin, Carlton (or should I say C-Note) manages to fit right in with Will's friends. As a matter of fact, he's so comfortable that a nervous Will, who lied to Phil and Vivian about the trip, comes clean in an attempt to stop Carlton from visiting MacArthur Park at night. Alfonso Ribeiro nails this episode, especially the Compton scenes and Will's wild fantasy. And by the end, Carlton manages to look past the teasing and takes pride in who he is. And of course, he also takes pleasure in the fact that Will does care about him.
Striptease For Two (Season 2, Episode 24)
This is another one of Fresh Prince's signature installments, and it's one of the best examples of how Will and Carlton's schemes can place them in some wildly hilarious situations. In this episode, Carlton convinces Will to invest on an insider trading tip, and the two pawn Aunt Viv's bracelet to get the necessary cash for their stock. But when the company files for bankruptcy, the two look for ways to earn back the money, ultimately landing on a stripper gig. And of course, the episode's climax sees Carlton take to the stage to strip -- only to discover Hilary and Vivian are at the club along with a socialite group Phil wants Hilary to join. There are plenty A+ gags here, but Ribeiro's dance is the centerpiece. Needless to say, this is a must-see for Carlton Banks lovers.
Watch "Striptease for Two" on HBO Max.
Mama's Baby, Carlton's Maybe (Season 3, Episode 5)
Although Carlton had been in trouble before, this episode put him in a situation that not even Will had been in. Carlton is overjoyed to see his ex-girlfriend Cindy (played by Saved by the Bell alum Lark Voorhies), but he and the family are shocked when she claims he's the father of her infant son. Despite his parents' objections, Carlton wants to solidify his new "family" and ultimately sneaks off to marry Cindy. But when Will finds him, he discovers that Carlton never slept with Cindy and that he's not the father. "Mama's Baby, Carlton's Maybe" is both funny and refreshing because it places Carlton in a story many might've expected of Will. It also gives us the first hint of Carlton's embarrassment over his virginity, a topic that will take center stage in a later episode on this list.
Watch "Mama's Baby, Carlton's Maybe on HBO Max.
The Alma Mater (Season 3, Episode 18)
You really can't get anymore Carlton-centric than this installment. When a rep from Princeton arrives at Bel-Air prep, Carlton can't wait to interview but is shaken when the school accepts Will. In an attempt to get in, Carlton emulates his cousin, yet he only earns a rejection and a suspension for making a desperate death threat towards the rep. Carlton, depressed and in a funk, is visited by his idol and guardian angel, singer Tom Jones, who shows him what his family's life would be like if he were never born. It's a funny moment that, of course, ends with Carlton and Jones dancing and performing "It's Not Unusual." While the It's A Wonderful Life approach has been done on TV shows countless times, the Carlton-esque spin makes it fun. And from a narrative standpoint, Carlton's Princeton rejection ultimately sets him up to attend ULA with Will in the latter half of the series. All in all, this episode is a pure classic.
Watch "The Alma Mater" on HBO Max.
It's Better to Have Loved and Lost It… (Season 4, Episode 5)
After chasing women for years, Carlton finally loses his virginity to Jo Ann, a beautiful woman he meets on the ULA campus and, with this, he hopes to begin a relationship with her. This also happens as he prepares to re-apply to Princeton. However, worlds tragically collide when he learns that Jo Ann is married -- to a dean that could give Carlton a major recommendation for Princeton. The young man is saddened to learn that Jo Ann used him for a one-night stand and is ultimately comforted by Will. It's a bittersweet episode, but one that shows a more vulnerable side of the typically confident Carlton.
Watch "It's Better to Have Loved and Lost It…" on HBO Max.
Blood Is Thicker Than Mud (Season 4, Episode 8)
If you're a Fresh Prince fan, then chances are you've seen this episode at least once, and it's probably one of your favorites. Will and Carlton try to join an African-American fraternity at school, but Carlton is later hazed as a result of the fraternity president's prejudice towards his Bel-Air upbringing. Things come to a head when Carlton learns he's been denied by the frat and gives a poignant (and viral) speech about what brotherhood really means. The story as a whole deftly tackles the bias that some African Americans face from those of their own race and, ultimately, it serves as one of Carlton's finest moments in the entire series.
Watch "Blood Is Thicker Than Mud on HBO Max.
Soul Train (Season 5, Episode 8)
"Soul Train" admittedly focuses mainly on the relationship between Uncle Phil and Aunt Viv, but Carlton still plays a great role in it. As Philip and Vivian clash about the latter's feelings on their Soul Train 25th anniversary reunion, Carlton and Will compete to impress host Don Cornelius with their skills. Will makes a great impression, but it's ultimately Carlton who steals the spotlight. Even though the story doesn't do much for Carlton in terms of character development, it's just a fun time and, as always, it's great to see Alfonso Ribeiro show off his A+ dance skills.
Watch "Soul Train" on HBO Max.
Bullets Over Bel-Air (Season 5, Episode 15)
The Fresh Prince of Bel-Air, as you can see from this list alone, never shied away from tackling more grounded stories, and this one certainly falls under that category. The plot sees Will and Carlton get held up by a mugger, who ends up shooting Will. Carlton is left shaken by the ordeal, feeling that the justice system he's always depended on has let him down. With this, he buys a revolver for protection but, when Will discovers the gun after Carlton visits him in the hospital, he demands his cousin hand it over since he owes him for saving his life. The final exchange between Carlton and Will is one of the show's most powerful scenes and, because it deals with the law, it feels a bit like a spiritual successor to "Mistaken Identity."
Watch "Bullets Over Bel-Air on HBO Max.
Bourgie Sings The Blues (Season 6, Episode 4)
Oddly enough, "Bourgie Sings the Blues" also serves as a spiritual sequel to "The Alma Mater." After several years, Carlton finally gets another shot at interviewing for Princeton, but his nerves get the better of him after he comes to believe he can't live up to his father's legacy. As a result, he opts to forsake college and live at a bar alongside blues singer Pappy (played by the great B.B. King). Will then takes it upon himself to pose as Carton during the interview until Carlton comes to his senses and returns home. All in all, it's a funny episode that sees Carlton take on one of the biggest moments in his life.
Watch "Bourgie Sings the Blues" on HBO Max.
Viva Lost Wages (Season 6, Episode 8)
Viewers knew that Carlton could become obsessive long before seeing this episode, but it's on full display here. For Carlton's 21st birthday, Uncle Phil sends him and Will to Las Vegas. Things start off smoothly, but Carlton's gambling addiction (first seen in Season 3's "You Bet Your Life") gets the better of him. After depleting their funds, the two find that the only way to scrape up some cash is to enter a dance contest. And Fresh Prince fans likely know that this leads to the fan-favorite "jump on it" scene, where the two dance to The Sugarhill Gang's "Apache." So with a manic Carlton and a perfect dance sequence, what more could fans want from this episode?
Watch "Viva Lost Wages" on HBO Max.
There's a lot to love about Alfonso Ribeiro's Carlton Banks and, while there are plenty of Fresh Prince of Bel-Air episodes that give him time to shine, die-hard fans will definitely want to make these a priority viewing. Check out the rest of the show by streaming it on HBO Max, and be sure to check out our 2021 Summer TV schedule for the latest shows premiering or returning over the next few months.
Your Daily Blend of Entertainment News
Covering superheroes, sci-fi, comedy, and almost anything else in film and TV. I eat more pizza than the Teenage Mutant Ninja Turtles.