Hulk Hogan Choking Out Richard Belzer And Other Times Wrestling Got Too Real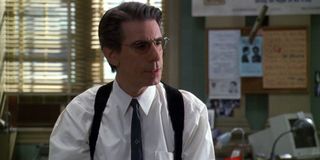 It is no secret that professional wrestling is scripted and full of pulled punches and other theatrics to make predetermined matches seem like legitimate fights. There are times, however, when things don't go according to plan in the ring or when someone not tied to the wrestling business tries to make a mockery of the industry. Just ask people like Law and Order: SVU's Richard Belzer who found himself on the receiving end of a chokehold from Hulk Hogan, or 20/20 reporter John Stossel who made the mistake of calling wrestling fake when interviewing WWE superstars.
The history of wrestling getting too real goes back to the early days of the form of entertainment. And while a lot of crazy and unexpected things have happened both in and out of the squared circle, there are some instances where you could see how something was going to end as soon as it started. Whether it be someone showing disrespect, upsetting a wrestler, or just being in the wrong place at the wrong time, here are five examples of when professional wrestling got a little too real for everyone involved.
Hulk Hogan Chokes Out Richard Belzer On Hot Properties
Most people probably recognize Richard Belzer as longtime television detective John Munch from his appearances on shows like Law and Order: Special Victims Unit, Homicide: Life on the Street, and more than a half-dozen other shows like The X-Files and Arrested Development. Before joining hit show after hit show, Belzer had a moderately successful standup comedy career which led to the actor getting his own talk show Hot Properties.
In the lead-up to the very first WrestleMania in 1985, Richard Belzer invited Hulk Hogan and Mr. T. as guests on the show to help promote their main event tag team match. Right off the bat, Belzer was antagonistic and started to poke fun at the expense of the Hulkster and star of The A-Team, which didn't go over well with his two guests. This only got worse later on in the interview when the host asked Hogan to put him in a sleeper hold. Little did Belzer know but a few seconds after being put in the front chin lock, he was unconscious on the floor with a busted head, which required a hospital visit and multiple stitches.
The drama didn't end with the choke hold heard around the talk show circuit as Richard Belzer later sued Hulk Hogan for $5 million according to a 1990 New York Times article. The case later settled out of court, which, according to Belzer in a 2008 Vulture interview, allowed he and his wife to put a down payment on a house in France.
David Schultz Slaps John Stossel On 20/20
Season 2 of the Viceland original series Dark Side of the Ring got off to an upsetting yet fascinating look at the life, career, and tragic end of the Chris Benoit's story, but the show's second run also featured an episode dedicated to the "Slap heard round the world," or the time former WWE superstar "Dr. D" David Schultz slapped 20/20 reporter John Stossel not once, but twice after calling wrestling fake during a 1984 interview.
Make no doubt about it, David Schultz is and was an extremely unlikable person both in and out of the ring, which is what makes him slapping John Stossel all the more predictable, especially with the reporter's tone when saying "I think this is fake." Before Stossel can even finish the sentence, the bulky Schultz gives him a slap to his left ear and yells out "That's an open-hand slap," before slapping Stossel's right ear.
Just like in the case of Richard Belzer and Hulk Hogan months later, John Stossel later sued the World Wrestling Federation after suffering long-lasting injuries to his right ear. The case eventually settled for $425,000 according to a 1987 report from United Press International. As for David Schultz? Well, he was let go by Vince McMahon in the fallout of the incident, but the wrestler still claims that his former boss was the one who put him up to it, as he claimed in Dark Side of the Ring.
Umaga Knocks Out Steve-O On Monday Night Raw
Steve-O, perhaps the most insane and fearless member of the Jackass team, has made a career out of putting his body through hell and back, and that was no different when he and co-star Chris Pontius appeared on a 2006 episode of Monday Night Raw to plug the release of Jackass 2. Both performers were supposed to take some offense from the late Umaga (of the famed Anoa'i wrestling dynasty), but when it appeared that Steve-O was laughing at the beast of a wrestler, he ended up on the receiving end of some vicious blows.
The two Jackass stars revisited the incident in a 2019 video titled "The Worst Beating I Ever Got," (via Pro Wrestling Stories) where Steve-O went into detail about what led up to Umaga knocking him out, stating:
Vince McMahon, however, reportedly loved every bit of it, as Chris Pontius explained that the WWE CEO was extremely stoked about what happened once the Wildboyz stars got backstage.
Butterbean Knocks Out Bart Gunn At WrestleMania 15
The shortlived WWE shootfighting (actual fights) contest "Brawl For All" will probably go down as one of the best examples of good intentions gone wrong during the height of the Attitude Era. In the summer of 1998, the company started the ill-fated boxing tournament as a way to give underused wrestlers time to shine as well as add a sense of realism to the federation. Things didn't go according to plan, and the tournament ended up becoming one of the biggest disasters in wrestling history.
For starters, Dr. Death Steve Williams, who had been a major star in Japan, was pushed as the toughest guy in the business and was expected to win the whole things. Well, Dr. Death was knocked out in the second round by eventual winner Bart Gunn. You would think the story would end there, but nearly eight months later at WrestleMania 15, Gunn went face to face with 400-pound boxing legend Butterbean in one of the worst matches in the history of the event.
The bout, which clocked in a 35 seconds, was a one-sided affair that ended with Butterbean knocking out his opponent who barely got in any offense. Bart Gunn was soon gone from the company and would retire from wrestling entirely less than 10 years later.
The ECW Mass Transit Incident
And then there's the infamous ECW Mass Transit incident in which a 17-year-old with no wrestling training or experience to speak of lied to promoters and wrestlers and told them he was 26 years old and was trained by one of the respected names in the wrestling business.
At a 1996 house show in Revere, Massachusetts, Erich Kulas, appeared in a tag team match as Mass Transit, a gimmick based on the look of a city bus driver, and became something of wrestling legend, though not the good kind. During the match, Mass Transit reportedly asked his competitor New Jack (real name Jerome Young) to cut his head open, but the blade went too deep, severing two of the young wrestler's arteries and causing him to pass out from blood loss.
The incident wasn't finished after the match, as New Jack was later charged with assault and battery for his role in it, and Erich Kulas' family also filed a lawsuit. In a 2015 Grantland article on the life and career of New Jack, it was revealed that the wrestler was later acquitted in the criminal case and the Kulas' family's civil case was later thrown out. Sadly, Kulas died six years later from complications during a gastric bypass surgery.
Sometimes wrestling, a form of entertainment that's believed to be fake, can get real with real life consequences. It just goes to show you that even though the men and women who wrestle day-in and day-out have things down to a science, all it takes is one mistake in the ring or negative comment for things to get out of hand.
Philip grew up in Louisiana (not New Orleans) before moving to St. Louis after graduating from Louisiana State University-Shreveport. When he's not writing about movies or television, Philip can be found being chased by his three kids, telling his dogs to stop yelling at the mailman, or yelling about professional wrestling to his wife. If the stars properly align, he will talk about For Love Of The Game being the best baseball movie of all time.