Love, Victor Season 2 Ending Explained: Let's Talk About That Cliffhanger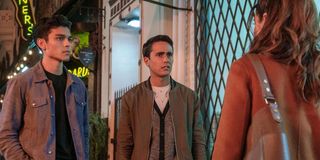 CinemaBlend participates in affiliate programs with various companies. We may earn a commission when you click on or make purchases via links.
Warning: The following will completely spoil the Season 2 finale of Love, Victor. Back out now if you haven't seen it yet!
After a heartwarming, fun, and relatable first season, the Hulu series, Love, Victor, returned for a highly anticipated second season, and boy did it deliver! Season 2 introduced a few new characters, the most notable being Rahim (played by heartthrob Anthony Keyvan) who started out as Victor's friend but then he caught feelings. This could have been overlooked, had Benji (played by fan-favorite George Sear) not asked Victor (leading man Michael Cimino) for a break and then changed his mind, leaving Victor with a decision to make and viewers with a jaw-dropping Love, Victor Season 2 ending. Let's get into it.
What Happened At The End Of Love, Victor Season 2?
Season 2 was a little rough for Victor and Benji. Struggling to accept having a gay son, Victor's mom was downright awful to Benji (although she eventually came around and apologized) which caused strain on the boys' relationship. Then Victor found out Benji lied about being sober. The two fought so much that Benji asked for a break, so Victor took Rahim as his date to their friend Mia's father's wedding. Victor and Rahim were already hitting it off as new besties, but we knew there was more going on there, and so did Benji when he crashed the wedding and saw the two dancing.
Angry and hurt that Victor would move on so quickly, Benji stormed away. Victor ran after him, but Benji didn't stop to listen. Victor seemed confused that Benji thought there was something going on between him and Rahim (cute), but then Rahim confessed his feelings and (gasp) kissed Victor (I have so many feels, I can't handle it). Victor confided in Felix (Anthony Turpel) about all this, and Felix gave the excellent advice of closing his eyes, picturing his future, and identifying which partner Victor wanted by his side.
Victor then took off on a mad dash to his chosen love and ended up at their front door. The season ended with that door opening, and then the POV shifted to inside the house with the audience looking at Victor's face. So, we have no idea who he chose and have to wait until Season 3 to find out. The agony!
What Does It Mean Moving Forward?
Depending on which guy Victor chose, his story could be headed in several different directions in Season 3. Will he be able to remain friends with whomever he didn't choose? Are we looking at losing George Sear or Anthony Keyvan as a series regular? Only time will tell.
Like most fans, I think Victor chose Benji. Those two are soulmates. Not only have Michael Cimino and George Sear created one of the most beautiful romantic relationships I have seen on television, but Victor and Benji are quite emotionally mature teenagers. The way they talk out their feelings and work through problems is so healthy and a good sign that they'll continue to reconcile. Of course, having stronger feelings for another guy isn't something that can be reconciled, but since Victor didn't even consider dating Rahim before the wedding, I think our fave couple is safe.
Fans have been rewatching the final scene over and over, comparing the background to earlier scenes at Benji's house and looking for clues in the route Victor takes to get there. No matter how much we hunt, though, showrunners Isaac Aptaker and Elizabeth Berger say that even if we think we know, we don't. Here's what they told Entertainment Weekly:
That language of "whose house it is" rather than "who Victor chose" has me wondering if Victor even went to the house of the guy he wants to be with. Maybe he went to the house of the guy he's letting down first to preserve their friendship, or maybe he went somewhere else entirely. Whichever door it is, Michael Cimino certainly knows, as he confirmed in an interview with AP Entertainment.
No matter what happens, the acting and writing on Love, Victor are top-notch and I have no doubt the next season will be just as thoughtful, entertaining and full of surprises. We haven't seen the end of these characters, and there's so much more to explore with them.
How Season 2 Makes Love, Victor More Than A Coming Out Story
One of Love, Victor's best features is the storytelling, and subsequently the depth of every single character. Showrunner Isaac Aptaker told Entertainment Weekly that the spinoff series of the film Love, Simon "isn't just a coming out story," and star Michael Cimino elaborated with the following:
Season 2 of Love, Victor explores various avenues of what happens after coming out. We see his family react to the news, from his siblings accepting him without question, his dad joining a parents' group for support, and his mom's initial rejection and long journey to acceptance that includes a really powerful scene with a priest. Season 2 also shows Victor navigating his first relationship with a guy who has been out for a while, and dated many others before Victor, and the challenges and insecurities that come along with the newness. As all of his relationships evolve, so does Victor as a person, and I couldn't be more excited to see what happens next.
Obsessed with Hamilton and most things Disney. Gets too attached to TV show characters. Loves a good thriller, but will only tolerate so much blood.
Your Daily Blend of Entertainment News
Thank you for signing up to CinemaBlend. You will receive a verification email shortly.
There was a problem. Please refresh the page and try again.