Too Hot to Handle Season 2: Who Won The Money And How The Rules Changed From Season 1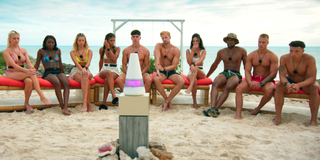 Spoiler alert! The following reveals the winner and other details of Too Hot to Handle Season 2. If you haven't finished watching the new episodes, be warned!
Lana had her work cut out for her with this bunch. The second season of Netflix's Too Hot to Handle introduced a new pack of horny singles, brought to paradise under the pretense of nonstop partying, only to be cock-blocked big time by the all-seeing, all-cone-shaped robot Lana. But at least there was the promise of a cash prize at the end. So after another season of temptation and challenges for the sex-deprived contestants, Lana revealed the winner of the prize fund — that's right, just one winner — marking a huge change in the rules from Season 1.
Too Hot to Handle once again gathered its sexy young men and woman who prefer one-night stands to committed relationships, banning them from kissing, sexual contact and masturbation. With $100,000 on the line, each rule break not only flipped a middle finger to Lana's challenges and rules, but also burned up some of the prize money. In Season 1, the $75,000 remaining in the prize fund was split evenly among the 10 contestants who made it to the end (a whopping $7,500 per person), which rubbed many viewers the wrong way.
In Season 2, Lana dropped the bomb to contestants early on in their stay that the money would not be split evenly this season, but she waited until the finale to divulge exactly how the prize money would be doled out. After observing the actions of the partiers over the course of the season, Lana chose the three she deemed to have made the most emotional growth, and the other remaining contestants then voted (in secret) on who they thought should win the money.
So how big was the prize this season? Well, let's just say the Season 2 cast made the previous season's stars look positively chaste in comparison. The $100,000 pot dipped all the way down to $30,000 at one point in Season 2, thanks in large part to Marvin Anthony and Melinda Melrose, who were the only Season 2 couple to go all the way (and suffer the $20,000 penalty). But the prize fund ended at $55,000, after that same couple won money back by somehow going a whole night in the private suite without any rule breaks.
After all the votes were counted, it was indeed Marvin Anthony, the sweet-talker from Paris, who took the $55,000 grand prize, having evolved from player to committed boyfriend by making it official with Melinda. His growth included acknowledging how his life was impacted by the pain from his father leaving their family when he was a child, and how it affected the way he treated women, and he vowed to treat Melinda as well as he treated his own mother. Snaps for you, Marvin.
One $55,000 prize definitely beats the $75,000 pot being split ten ways, in my opinion. The Season 2 cast showed up to paradise ready to break some rules even after they realized what show they were on, and why wouldn't they if they thought the most anyone could walk away with is $10,000? A bigger cash incentive is probably the best way to get these proud rule-breakers to play along in future seasons. Although just like in Season 1, the workshops seemed to be a really effective way to help the participants look at their actions and consider what they wanted for themselves, hopefully making the experience worthwhile even without the money.
If you liked seeing these over-sexed singles suffering in paradise, you'll be happy to know there's more to come. Too Hot to Handle was renewed for a third season after the success of its first run in 2020, although there's no word yet on a Season 3 release date. Seasons 1 and 2 of Too Hot to Handle are streaming on Netflix (opens in new tab). And when Too Hot to Handle becomes too much to handle, go here to find other great shows to watch on Netflix, and take a look at our 2021 summer TV schedule to see what's coming soon.
Mom of two and hard-core '90s kid. Unprovoked, will quote Friends in any situation. Can usually be found rewatching The West Wing instead of doing anything productive.
Your Daily Blend of Entertainment News
Thank you for signing up to CinemaBlend. You will receive a verification email shortly.
There was a problem. Please refresh the page and try again.