Duck Dynasty's Phil Robertson And Co. Give Update On Miss Kay's Major Dog Bite Injury One Week Later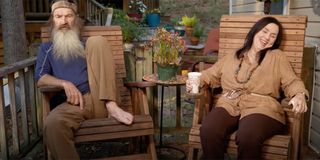 It's been a few days since Phil Robertson and the rest of the Unashamed gang revealed the news that family matriarch Miss Kay had gotten into a bit of a dust-up with her dog Bobo. At the time, the injury was described as a "chunk" being taken out of Miss Kay's face. At the time, she'd also had to go to the hospital, so there was some indication the injury was serious business. Thankfully, the Duck Dynasty gang have updated us on Miss Kay's condition, and Phil Robertson at least seems be bringing some levity to the situation, telling a story about a new nickname he's given his wife.
First and foremost, Miss Kay's eldest Al Robertson did want to update the Unashamed fanbase during the most recent episode of the family podcast. Given the family dog was the biter, he also shared an update on Bobo as well, noting,
Phil Robertson chimed in to explain that when he brought the story up on the podcast a week+ ago, he was under the impression that what happened with Bobo was a rare event. But after the news broke more widely, fans were coming to to reveal "the same thing happened to their family members." This came as a bit of a surprise.
Phil Robertson went on to share that he's been able to joke around about the incident with his wife and partner of 55 years. He was kidding with her about how she's going to need to get in with the LA crowd on the plastic surgery front, though it seems like she may be able to avoid that now. He couldn't help but give her a little flack after what happened though, noting "she didn't laugh" at the new nickname.
Now, Phil Robertson may not be above giving it a little to Miss Kay after the accident with Bobo. However, it is worth pointing out that he and Al had a nice exchange over Phil's treatment of Miss Kay following the incident. Instead of giving Miss Kay flack while she was in pain, Al gave his dad props for telling Miss Kay "I'm so sorry this happened to you" rather than doing a "little blame assessment" as would have been his modus operandi when Alan was growing up.
As for Phil Robertson's take on his own response? He shrugged, noting, 'I've mellowed through the years." Miss Kay previously said that the hospital had done a good job of fixing her up, telling TMZ that she may still need plastic surgery. We'll let you know if there are any more updates related to Miss Kay's recovery (or about the rest of the clan), but it sounds like things are starting to progress in a positive direction.
Amazing Race & Top Chef superfan with a pinch of Disney fairy dust thrown in. If you've created a rom-com I've probably watched it.
Your Daily Blend of Entertainment News
Thank you for signing up to CinemaBlend. You will receive a verification email shortly.
There was a problem. Please refresh the page and try again.