The Latest Plastic Surgery Boom Is Apparently Looking Like Melania Trump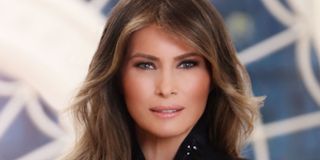 It is not fake news, but it is odd news. Apparently, some women now are in the market to look like Melania Trump. For example, Claudia Sierra, a client of plastic surgeon Dr. Franklin Rose, recently gave an interview and expressed her desire to look like the wife of the current President of the United States. Sierra explained,
According to The Daily Beast, Claudia Sierra is a mother of two, and she is a cancer survivor. Sierra underwent at least eight procedures to resemble the current First Lady of the United States. The treatments included a revision breast reduction, a revision rhinoplasty, a tummy tuck, liposuction, a Brazilian buttock lift, and an eyelid lift. Plus, she received Botox, fillers, and other injectable treatments to change her appearance.
Dr. Franklin Rose has previous experience helping women who want to go under the knife to look like members of the present first family. The doctor made headlines in the recent past for offering a treatment he dubbed "Ivanka Trump Makeovers." In a recent statement about the newest bundle of procedures, Dr. Rose wrote,
On his website, Dr. Rose revealed he had documented Claudia Sierra's transformation for a segment called "Melania Makeover" on Inside Edition. For now, Claudia Sierra is, no doubt, continuing to recover from her surgeries, so the segment is reportedly going to air later this year.
Life & Style Magazine gave Dr. Franklin Rose a side-by-side look at the Slovenian-born former model and asked him what kinds of procedures she might have had over the years. First, he mentioned how smooth her forehead looks thanks to liberal amounts of Botox. Dr. Rose says her cheeks appear to have fillers along the nasolabial lines between the nose and corners of the mouth. He explained how her lips seem to have a filler like Juvéderm and how she most likely had Botox injected above her upper lip to prevent "barcode lines." The doctor also noted her breasts and suggests she had a "very generous" augmentation sometime before 1999. He also critiqued her nose, suggested she received a nose job in the past, and congratulated her supposed doctor on doing a "beautiful job."
So, if you, too, are interested in getting a makeover to look like the First Lady, you now know who to call.
Your Daily Blend of Entertainment News