The Internet Can't Get Enough Of Addison Rae Recording A TikTok Awkwardly In Front Of Some Dude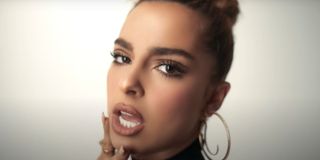 (Image credit: Addison Rae YouTube)
Addison Rae may be moving on to bigger and greener pastures, but she hasn't forgotten her roots quite yet. That is, making viral dances on TikTok for her more than 81 million followers. However, an insider caught a view of Rae awkwardly recording her latest video (in front of some random guy). And the awkwardness of it all is just too much for the Internet.
In the epically circulating clip, someone recorded Addison Rae recording herself doing one of her signature TikTok dances. The problem, as it turns out, is that Rae decided to do this in what looks like the middle of a busy restaurant. Even more awkward is when the camera pans from Rae's dancing to a man seated not even a foot away. Check out the viral video below:
The Internet can't seem to get enough of the dude on his laptop in the background of Addison Rae's video, attempting to mind his own business. One Instagram commentator asked:
Another commenter hilariously called him "the main character" in the saga, while another wrote,
It's hysterical to think that you can just be sitting at a restaurant table and, by chance or fate, become the star of a viral content video that's been liked on TikTok by almost half a million strangers. Alas, that's the world we live in now. It's also the kind of world where the TikToker in question, Addison Rae, used that kind of popularity to become the star of the Netflix gender-swapped remake of She's All That.
Addison Rae talked about her grueling preparation process for her role in Netflix's He's All That, which is coming out on August 27. It seems the recent, awkward TikTok dance might have just been another bout of practice for the 20-year-old bestie of Kourtney Kardashian. Rae actually posted a different version of the dance on her official TikTok account – albeit with ever-so-slightly different moves and no restaurant or random dude hanging out in the back. (It's probably for the best.) See Rae's version here:
The viral TikToker might have just been practicing in the restaurant, but that doesn't mean the Internet is prepared to let her off the hook. Many reactions were polarized between stupefied at Addison Rae's confidence and amused/dismayed at her audacity. Others noted that the lack of music while she was dancing was "so awkward." One even said,
The best (and worst) part of TikTok commentaries is the comparisons. In the Internet roast fest of Addison Rae awkwardly dancing in public, one TikTok user said she was "braver than the Marines." Another said they, in a comparison, "can't even use an umbrella in public." But my personal favorite is when someone said,
I feel that. Addison Rae seemingly doesn't have that level of embarrassment over mundane things. I mean, how else could someone go on live late-night television and perform routines that the 8-year-old I once nannied for would treat as an Olympic sport?
Regardless, Addison Rae's recording has proven one thing is still true: nothing misses the gaze of the Internet. Even TikTok celebrities.
Freelance writer. Favs: film history, reality TV, astronomy, French fries.
Your Daily Blend of Entertainment News
Thank you for signing up to CinemaBlend. You will receive a verification email shortly.
There was a problem. Please refresh the page and try again.