Addison Rae Is Taking Her Best Friend Role With Kourtney Kardashian Really, Really Seriously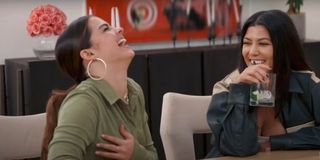 (Image credit: Keeping Up With the Kardashians)
It sounds like the ultimate influencer scenario when a TikTok star befriends a mega-reality TV star. For Addison Rae and Kourtney Kardashian, their link up came to fruition only last year when Rae was invited to her son's birthday party as a surprise for him. The two women have been close ever since, close enough to even have sleepovers together – and Rae is still taking her bestie role quite seriously.
In fact, Addison Rae, who boasts more than 80 million followers on the platform, is willing to show everyone just how dedicated she is to Kourtney Kardashian. And I guess for a Gen-Z TikTok star, that means a monogramed choker necklace. Addison Rae posted a pic on Instagram recently of herself wearing the jewel-encrusted choker that only says "KOURT." For those who question the seriousness of the seemingly casual move, ask yourself, who's name would you be willing to wear around your neck? Check out the images here:
Based on the caption, it seems like Addison Rae was teasing her fans about a new lip gloss release for her makeup line, Item Beauty. But really, the "KOURT" choker is giving us other messages. I'm not sure if it's giving me more middle school paired necklace vibes or Mean Girls we-only-wear-pink-on-Wednesdays vibes. Likely, Rae intended the former, which would be kinda sweet of the 20-year-old TikToker.
Yet many have criticized the age gap between Kourtney Kardashian and Addison Rae. Some have even speculated that it can't be just a friendship, that it must be romantic in nature. Even Kardashian's family (during an episode of Keeping Up With the Kardashians) questioned Rae about them "hooking up," which she denied, calling the speculation "weird."
The TikTok star has solidified her best friend role in other ways, though. Recently, Addison Rae gushed about Kourtney Kardashian's new romance with Travis Barker, saying that she is "obsessed" with the two of them. Kardashian and Barker's relationship has also been widely speculated on in regard to cheating allegations and family dynamics – so it must be nice to have a best friend to back you up (no matter their age).
At the very least, the two BFFs are helping each other out with their respective brands. Addison Rae has been spotted on the final season of Keeping Up With the Kardashians, even teaching the likes of Kim Kardashian how to do TikTok dances. Meanwhile, both have traded off between Kourtney Kardashian's POOSH Youtube channel and Rae's personal Youtube channel. And it appears that Rae is now invoking Kourt's name to sell lip gloss. It's a perfect meeting of influencer minds. Not unlike that new reality show coming to Netflix.
But Addison Rae is seeing a rise that goes beyond reality TV and late night talk show appearances. She just took on her first major film role in the gender-swapped She's All That remake, which is set for release on Netflix in August.
As for Kourtney Kardashian, her and Kardsahian-Jenner Incorporated are leaving E! after 14 years and moving to Hulu with a brand new show. Not much has been revealed about the project, only that it should be released sometime this year. But if Addison Rae is really Kourtney Kardashian's best friend, we can possibly expect to see her on it.
Movies and TV News Writer
Freelance writer. Favs: film history, reality TV, astronomy, French fries.
Your Daily Blend of Entertainment News
Thank you for signing up to CinemaBlend. You will receive a verification email shortly.
There was a problem. Please refresh the page and try again.